Nokia came out last year with a new flagship device called Nokia Lumia 1020 last year, which was lauded as the first smartphone in the world with a 41 megapixel camera. With features that rival full-fledged pro camera, the Finnish mobile wanted to showcase the "photographer's dream mobile phone" to excite Malaysian photography enthusiasts and ideally entice them to own one.
Nokia worked with Wunderman International Manila to create an online activation that would attract photographers first, then get them to learn about Nokia Lumia 1020. Together with Air Asia, Nokia Lumia launched Asia Travel Shoot-Off – the first-ever nationwide search for Malaysia's top travel photographers.
People were invited to send the best photos they have ever taken. Entries were then sorted by a pool of renowned judges that will pick the top 10 candidates that will compete in a Shoot-Off.
Finalists were sent to different Air Asia destinations to take photos of pretty much anything from  food, people to scenery using the Nokia Lumia 1020, allowing the photographers to experience the phone for themselves and come back home to share with their fans and photography circles.
Photos were posted at the Nokia hub to let the public decide the winning entries. The person who gets the highest votes wins bragging rights to be called as Malaysia's Official Photographer in addition to a trip for two to Australia and more chances to use his new Nokia 1020.
Results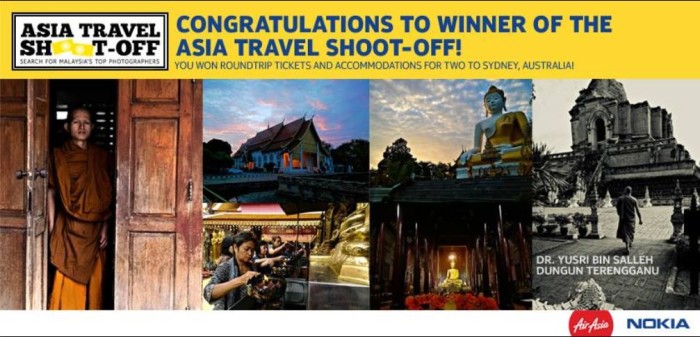 Without any bought media, in less than 2 months, the campaign garnered:
-              5,979 organic visits to the product page on the Nokia Malaysia campaign hub
-              16,272 people talking about the brand as measured on Facebook - 24,105 new fans on Nokia      MY's Facebook page
-              A 40% spike of 40% in engagement score on Nokia MY's Facebook page
Photo entries shot with the Nokia Lumia 1020 in different Asian destinations were uploaded as an album and garnered 17,667 unique users who clicked, liked and shared the photos. This post had the highest organic life on the Facebook page during the entire campaign period.
Fans expressed interest in purchasing the Nokia Lumia 1020 by asking the price and the sales package on the Facebook page. Wunderman said that a pre-order offer on Storekini that ran concurrently and after the campaign overshot the order targets.
CREDITS
Social Media Strategist:  Faith Salazar, headed by
Head of Social Media team:  Peter Juan team
Executive Creative Director: Pia Roxas Ocampo
Art Director: Leah Mababangloob
Copywriter: Eia Garcia
Designer: Lara Rojo
Digital Producer: Mellie Valimento
Designer: Bonjovi Gemanil
Account Manager: Camille Datu