Most recently, at A+M's Marketing Excellence Awards Malaysia 2017, make up company "Shiseido Suncare Silver" bagged the silver award under the Excellence in Performance Marketing category. The brand worked with Webqlo on the campaign to increase the walk-in traffic to its counters and ultimately push sales at Shiseido counters nationwide via online database collection.
As the competition was hot in 2017, the campaign focused on optimising cost-efficiency, fine tuning content creativity with digital performance to further boost up the 2017 campaign performance.
This post was done in conjunction with Webqlo.
Problem
Having no content hub was one of the key challenges faced as Shiseido's existing website was not suitable for database collection. Furthermore, 2016 was the first time Shiseido Suncare was launched on a digital platform, limiting the campaign on suitable materials. Achieving the campaign's cost target and performance was becoming more and more challenging as the list of competitors grew longer in 2017.
Solution
Crucial data insight analysis is what makes data marketing great. The Webqlo team knew a well-built content hub is the missing puzzle piece for Shiseido to build lasting brand awareness. Hence, a Shiseido Suncare Product Campaign microsite was created for the campaign.
Leveraging on Shiseido's social media, traffic from social media was driven back to the content hub via an inbound link. The campaign's content and free sampling registration mechanism has successfully driven registrants to Shiseido counters nationwide for product redemption once they signed up for the free sampling. This was a classic example of converting potential leads from online to offline using data marketing.
To measure the campaign's performance, tracking codes from both Google and Facebook Analytics were implemented on both the microsite and social media ads. This extra step allows data analysis to be performed on every registrant.
Execution
In bid to fine tune the content creativity with digital performance, a minimal amount from the total budget was used to carry out image A & B Testing, where different types of image were tested over a period of three days to discover which has driven higher traffic to the product microsite.
Image A, as shown below, performed better than Image B. Further testing throughout the campaign revealed that videos generate higher engagement with mobile users being the main driving force of the campaign's engagement rate.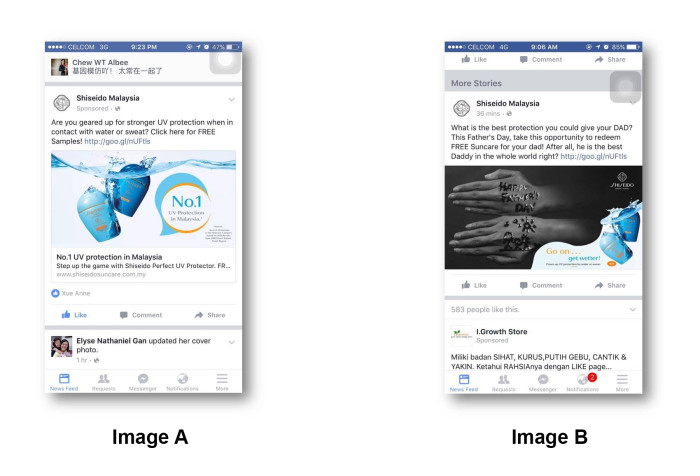 In facing the challenges of 2017, the campaign has incorporated key elements discovered during the 2016 campaign and implemented the findings by having product focused artwork for advertisement, using more video formats and running advertisement in mobile format.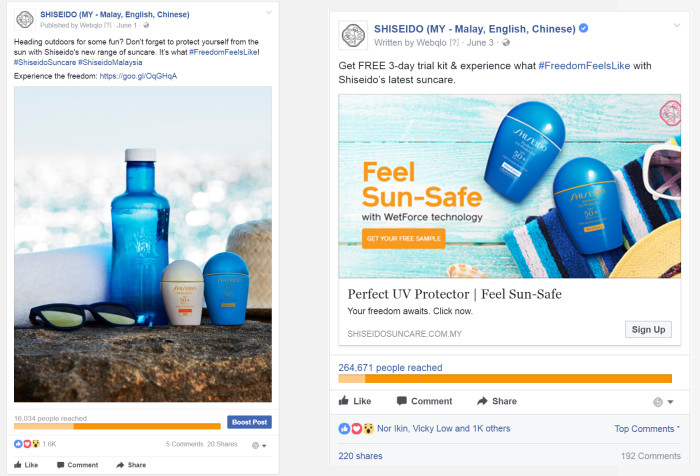 Results
Shiseido Suncare campaign performed exceeding well for both years with CTR increasing by 471% from 2016 to 2017. Keeping in the mind the ASEAN benchmark for CTR is 1.5%, the campaign has achieved the following stellar results:

Performance of the campaign has improved despite a total decrease in digital spending and Cost Per Click by 43% and 77% for 2017 in comparison with 2016. Key digital performance includes:
117% increase in Number of Registration
110% increase in Registration Conversion Rate
57% decrease in Repeating Users
178% increase in Engagement
471% increase in Quality of User Engagement
Using Webqlo's social media big data free analysis tool, Shiseido's overall digital performance against the beauty industry can be analysed as follows: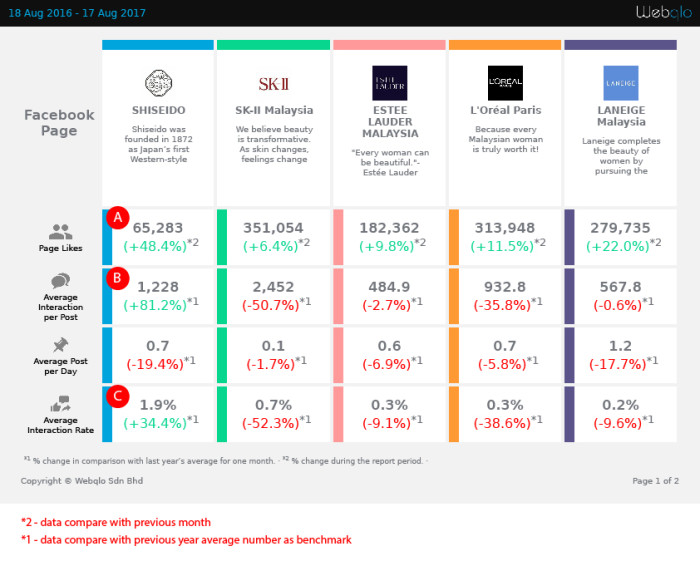 A: Shiseido has a lower fan base in comparison with four other top international beauty brands ("other brands").
B: Focusing on average interactions per post (likes, comments and shares), Shiseido's performance has improved by 81% compared to last year's average benchmark. Further analysis reveals that the content engagement of Shiseido has largely increased in comparison with other brands.
C: The quality of Shiseido's Interaction Rate (engagement conversion) has improved by 34% despite a drastic drop experienced by other brands.
D: Overall, Shiseido has performed better in terms of increasing quality interaction yearly in comparison with other brands despite having a lower fan base.
The above reflects the importance of sustaining engagement rate consistently every year as it is the key to driving excellence in digital performance. Engagement momentum is necessary to attract quality potential users which will help drive better advertising performance.
The more engaging the Facebook content, the better the results will be.