Following the rebrand of AirAsia Philippines and ZestAir as AirAsia Zest, the new budget carrier wanted to hit the ground running in awareness, site visits and bookings while getting the most out from their advertising spend.
The company turned to DG MediaMind to use its Smart Trading service for real-time bidding (RTB)/exchange media buying, the first advertiser to do so in the Philippines.
AirAsia Zest wanted to target audiences with demonstrated intent to travel on a massive scale. The company bought across ad networks including Google, Microsoft, Facebook, Rubicon and Pubmatic to maximize both its budget and reach.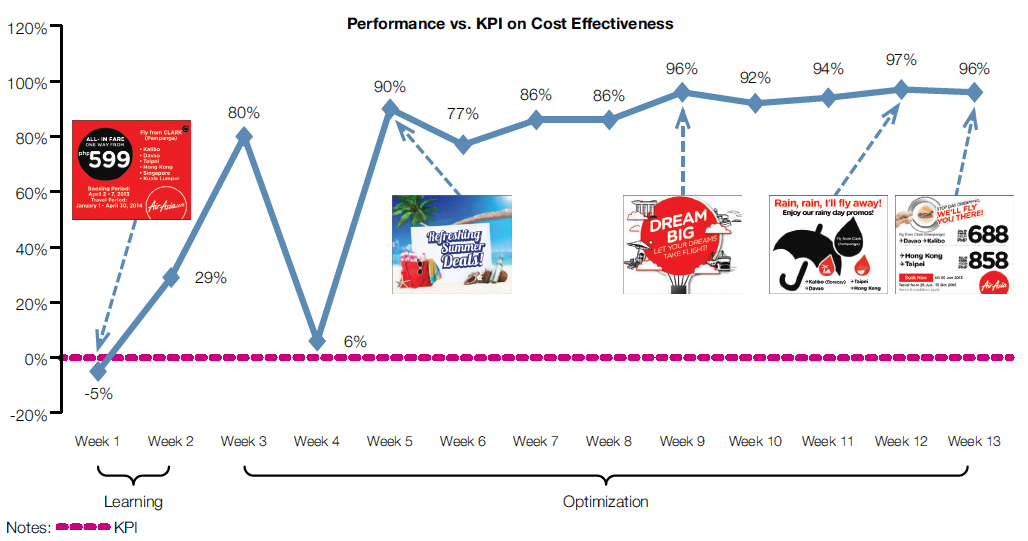 The graph above shows how Smart Trading optimized AirAsia Zest's media buying for 13 weeks, backed by a team blacklisting undesirable sites, testing new ones and using multiple data sources to meet the lowest-cost conversions.
AirAsia Zest's KPI for the campaign was total conversions in the form of seats sold. With the help of DG MediaMind, the brand surpassed its ROI target two fold in less than two weeks, which Dylan Robinson DG MediaMind APAC Trading Sales Director, said was "half the time it normally takes."