How much does a brand pay for an A-list celebrity to film a paid commercial? Interestingly, Oreo Japan hasn't spent one penny for featuring two Hong Kong prominent singers in its latest Oreo Crispy ad.
In the video, a group of Japanese female models dressed in quirky black-and-white stripes kimono and goggles, and walked in a busy street in Omotesandō, Tokyo. The shooting has attracted a curious crowd gathered to watch and take pictures, and the models then took a box of Oreo Crispy to pose, and eat it.
Yet two of the curious pedestrians turned out to be Hong Kong famous singers Andy Hui and Sammi Cheng, who obviously did not intend to join the shooting.
Watch this ad carefully to see if you can spot them:
In case you couldn't spot them, we have your back: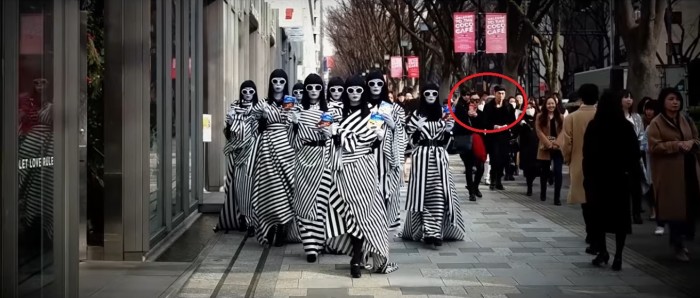 They appeared at 0:25 for a second, where Cheng curiously followed the crowd to film on her smartphone, and Hui came after. The duo was first spotted by Cheng herself, who posted her discovery on her Facebook page together with the video she took at that time.
"This is so embarrassing, but I was just too curious!" she wrote in the caption, with the hashtag "I love biscuits anyways".
The ad immediately caught interests from Hong Kong netizens and went viral in the city. 7.8k people has liked Cheng's post, and many said they watch the ad just to see their curious look.
For this, it's a good marketing opportunity for Oreo Japan and Hong Kong to promote its latest product Oreo Thins. The brand decided to leverage on the attention they've gained, and stepped out to thank Cheng and Hui for their attentiveness.
Furthermore, Oreo has collaborated with Apple Daily to encourage netizens to like a Facebook post. For every like, the brand will give the two celebrities one piece of its Oreo Thins as a token of appreciation.
"Well, at least they (Cheng and Hui) are getting paid now," joked one of the netizens.
The post has garnered more than 19k likes, 180 comments and 630 shares on Facebook.