Most of us are still recovering from the jam-packed, action filled Singapore Grand Prix weekend. The annual event saw various global marketers congregate in the city and amidst this, we caught up with Heineken Global's senior brand director, Gianluca di Tondo.
di Tonto and his team over at Heineken inked an international deal with Formula One Management (FOM) in June this year, which saw the global beer brand become a sponsor for Formula 1 globally. The two have inked a deal which is set to run until 2022, unless of course "things don't go in the right direction", then there is an option to opt out by 2020, said di Tondo, during an intimate media session.
However, di Tondo (pictured) added this is highly unlikely given Heineken's track record when it comes to its other sponsorship deals such as with UEFA and the Jame Bond 007 movies.
"If you have a deal for two or three years for a sponsorship, you get nothing out of it except a little bit of visibility. From our experience, we see the need to stay together with our partners to maximise the value of the sponsorship," he said. The real magic lies in working together to iron out the kinks.
As part of the global deal, from the 2017 F1 season onwards, Heineken will also be known as F1 event title partner of three Formula 1 GPs. It will have a significant presence at several additional F1 events chosen by Heineken and Formula One Management.
Singapore GP, said di Tondo is clearly one of the GP events the brand hopes to get its claws in on given the success of the event, the ease of logistics and perks of location. He explained plans are already underway for the Singapore GP to see more Heineken branding of the tracks.
[gallery link="file" ids="149894,149895,149896"]
"Singapore is one of the few markets that leveraged the F1 event fully after Monte Carlo," he said. However, not all markets were able to exploit the circus like feel of the event fully.
"When F1 race lands somewhere, it transforms the city. It draws in both the extravagant and the down to earth. It is one of the largest global properties and yet, it is still largely under utilised by brands," he said.
We saw immense potential to come up with innovative ideas and an active a partnership.
Stating that the discussions were on going for almost five years, di Tondo explained that key to signing the deal was evaluating what more could be done with the existing assets to "make it sweat harder".
"This is something we were discussing quite a lot with F1 before signing the deal. We had to ask if they were open to us challenging them in new ways because F1 is known to be a little monolithic in its approach whereas we are known to be more demanding," he said.
Largely, the partnership will see activations including F1 circuit branding, TV commercials, digital activations, live fan experiences and events, dedicated PR initiatives, and packaging/point-of-sale activations. However, di Tondo explained simply slapping on banners at the side of track and putting corporate partnership, is not in Heineken's style.
We had to make sure the F1 team was open to us challenging them in new ways because F1 is known to be a little monolithic in its approach.
"We have to work together to figure out how F1 can draw in more viewers and on our side, how we can inject some excitement and make the event even bigger," he said.
In terms of what Heineken hopes to get out of the deal, di Tondo said every sponsorship deal is different - be it in terms of branding the track, route or regulations put in place. At the global level, he explained, the tie-up with F1 helps Heineken with its awareness of the brand and pushes its premium positioning. In certain markets, the brand hopes to get a sense of "closeness" to the consumers.
When asked if the brand is looking to target a different audience with the sponsorship, di Tonto said no but rather said the partnership "is in line with Heineken's overall growth strategy". As a company, Heineken believes to grow a company would be via penetration.
"For alcohol brands there are two routes to take to the top, loyalty and penetration. Loyalty looks at hooking the consumer in and then keep them drinking. But what we want, is to promote responsible drinking," he added.
Safety first
Currently, central to the partnership is the fully integrated global F1 "Open your world" manifesto and "When you drive, never drink" campaigns. Currently, Heineken invests 10% of the brand's global media spend on dedicated responsible consumption campaigns such as "Moderate drinkers wanted" and "Dance more drink slow". The drinking responsibly message will be further articulated through the branding.
The brand even went as far as to create a daring new logo for it. Check it out: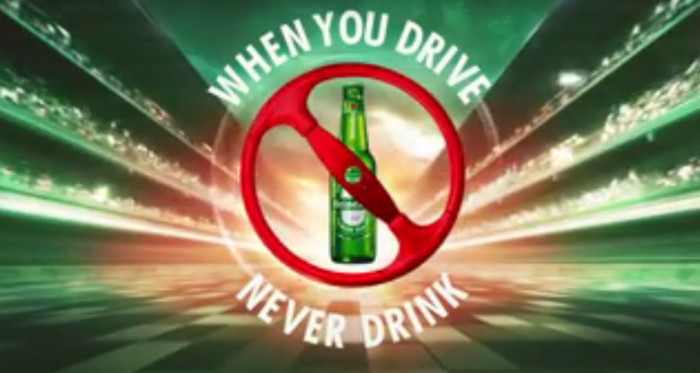 In Singapore, 30% of the brand's visibility of the track will be dedicated to pushing the "When you drive, never drink" message (scroll above to see the branding). di Tondo said:
We have been testing this logo with three diff agencies and all three of us asked us not to do it. They said consumers will read it as us asking them not to drink Heineken. And that is exactly the message we wanted to push. We would rather someone not drink at all if they are driving.
He explained tying up with F1 gave the brand further credibility and authority to discuss a specific issue. It even went as far as to creating a logo asking consumers not to drink its beers.
Marketing in the dark
Asia as we know have several dark markets such as Indonesia and Malaysia where screaming out beer brand's marketing message is not always appreciated. We ask di Tondo how he deals with these markets.
"Beauty of dark markets there is not just one degree of dark," he said. As such the dark markets in Asia too vary. While it is traditionally thought that when markets go dark, social spend increases, di Tondo argues that this is simply because social is the last to get hit.
"Regulators start from the traditional TV, print, OOH and then go on to social. And the world of social itself is complicated. Sometimes regulators in the markets themselves don't know the rules on social," he said, adding:
We try to play by the rules but sometimes even the rules themselves are not clear.
Meanwhile, when a market is really dark, the spend increases is in the BTL space. That is the best way a brand can keep communicating with consumers.
Embracing new technology
While embracing new technology is high on Heineken's priority list, di Tondo is cautious about the marketing stunts the brand pulls when incorporating these new digital toys. He added embracing new technology such as virtual reality is not a matter of if, but rather a when for the brand. And this will most likely be in 2017.
"It will happen when the technology is ready enough to carry the brand message. We are trying new things and F1 can be an interesting space for VR and we are thinking of how to shoot a campaign in VR. But we are not there yet. We have a lot of projects we are planning but at this moment none of them are close enough to be released," he said.
He added scalability is a huge factor for beer brands, and that's not ready yet.
Beer is a business of scale. Once in a while, you can have a nice project to pilot new gadgets. But if you want to make it a standard, it has to scale.