The pressure is on as gay rights activists push for Winter Olympic sponsors such as Coca-Cola, Visa and McDonald's to speak out on Russia's controversial laws on homosexuality.
According to ABC news, while McDonald's has made it clear that it supports human rights and opposes discrimination, it did not address the anti-gay rights movement.
Coca-Cola too made a similar statement where it did not mention the law but rather described itself as a strong supporter of the lesbian, gay, bisexual and transgender community.
This is yet another development on Russia's publicity woes during the Winter Olympics as it already is experiencing bad press from reports of cyberhacking, poor preparation and animal cruelty.
However, other brands have been more vocal about their stand on Russia's anti-gay laws - the first being AT&T in a blog post:
"As you may know, the lesbian, gay, bisexual and transgender (LGBT) community around the world is protesting a Russian anti-LGBT law that bans "propaganda of non-traditional sexual relations." To raise awareness of the issue, the Human Rights Campaign (HRC) has called on International Olympic Committee (IOC) sponsors to take action and stand up for LGBT equality.
AT&T is not an IOC sponsor, so we did not receive the HRC request. However, we are a long-standing sponsor of the United States Olympic Committee (USOC), we support HRC's principles and we stand against Russia's anti-LGBT law. 
AT&T has a long and proud history of support for the LGBT community in the United States and everywhere around the world where we do business. We support LGBT equality globally and we condemn violence, discrimination and harassment targeted against LGBT individuals everywhere. Russia's law is harmful to LGBT individuals and families, and it's harmful to a diverse society." Read more here.
Here are other brands who have also joined AT&T's stand.
1. Google
Google, ahead of the opening ceremony, has made a statement with a rainbow-coloured sports inspired homepage.
Under the search bar, a quote reads:
"The practice of sport is a human right. Every individual must have the possibility of practicing sport, without discrimination of any kind and in the Olympic spirit, which requires mutual understanding with a spirit of friendship, solidarity and fair play." –Olympic Charter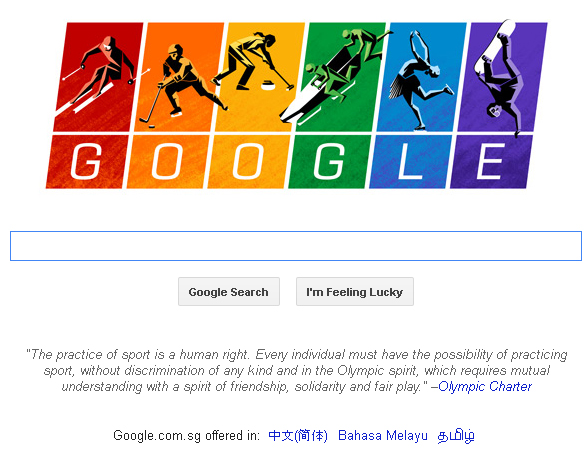 2. American Apparel

Meanwhile American Apparel has also launched a line of merchandise based on the Olympic charter's Principle 6, which states that "Sport does not discriminate on grounds of race, religion, politics, gender or otherwise."
The clothes were first seen online in December and have not made their way down to the retail stores. According to Mashable, American Apparel will also donating proceeds of the P6 product to LGBT groups in Russia.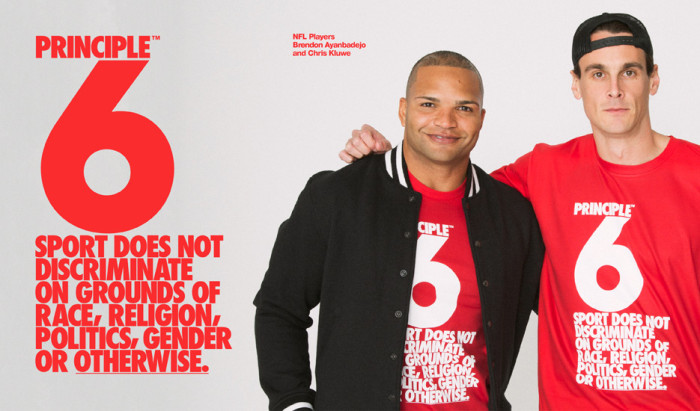 [gallery link="file" ids="36179,36175,36174,36173"]
3. Skins
Global sportswear brand Skins, in a blog post announced that it will be undertaking a social media campaign that highlights why awarding the Winter Olympics to Sochi is wrong. Titled International Olympic Contradictions (#IOC), the campaign highlights the "recalcitrance of the International Olympic Committee in selecting a country to host the Winter Olympics that doesn't acknowledge the rights of all to live in a safe and comfortable environment", the company said.
"As the Olympic Charter itself says, the IOC will 'act against any form of discrimination affecting the Olympic movement' but in selecting Russia and Sochi, the IOC has effectively endorsed a country which has a dubious human rights record and an active policy of repressing the freedom of one group of individuals."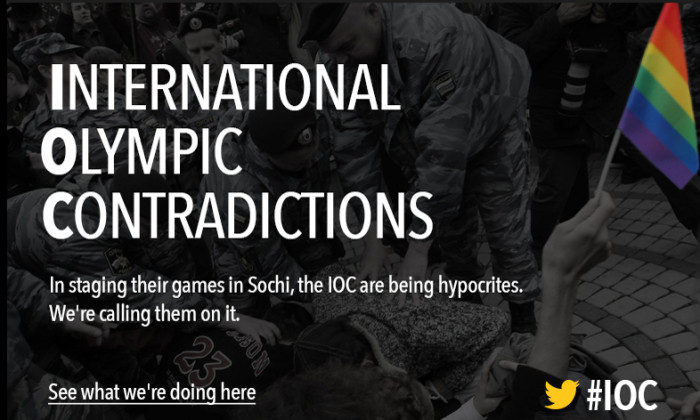 Recently, the games also received a fair bit of bad press as global journalists who flew in tweeted about the poor lodging, the lack of heating, internet or clean water.