Dettol this week rolled out a new campaign featuring popular celebrity Priscilla Wong.
The ad launched with a TV commercial and mobile elements prominently featuring Wong's very slim stature.
One design expert Marketing spoke to speculated that Wong's arms had been manipulated, but the creative agency behind the work insisted the image was unedited and instead praised Wong for her positive and energetic image.
One justification for her slim appearance was a recent work trip to Brazil, which saw her "slim down considerably".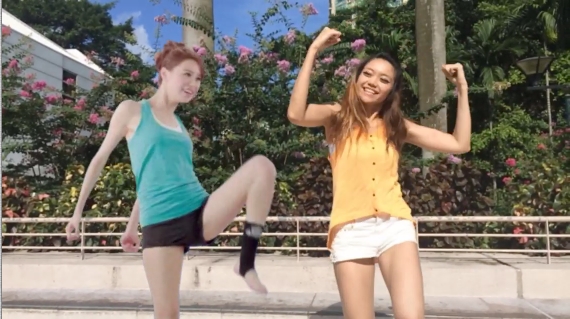 The ad highlights a recurring problem, particularly in Hong Kong, where advertising promoting slimming products, runs into the tens of millions of dollars.
But it's not just slimming ads. Luxury fashion brands have breached their social responsibility by using anorexic-looking models to capture a female audience.
Two years ago H&M's Marni collection came under fire for using a deemed, "corpse-like" model, in PR material.
The Advertising Standards Authority reportedly received complaints saying the "unhealthily thin" model makes the ad "offensive and harmful".
Another ad using malnourished-looking models, from luxury fashion label YSL, triggered a petition from a blogger against the YSL CEO to stop using "malnourished models" in ad campaigns. As of 28 May, the petition has received 47,000 supporters.
Slim figures and fair skin have always been the social standard of beauty in Hong Kong.
Ad campaigns, particularly from fitness centres and skincare brands, often send a message not only to promote slim equals beautiful, but also to suggest slim is the only beauty, as Rita Ching, deputy executive director of The Women's Foundation, believes.
"Most ad campaigns from fitness centres are sending unrealistic ideas of what a perfect figure should be to the public. Not only do they imply that slim, or even skinny, equals beautiful, they also say that less skinny models are inferior."
The recent ad campaign from fitness firm Slim Beauty depicting how local actress Kate Tsui beats her less-skinny rivals in a volleyball match, is downright irritating, Ching says.
"The ad sends a message that if your standard of beauty deviates from what the ad suggests, then you are 'the others'. This kind of misleading ads can subtly alter the public's idea of beauty, and it can even be damaging.
"We deal with a lot of school bullying cases in which victims usually are chubby or fat girls. They're teased as 'other creatures' for being a bit fat. When we ask them where did this idea of "slim is beauty" come from, most of which said they learn from magazines or television."
Celebrity endorsement is one of the culprits of the worsening situation, Ching added.
"Hong Kong is a celebrity-driven society and our social mindset is hugely influenced by celebrities.
"Audiences are subconsciously being fed with the idea that a skinny figure is king, with a string of identical ad campaigns featuring skinny celebrities in magazines or on television. But quality audiences who have the ability to judge and to filter what they are fed, remains a minority."
Outside Hong Kong, some brands are pioneering to redefine the beauty standard.
Dove's Beauty Patch Experiment launched in April is a social experiment trying to alter how women perceive themselves.
A group of women were invited to put a beauty patch named "RB-X" on their arms for two weeks, a product they were told would "enhance the way they perceive their own beauty". The result was touching:
"Today's brands need to seek a unique identity and a valuable brand character for sustainable business development. At the end of the day, the core principle of advertising is to create something new and inspiring, and ultimately, redefining the social norms," Ching said.
"I hope brands can stop following suit of what others do, or what the majority believe, and to eye more angles to interpret the concept of beauty."