Despite raking in a lower number of F1 tickets sold as compared to last year, a grand total of more than 84,450 tickets were sold. According to The Business Times, an estimated 40% of the crowd were hard core F1 fans who came from other markets.
Meanwhile, main sponsor for the F1 this year, Singapore Airlines (SIA) has also been actively promoting its F1 related packages since the announcement of it taking over the sponsorship title of the local f1 races. Earlier, a survey had claimed that previous sponsors SingTel was still strongly associated with the F1 event.
To that, SIA had said: "As we continue to demonstrate our hospitality during the 2014 and 2015 race editions, we will be able to firmly stamp our mark as the Title Sponsor."
Here's what its sponsorship looked like:
[gallery link="file" ids="66868,66869,66870,66871,66872"]
Aside from official sponsors, here's how other brands edged their way in on F1 buzz.
Johnnie Walker
This year alcohol beverage brand Johnnie Walker partnered up with ridesharing service Uber to encourage consumers in Singapore to drink responsibly. As part of the #ImNOTdriving campaign, 10,000km of safe rides home were given away from 10 to 21 September.
Supported by McLaren Mercedes Formula 1 drivers Jenson Button and Kevin Magnussen, up to S$3,000 in Uber credits were given away to consumers who pledge to never drink and drive. Fans also got a chance to win an Uber ride home in a McLaren 650S or an afternoon with McLaren Mercedes Formula 1 drivers Jenson Button and Kevin Magnussen.
Apurvi Sheth, managing director emerging Southeast Asia and Joint Ventures at Diageo said: "For almost a decade, our partnership with the McLaren Mercedes Formula 1 team has provided us with a powerful platform to directly tackle the issue of drinking and driving. [...] By offering once-in-a-lifetime experiences like a free ride home in a McLaren 650S sports car, we hope to encourage as many people as possible to think about the importance of drinking responsibly and make their pledge to never drink and drive."
The beverage makers also threw its annual Johnnie Walker circuit lounge party over the weekend to join in the F1 festivities.
Here's a look at the event:
[gallery link="file" ids="66921,66899,66922,66896,66898,66925"]
Mercedes
It was also all smiles for Mercedes as its driver Lewis Hamilton took home the coveted number one position. To drum up anticipation for the race, the Mercedes drivers also met up with fans at Paragon.
Take a look:
[gallery link="file" ids="66881,66880,66879,66878"]
Meanwhile during the race itself, Mercedes' Twitter page was flooded with constant (and very relatable) tweets as well. Here are some nail biting moments the brand capitalised on to become personable. Take a look:
Performance Motors (BMW)
Performance Motors also put up a Facebook post for BMW.
It said:  Are you ready for the electrifying Singapore Night Race? We know we are. #BornElectric #BMWi3 #SingaporeNightRace #f1nightrace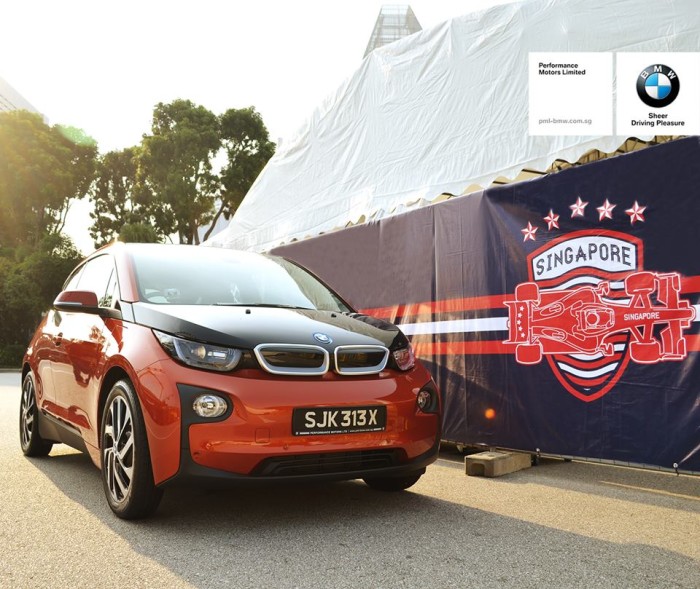 Another post said:
Look at what we spotted at the Marina Bay Street Circuit! Did you know that BMW is the official Course Car of the Singapore Grand Prix 2014? #SingaporeNightRace #f1 #SingaporeGP #f1nightrace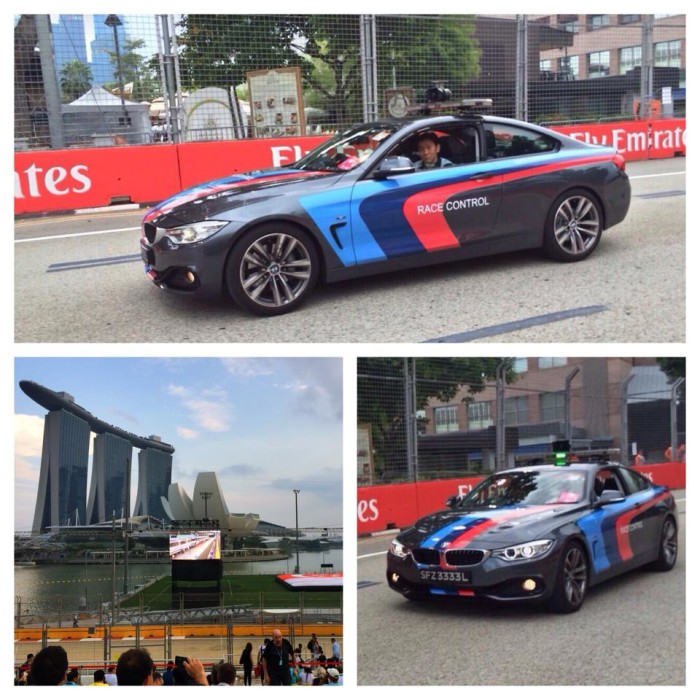 Scoot
SIA's low cost carrier Scoot was spotted getting in on the social media buzz with this post: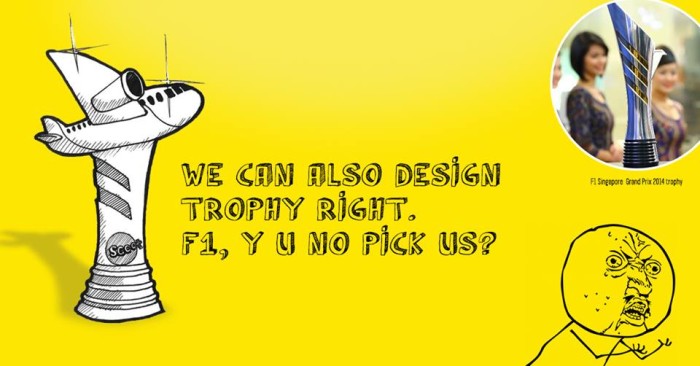 Redbull
While Redbull Singapore's Twitter page was a little quiet, Redbull Racing went all out. Take a look:
https://twitter.com/RedBullSG/status/509549887428755456
BreadTalk and Toast Box
And just so you don't pass out after all that weekend long partying, BreadTalk and Toast Box are there: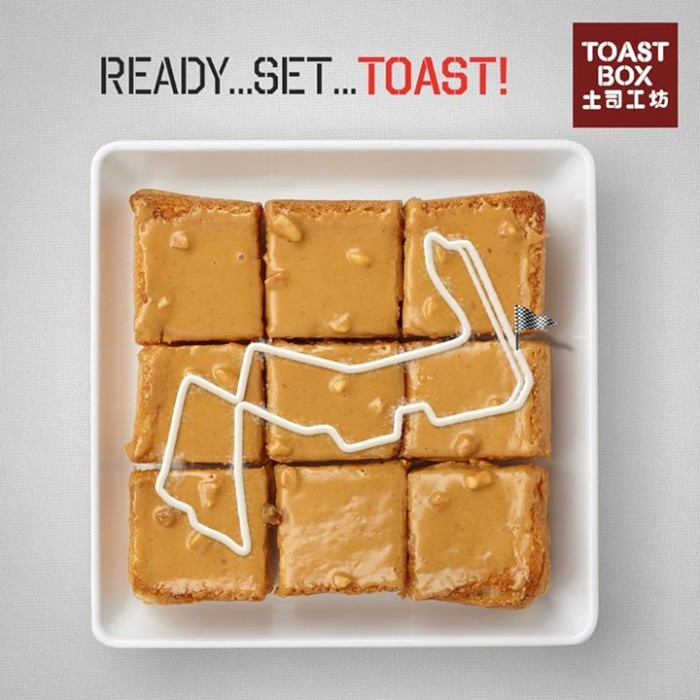 STB and the government
And who says government folks can't party? Check out the marketers behind the Singapore brand STB and our very own Prime Minister Lee Hsien Loong rocking out here: