SEO (Search Engine Optimization) and in particular Google have forced companies to change how they do their digital marketing.
Since the panda update (a change in Google's algorithm which determines where websites rank for search terms) much emphasis has been put on quality content. However more recent trends show a shift towards brand being a ranking factor in Google. This recent trend along with the constantly updating Panda algorithm means that brands and their branding agencies have a greater role to play in terms of their clients SEO performance for 2 main reasons:
1) Brands are beginning to dominate search results
Google results showing a trend towards bigger brands dominating the organic search results. This is shown quite clearly in Rand Fishkin's excellent slide share, in particular slides 20-30 where Rand shows that in competitive markets Google has gone as far as creating a brand information drop down. This is a big hint at brand importance, as well as the search results, which are dominated by big brands. Brand is almost becoming a pre requisite to good SEO.
Below you can see the results at the top of the rankings for the search term Life Insurance in the U.S are dominated by top brands. The dropdown feature shown for MetLife is also available for all of these brands. It is only a matter of time before Google rolls out this update to the rest of the world.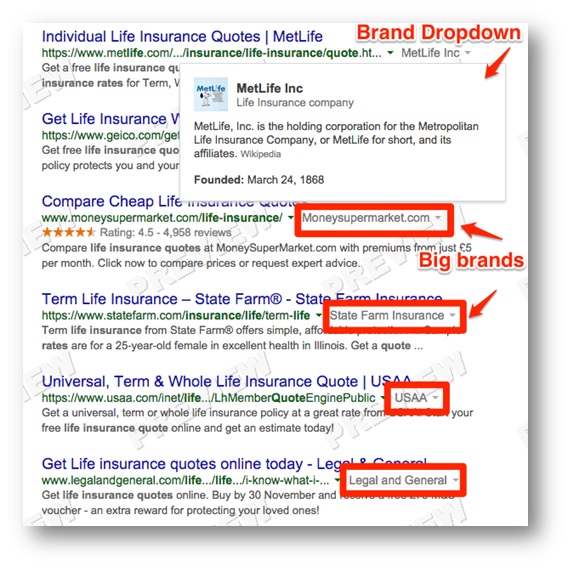 2) The bar for ranking in Google has been raised
Creating a good technically optimized site and producing good content is now the absolute minimum in terms of SEO. Rand says that the phrase 'good unique content' needs to die. He is right to a point, in that people think if they adhere to that magic phrase which has been touted since the panda update, they will climb the Google rankings. But it is not enough. You need to produce content, which will be shared and is better than anything the competition has ever produced. Technically SEO savvy agencies cannot do this. They need the help of either in house brand experts or a branding agency.
Therefore companies should now expect more from their brand agencies. They make a business out of positioning their client's brand and value proposition at the heart of their markets. Creating truly interesting and engaging content represents a real investment in time and resources for companies. As such brands need to ensure that the content they produce not only engages, but also reinforces their own positioning and ensures an adequate return on investment. This will then manifest itself in better, more relevant search results over time.
It is this type of strategic thinking, positioning and content development that, when combined with technically sound SEO, can become the key to beating the competition. As a result branding agencies now have a big role to play in the SEO landscape.
SEO is a tough game to win. However once you get to the top of the rankings by creating a well optimized site and fantastic content which captures the imagination of the consumer base, the onus is then on the competition to knock you off that spot.
So branding agencies can now not only deliver a new brand for their clients, but a lasting legacy within Google search as a result.
The author is Sean Hutchison, the head of Digital Strategy and Engagement of Alchemy Asia.