The World Cup maybe a battlefield to football players, but to marketers, it's a goldmine.
Cashing in the football season, brands are investing big in ad and marketing pushes during the FIFA World Cup in a bit to reach the massive pool of more than 3.2 billion soccer fans in the globe.
Sony, a title sponsor of 2014 FIFA World Cup, has gone to great lengths to push World Cup marketing with two product-oriented TVCs committing more than HK$3 million to a FIFA World Cup package on TVB.
The one-month package includes exposure on MyTV, tablet and mobile application My World Cup, TVB official website and TVB Weekly.
But is it worth it?
Simois Ng, senior marketing manager of Sony Hong Kong, stays positive, based on a solid sales growth for its televisions by 5% - 10%.
"This increase is however weaker than four years ago when HD and 3D television first emerged," said Ng, admitting that this year's World Cup marketing is less aggressive in comparison to four years ago.
"But so far we are seeing a high recall rate with considerable exposure from our placements on television.
"Although the actual sales may be relatively stable comparing to previous, given that our television sales are on the rise, we remain bullish."
The results for property group Sun Hung Kai is even more significant.
Weeks before the FIFA game kicks off, Sun Hung Kai has launched an integrated campaign across nine of its shopping malls with marketing activities including live broadcast of first ground games, exhibitions, pop-up stores, fashion shows, Brazilian performances, and the highlight - an interactive game tournament integrating mobile and a TV screen.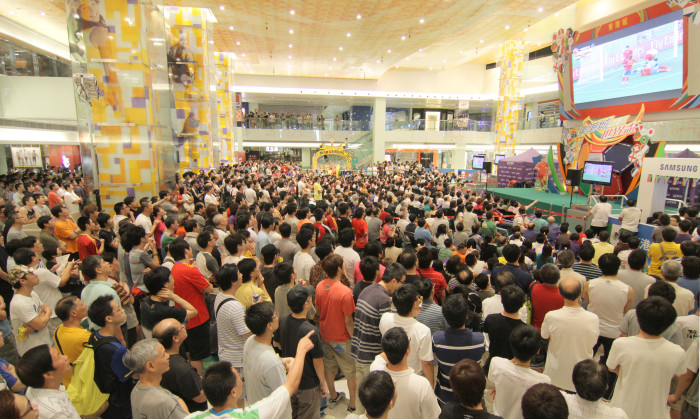 Eric Lam, assistant general manager - promotions of Sun Hung Kai, said sales in three main sectors including retail, F&B, and audio visual products are on the rise by 15%, 10% and 10%, respectively.
Within the sectors, sport brands and supermarkets are seeing the most prominent growth.
"We own a wide array of sectors which complementary to each other to balance the steady growth thanks to the FIFA World Cup," said Lam.
"Normally June to July are off-seasons so we don't expect much. But the FIFA World Cup really turned the tide."
During the past three weeks the property giant has reported overall business sales of 1.3 billion across nine shopping malls, seeing a 19 - 20% increase comparing to three weeks ago before the campaign launched.
East Point City, the biggest mall under the Sun Hung Kai's family, amounts to HK$3 million in its overall business sales, reporting a 71% up comparing to the same period four years ago.
The 56 live broadcast matches on big TV screen at East Point City, Park Central and Landmark North, have seen a cooperation with chain restaurant Tai Hing and electrical and household appliance company Osim to allow audiences a more joyful experience watching the game on massage chairs, and a place to have late meals after watching the game.
"Our live broadcasts and new multi-channel campaigns have successfully driven footprint to our malls. Our footfall has already seen a rise of 18-20% in these three weeks."
He added retail footfall until the end of the game is estimated to reach 36 million, and at East Point City alone a total of 7.6 million footprints is expected.
"FIFA World Cup and us are in a reciprocal relationship that benefits each other," he added.
In comparison to four years ago, 2014 has seen a bigger chunk of the World Cup marketing pie shifted onto the digital space.
Brands like 7-Eleven and Compass Visa front its sports marketing initiatives with social media campaigns.
"World Cup Get Set Goal", a Facebook campaign from Compass Visa which leaded with the hailed "Soccer Queen" LuLu Tung and former Hong Kong footballer Au Wai Lun, helps the company's Facebook page to hit a milestone of 130,000 fan base.
Emma Leung, marketing manager of Compass Visa, said the company expects to see fans growth by more than 4% and engagement by 13% on Facebook.
[gallery link="file" ids="54829,54830,54831"]
Its strategic partnership with Circle K has boosted five times transaction volume via Compass Rewards app on mobile.
To beverage companies, a solid sales growth is almost guaranteed during the football season when party food is in great demand.
Vitasoy, for instance, continues to pump some big money in the festival marketing with a TV commercial and aggressive OOH push.
[gallery link="file" ids="54856,54854,54855"]
"As a world class event and focal point of the market, product tie-in surely brings great benefits to the brand," said a spokesperson from Vitasoy.
"Surely it will have positive impact on sales, but more importantly it further strengthens our bonding with consumers and reinforces the ever young image of the brand."