It is once again that time of the year when the industry gets a little cheeky and displays its creativity.  This year we spotted several brands in the region getting a little naughty.
Here are the ones we enjoyed most.
 Jetstar
Airline carrier Jetstar has proudly crowned Singlish as its official customer-facing language. This, it claims isits first steps towards greater market localisation.
The first Singlish Jetstar flight will take off today and takes place after the cabin crew have undergone mandatory Singlish lessons. The Jetstar website also boasts Singlish as a new language option.
Passengers can apparently look forward to hearing announcements such as "kiap your seatbelt tight" and "kin kin return to your seat".
Admitting to Marketing that this was just a stunt, the team at Jetstar said this is a way for the airline to resonate better with its Singaporean customers, and to provide them with something to laugh.
Starbucks Singapore
Starbucks Singapore presents the Starbucks Reusable Cup+, the innovative coffee cup that is indeed too good to be true.
Its automated drink generation calculates the optimum drink for you and automatically fills it out in your cup. The cup's 'date-dar' alerts you when it detects a combination of prolonged gazes at you and an increased heart rate, letting you connect immediately with their contact details.
Last but not least, the cup contains sensors for yawn frequency and blink rates to calculate when your next coffee break should be.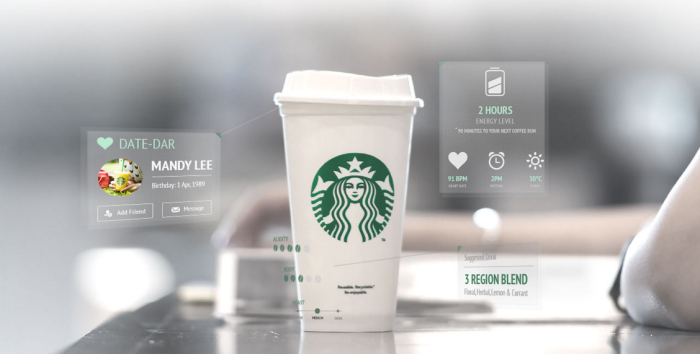 The Starbucks Reusable Cup+ carries cool features that coffee-lovers would wish for in their ideal world. If this were true, coffee lovers would be rejoicing everywhere indeed.
Scoot
Scoot always has something cheeky up its sleeves and this year, it is no different.
It has carried out a straw poll among its Facebook fans, asking them to vote for the next sauce to be introduced to the Scoot Café. The four choices given to fans however, seem to be quite questionable, to say the least.
The choices were: durian, smelly tofu, salted egg yolk, and Vegemite.
As of yesterday, the top choice has emerged to be the salted egg yolk sauce.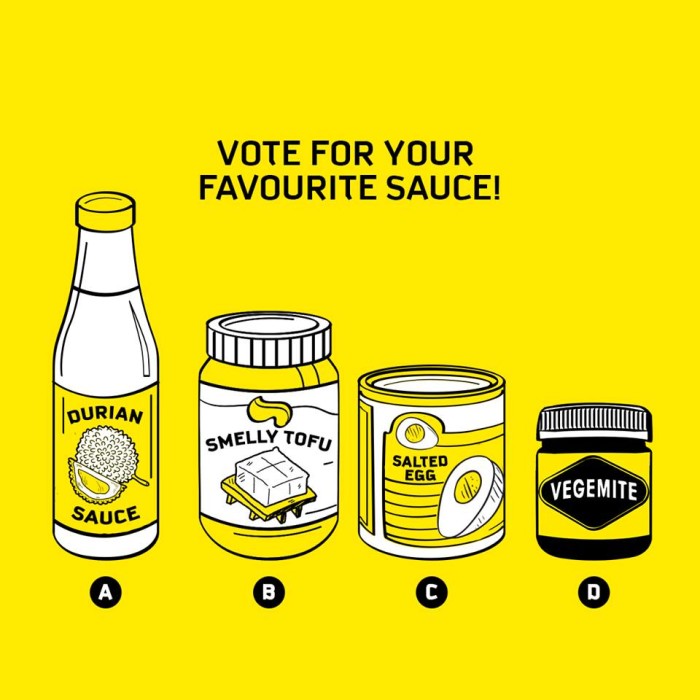 Marketing understands that this is an April Fool's Day teaser to an actual marketing campaign which will roll out later today.
Coca-Cola Singapore
Everyone's favourite experience with drinking a Coke is their very first sip, and Coca-Cola Singapore knows it all too well.The brand is claiming that its new Sip Size Coca-Cola is now offered in the tiny packet of 10ml, which is great when all you need is one little sip of the ice-cold beverage.
Oh the horror, if this came true, for all you Coke-lovers.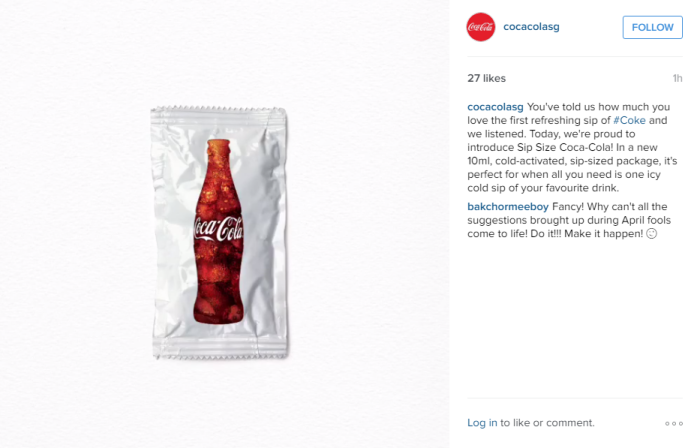 Lazada Singapore
In a bid to make the online shopping experience truly effortless, Lazada Singapore is proud to introduce a new function on its mobile app. Working with local developers, Lazada Singapore will be rolling out its revolutionary "Wink To Cart" function, available on both Android and iOS devices.
[gallery link="file" ids="131869,131870"]
Because swiping and tapping is so mainstream.
Bandlab
This agency is hilarious.
Brandlab, a free multi-platform digital audio workstation, headquartered in Singapore, announced its new project, 'Catlab' today. Hearing that the music industry is going towards dogs, Bandlab brainstormed further and realised that there is a "whole feline digital ecosystem" that is still not explored musically.
The new platform would allow 'mewsicians' to open up their ideas for collaborations with other feline music makers around the world, to create a new cat-egory of music that unites every age, race and demographic.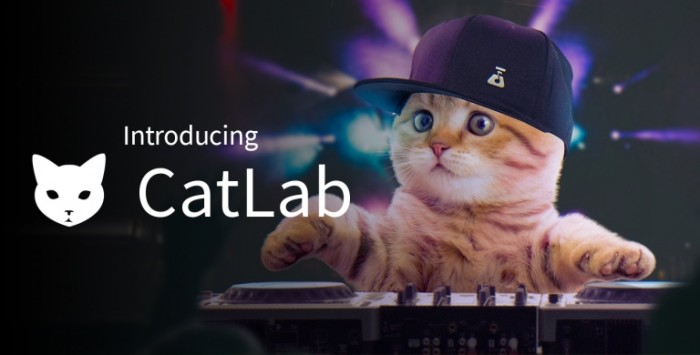 Purr-fect.
Digi Telecommunications
Having had enough of 'righties' (people who are right-hand dominant) ruling how products are designed in the world, Digi has launched a new lefty-friendly smartphone, LFT1-4U. It features fingerprint login technology and single-handed camera stabilisation - both optimised for the left hand.
Digi's Facebook post ends off with #AprilFoolsOrNot. What do you think?
KBS
If you have the K-fever, you must have noticed the popular Korean drama 'Descendants of the Sun' taking the Internet and global fans by storm.
According to K-pop entertainment website, on this April Fool's Day, broadcasting station for the drama, KBS, took to Facebook to announce a special event for viewers of the show, according to All K-pop. 1004 lucky viewers would be chosen at random to visit the fictional 'Uruk', a place in which the drama is set in.
Visitors will apparently get to fly there from Incheon Airport, and make a parachute skydive landing on the island.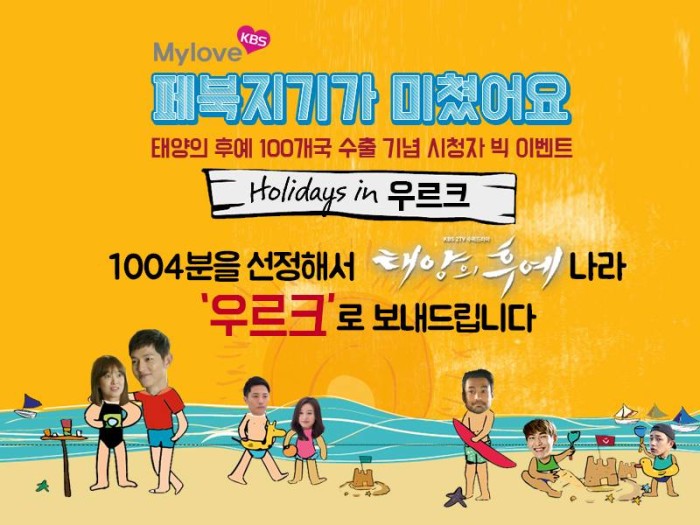 Uber Hong Kong
Hong Kong's Uber says today it has launched the revolutionary service "UberPLANE" which aims to take its business to new heights. That sounds amazing but I hope you didn't fall for it!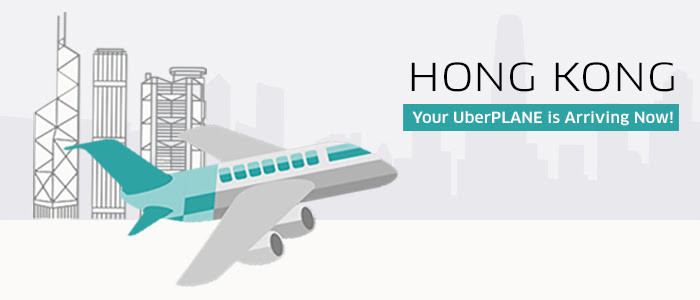 Burger King France
Can I steal your a fry? Of course not, because Burger King has launched "single fries", the first fries to be sold individually.
France's Burger King restaurants release a new product on April Fools' Day named "the single fries", it claims customers can choose the size of the french fry (small, medium or large) and the individual sauce to go with it (ketchup, mayonnaise, mustard, curry or BBQ).
Contiki
Contiki claimed today that for the first time in 25 years, Contiki will not bring together its employees from around the world in 2016.
Instead, launching its ground-breaking 'Virtually Unlimited' product, the leader in youth travel cancelled its global meeting to host a virtual reality conference to celebrate its ground-breaking Virtual Reality (VR) itinerary.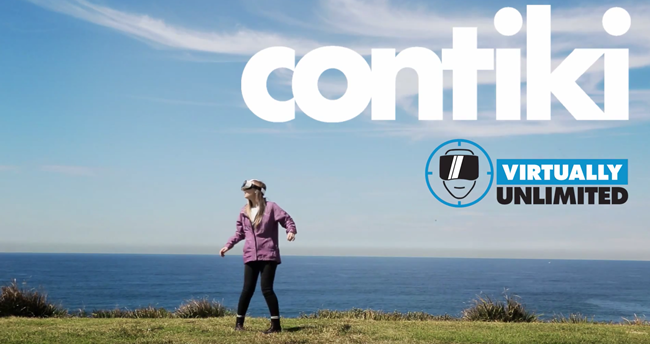 "We have been experimenting with virtual reality for over 18 months now and are proud to be the first travel company in the world to introduce complete virtual reality travel itineraries for all senses. It is such an important move that we decided to cancel our global conference and meet virtually instead. As people increasingly become time-poor and technology improves, Contiki is taking travelling to the next level. Our new 'Virtually Unlimited' product is the future of travel and a disruptor to the entire tourism industry, especially for airlines and accommodation providers," said Sam Morrah, Director of Sales and Marketing of Contiki.
Good one guys.
Google Maps
Google has always been one of the most enthusiastic April Fools' Day observers, this year the tech giant embraces the day with something a little special. You can explore "Funky Town" on Google maps today. Just open the search interface and you should see "Explore Funky Town."
You'll get a little animation of peg man dancing.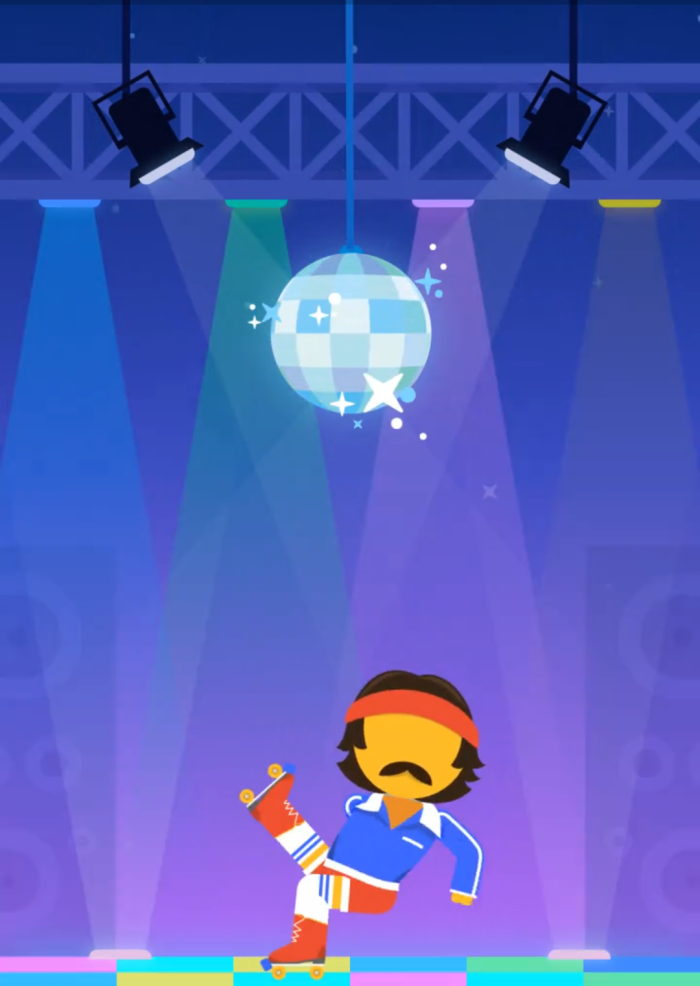 Samsung
It's been less than a month since Samsung unveiled the new Galaxy S7 and Galaxy S7 Edge, but the company posts a teaser for the #TheNextGalaxy which draws out the number 8. And of course, S8 is not out today!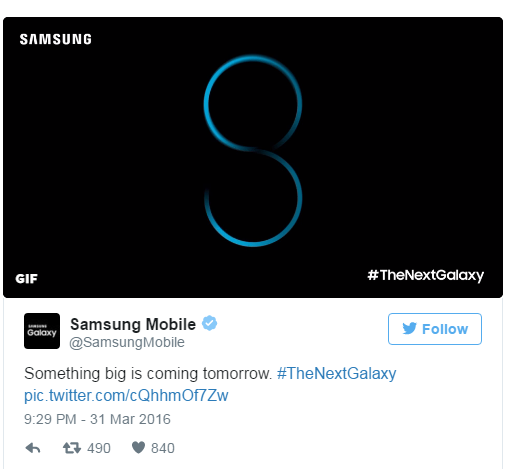 Got anymore to share with us?
The writer is Wong Jeng Teng, currently an intern at Marketing Magazine Singapore.