Initially just a homegrown Swedish underwear brand, Björn Borg, named after the famous Swedish tennis player, has been growing its brand name in the Nordic and Benelux. Today, it has more than 4000 retail shops globally and in the past year, it has ventured into sporting apparel.
In an interview with Marketing, Jonas Lindberg Nyvang, marketing director of the brand, boldly claimed it is today competing with the likes of Nike and adidas to become the number one sports fashion brand in its key markets. All this, he explained, is done with a focus on launching powerful digital marketing campaigns – with a bold stand.
"We are not doing TV at all," he said.
Currently, the brand splits its ad spend between digital and OOH with the former taking up 70% of its marketing spend. The 30% allocated to OOH is simply because it is an expensive medium, he said. Björn Borg has over the years launched a series of feisty marketing campaigns that resonate with its core target audience – city living fashion-conscious men aged 20 to 30.
What is needed more in today's advertising, he said, is for brands to recognise relevant issues that resonate with their audiences.
"Brands today have to be always on and we have to be relevant all the time in this media landscape."
However, it has not always been an easy ride for the Swedish brand.
In fact, in 2012, it faced turbulent times because of an unclear brand positioning, a revolving door of marketing directors and its ever-changing brand messaging. This led to the brand having a low emotional engagement and no brand continuity or consistency, he said.
The company soon realised a revamp needed to be made to strengthen the brand and drive sales. The new direction was needed to move away from just being an underwear brand to a sports fashion brand. The change with the communication landscape also pushed the brand to be far more digital and PR-driven.
"People today are far more aware of advertising than before. So we needed to create a new brand platform with four steps to establish our why, how, what and who," he said. He added the brand needed to decide on its reason for existing in society, and how it could take a "more active stand for spreading love" – which was its core purpose in its communication strategies.
"We wanted not just the hygiene aspect in our brand communications, but to also push the agenda of sex and spreading love and bringing the Swedish mentality of strong equality and liberation through our communication campaigns."
He added this "Swedishness" was a quality the brand embodied from the beginning – of being practical, yet stylish, and also standing for something. Hence, with a daring attitude, the brand "passionately and without fear" decided to throw itself into new bold ventures – no matter the challenge.
One of its first crazy campaigns since establishing its new identity was to drop free underwear in North Korea. This was part of the company's campaign called "Björn Borg says JA! to weapons of mass seduction".
Initially launched online, the campaign urged consumers to vote for a place which was in need of some loving. He added that initially the Björn Borg team thought the votes would be primarily from the markets the brand already had a presence in. Never did the brand envision venturing into North Korea. However, what resulted was the online campaign receiving more than 100,000 unique visitors from South Korea urging the brand to "bomb" Pyongyang with Swedish underwear.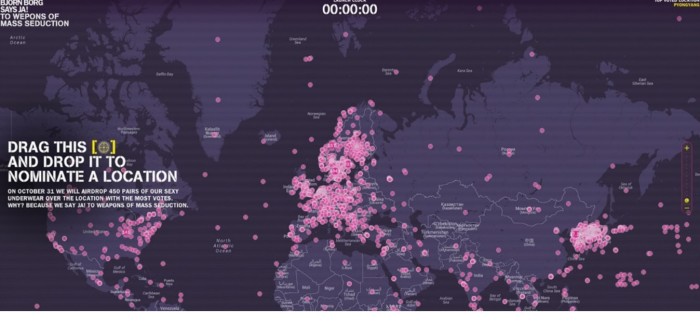 "We also thought consumers would be ticked off as we were dropping underwear from a plane, but people loved it. In the end the blog had almost 200,000 unique visitors in two weeks and people were complimenting us."
[gallery link="file" ids="98873,98872,98871,98870,98869"]
This gained the brand international recognition from markets which weren't on its key target list. Nyvang, however, declined to comment on the cost of the campaign.
Meanwhile, encouraged by its last success, earlier this year the brand also launched a gaming campaign promoting its spring summer collection. Unlike any other campaign, this gaming campaign mocked the traditional computer games and gaming world where a first-person shooter has to destroy their opponent through violent means.
"In the gaming world, the most violent of games are in the category of 'first person shooters'. We launched a game called 'first person lover' which went viral."
Through the game, players were urged to destroy evil forces through the power of love. The game soon hit a sweet spot within the gaming world with playthroughs on YouTube having rendered more than 10 million views from 176 countries in less than two weeks.
First person lover also spread quickly in social media because of its storyline and political references. Players could, for example, get a North Korean haircut in Kim's barber shop, love-bomb "God hates figs" demonstrators, and defeat a bare-chested tyrant riding a bear.
The game also gained the attention of Felix "Pewdiepie" Kjellberg who had almost 34.4 million followers and who deemed the game, "The most fabulous game in the universe". This led to his followers also sharing it.
https://youtu.be/b1juOJK4yKs
Meanwhile, American YouTube sensation Markiplier, who has 5.9 million followers, also called it "the game of the year". This resulted in an overall increase in engagement in all social channels by 500% and an increase in PR clippings in both digital and analogue by 300%. The campaign also resulted in a 20% increment in sales compared with the year before.
What's next?
Nyvang said for the brand that earned media such as PR was more effective for the brand when done right. Going forward, the brand is making a push into mobile by launching an app similar to Tinder. Like Tinder, the brand will use swiping functions, but rather than to find dates, it would be to find gym buddies or fitness partners.
As a marketing director in a fast evolving company, he said it was always a challenge for him and his team of 10 to constantly find the new idea that would resonate with the target audiences and bring it to life.
"It is not like we do the same thing. Every time it is a different packing, different idea, different pitch. But working with a good team and good agency partner is what is needed to constantly keep your ideas fresh and flowing."
The Embassy of Sweden in Singapore and the Swedish Institute paid for this journalist's accommodation and trip to the event.