One of the biggest challenges facing CMOs is the explosion of data and the sheer amount of information from which insights must be mined to better drive marketing campaigns and customer engagement.
Speaking at the Big Data and Digital Innovation conference, organised by Marketing at Sheraton Hong Kong in Tsim Sha Tsui, Luis Chiang Carbonell, the IBM Customer Experience Lab growth markets lead, said: "Big data is the core of it all. However, big data is not a new topic."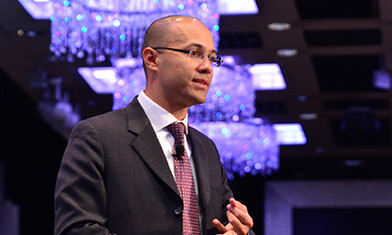 He said there were many definitions of big data, but among the key elements that everyone would agree upon were volume, variety and veracity.
Volume comes from user interactions with online platforms such as their mobile and also their exchanges with one another, often on the go.
"As soon as you wake up in the morning, you would turn on your phone and start looking for information. In this process, you are creating plenty of information, connections, accessing lots of pages and there are many exchanges of information going back and forth. As you move around, the volume of data about your geographic location also increases," Carbonell said.
Variety refers to the manifold formats which data can come in, including whether they are structured or unstructured.
"So far, the marketing industry has been working with structured data, which is data that you can put into tables and whose attributes you can define.
"But we are now dealing with data in the form of social media, comments people post on your website, videos, and conversations in call centres. We are seeing an explosion of unstructured data being created at a staggering speed."
By veracity, Carbonell means sifting through a sea of incoming data and identifying what is actually important.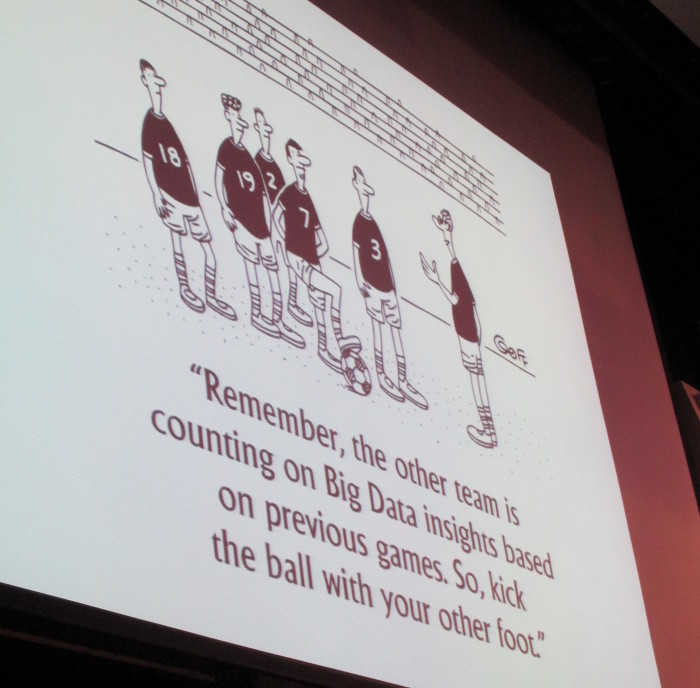 The sheer number of people using mobile phones has played a major role in driving such an explosion.
"We are in the middle of a mobile revolution in Hong Kong. People are sharing and consuming information, and interacting with one another using technology. Ninety-six per cent of their time is spent online, whether it is comparing prices or interacting with their peers. As a result of that, there is a massive explosion of data."
He says the biggest challenge for CMOs is to drive customer engagement using insights from data to meet three main marketing propositions: acquiring, growing and retaining customers.
"Acquisition of customers is one of the most expensive propositions out there. Traditional marketing campaigns are blanket propositions where you launch a campaign and see who you can capture depending on who comes back.
"Using big data analytics, you can identify specific customers and customer segments where your investment can give the best outcomes, such as by leveraging information popping up on social media to learn about the individual characteristics of customers and target campaigns in a better way to acquire individuals."
Social media event detection is an important tool for growing customers from what you know about existing ones.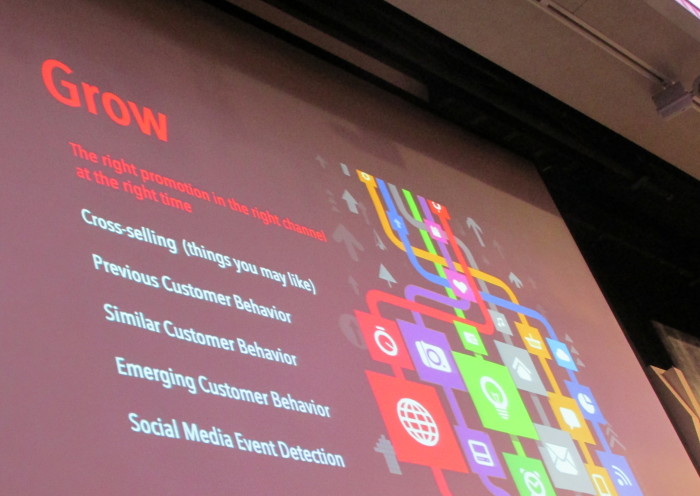 "To make sure you have the right promotions in the right channels at the right time for existing customers, you have to understand customer behaviour through data about their previous purchases and the social networks influencing the customer's behaviour – what people in his or her network are doing and buying," Carbonell said.
As for retention, it's about seeing the early warning signs a customer is about to bail out from your service or product before they actually leave.
"In the past, you find out that a customer wants to defect on your service when they call you asking to cancel. By then, it's too late because they have already made up their mind."
New technology enabled means of data analysis such as sentimental analysis and scoring models help you mine gold from what people are saying on social media. Moreover, influence analysis helps to assess the ripple effect over the social network of a customer who has decided to defect.
One excellent warning sign is when the customer is having a bad experience.
"Take telecommunications for example. If a customer has made two or three phone calls in one area which were not completed, or they couldn't load a YouTube video on their phone, you can offer them a coupon or a promotion.
"As Woody Allen said, 'Relationships are like sharks, you need to keep moving in order to stay alive'."
Customers go through a journey where they discover a product or service, make up their mind and engage with the company to discuss a purchase and then actually commit to one. After the purchase, during which they adopt the product, hopefully they will become an advocate for the product or the brand.
While many may think the key in the journey is the moment of truth pushing the customer to buy, Carbonell argues the journey happens across many points in time and often across several channels.
Questions to ask at this point are: Where are the data points? How can you assess the effectiveness of the journey? How can you know what customers are going through during the ride?
"Our thesis is that by applying analytics, you can help identify, among multiple journeys, the most important journey for your company and build a journey map from a customer's perspective.
"One of the biggest pitfalls is designing the journey inside-out where you as a company try to decide what the journey is like, but this brings the process perspective of your organisation into the journey. It's a big mistake because the ideal process is to put yourself in the shoes of customers and identify how they are actually experiencing your organisation."
According to a recent survey by IBM, while 80% of 6,300 CEOs surveyed believed they were delivering superior customer experience, only 8% of their customers agreed with that statement.
After identifying the key journey and embarking the customer on it, the next step is to assess how effectively the company is delivering its brand promise at every step of the journey.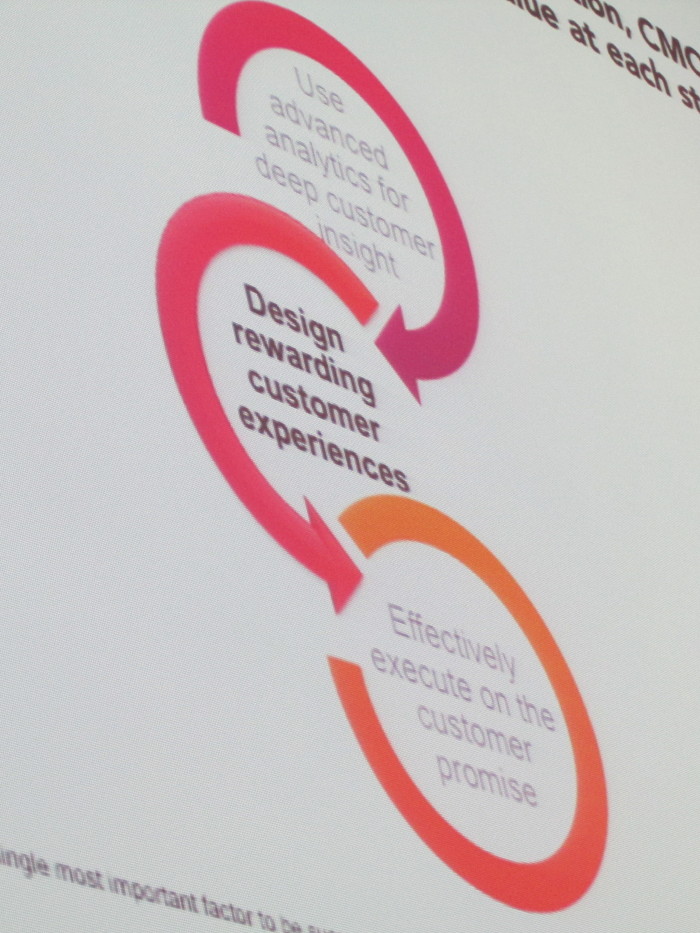 To collect data points about whether a company is getting good engagement at crucial steps in the journey, Carbonell says score models, sampling and analysing data can be helpful to seeing how real customers experience particular steps in the journey.
Once sufficient data has been collected, companies can then measure the relationship between scores and customer churn rates.
Again for customer retention, companies can use data to identify the root causes of failure during the journey and decide on corrective actions, which its customer service staff are empowered to implement.
"You might think that you need to implement big data infrastructure in your organisation, but probably within your organisation, we already have sufficient data on how you are doing and what you are delivering."
He describes CMOs ahead of the big data and digital innovation game as digital pacesetters.
"They are prepared for data explosions, not only using social and online channels to distribute information, but to engage with customers and listening and transacting with them."
Zhong Su, senior manager of cognitive understanding and analytics at IBM Research in China, said social media was 10 times more efficient than other channels such as email and phone.
"For example, by doing personality analyses of people posting on a company Weibo site, marketers can deliver targeted messages and use social media analytics to do customer segmentation," Su said.