Pen manufacturer Bic South Africa has issued a meta apology, that is an apology for an apology, for a sexist ad meant to "celebrate" the country's version of Women's Day.
Here is the ad that sparked online furor with publishers such as Vogue and BBC even picking up on the story: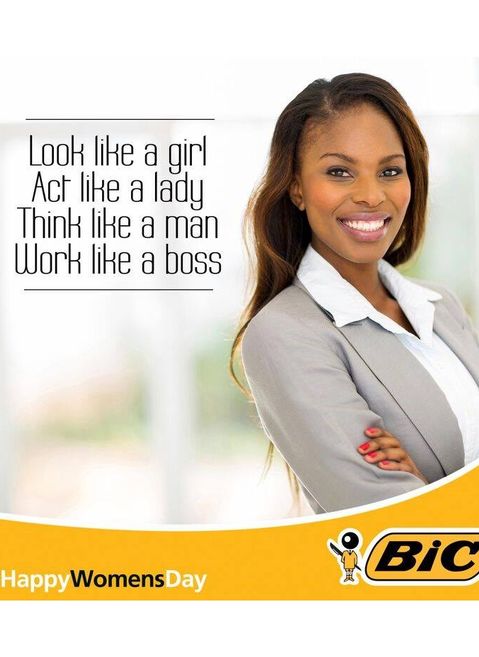 The ad has since been removed from Bic's South Africa Facebook page.
A comment on Bic's Facebook's page left by Densua Mumford reads: "Look like a girl? Because the infantilisation of women and the sexualisation of children is exactly the kind of blurred line we need! Act like a lady? Because narrow, straitjacket social scripts about 'proper' ladylike behaviour is precisely what emancipation was all about. Think like a man? Because women's thoughts are not worth knowing. Work like a boss? Whatever the hell that means. Bic, you are literally ruining Women's Day."
Twitterverse didn't take it too well either.
Oh, #Bic… Did you learn nothing from your "pink pens for ladies" fiasco? Seriously… Get your sh*t together. pic.twitter.com/ToK3Ryp5UX

— Toula Drimonis (@ToulasTake) August 12, 2015
Wow it's like Donald Trump hacked the #BIC account.

— Biénne Huisman (@BienneHuisman) August 11, 2015
Bic's latest apology was shared on their Facebook page:
A comment by Arianna Baldo reads, "The sad thing in this story is that apologies make no difference. The real problem here is the mentality behind the creation of the advert, which believes women should invest in their looks (and in looking like GIRLS, who is literally used to define teenagers or children) and in emulating men in order to be recognised and achieve success. It is clear that this mentality is embedded within your advertising agency / marketing team since no one realised how backward the message is. This concept looks like it was developed by 70 year old men in the 1950s."
Another commenter, Alnica Visser, pointed out: "This is better. But. The comments on the previous "apology" have been deleted, and new comments cannot be added. So your response is to SILENCE us? Honestly?"
Bic initially posted the following statement, which has been deleted from its Facebook page, as an apology for its bad copywriting:
"We would like to apologize to all our fans who took offense to our recent Women's Day Post. We can assure you that we meant it in the most empowering way possible and in no way derogatory towards women. We took the quote from a 'Women in Business' blog site. The blog site explains the quote and what its intentions were when it was written. BIC believes in celebrating women and the powerful contribution women make to our society."
#Bic has apologized on its FB page for that disastrous Women's Day advert, saying it meant it to be 'empowering'. pic.twitter.com/P8HvoNjSmO

— Mandy Wiener (@MandyWiener) August 11, 2015
#Bic apology: We stole the line from a random blog. It's their fault not ours. We'll ignore the fact the blog is sexist. Sort of sorry.

— Mandy Wiener (@MandyWiener) August 11, 2015
Meanwhile, a competitor, Stabilo, couldn't resist taking a dig at Bic's marketing mishap:
Sorry to highlight your mistake #Bic, but we thought this was more appropriate… #HappyWomensDay pic.twitter.com/NvSzDWknUJ

— STABILOUK (@STABILOUK) August 12, 2015