BBDO Guerrero and GMA Marketing & Productions were the top winners at this year's Araw Values Awards (AVA) held last 20 November.
A total of 126 awards were given in the award's 9th season – 61 bronzes, 52 silvers and 12 golds and  only two platinums. The Advertising Foundation of the Philippines, the award's organizer, gathered 387 entries, the highest number since AVA was created in 1998
BBDO Guerrero brought home platinum in advocacy communications for the "PH Thank You" campaign developed for the Department of Tourism. It was launched this February, three months after Typhoon Yolanda swept the Philippines to show gratitude to the global aid given to those hardest hit.
ALSO READ: PH says thank you to the world for Haiyan aid
BBDO Guerrero also won three bronzes and two silvers in addition to the top award.
GMA Marketing's four-part short film "Gustin" won a platinum in branded communications. The series was created for Champion Detergent, following the story of two trash pickers divided on what to do with a bag of money they found. Dragon Pineda directed the series and was aired on GMA and GMA news TV from 24 September to 21 October.
GMA Marketing bagged nine awards in total, with seven bronzes and one gold.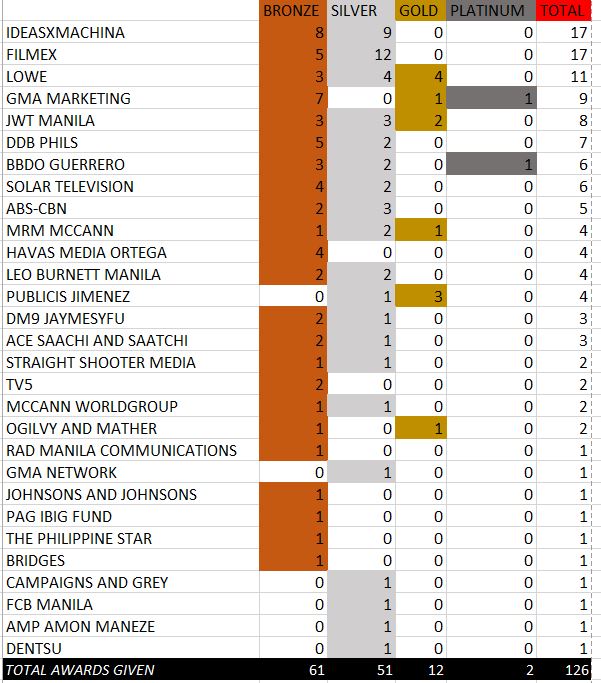 Production house Filmex and creative agency IdeasXMachina (IXM) had the largest metal haul during the Araw Awards with 17 each. Filmex brought home five bronzes and twelve silvers while IXM won eight bronzes and nine silvers.
"I think more and more people are starting to gravitate towards brands that have advocacies in real life," says AVA Awards 2014 co-chair and Monde Nissin Corporation head of regional market development (Asia Pacific) Randy Aquino.
"This is not purely a commercial endeavor, brands are starting to become more responsible. They are starting to think about their participation in community building and their responsibilities towards the environment and sustainability," he adds.
Long time partner ABS-CBN will air a two-hour nationwide TV special dubbed "Araw ng Pagsikat" for AVA on 7 December.