The Agri-Food and Veterinary Authority of Singapore (AVA) has been taken over by the Singapore Food Agency (SFA), new statutory board formed under the Ministry of the Environment and Water Resources (MEWR) in a bid to oversee food safety and security. Lim Kok Thai, chief executive officer of AVA, will be concurrently appointed as the chief executive officer (designate) of SFA.
SFA will be handling the responsibilities that were previously carried out by the AVA, the National Environment Agency (NEA) and the Health Sciences Authority (HSA). This integration was aimed to enhance the regulatory oversight over all food related matters from farm to fork and to further strengthen its food safety regime.
Meanwhile, all non-food plant and animal related functions of AVA will be transferred to the National Parks Board (NParks) under the Ministry of National Development (MND). NParks will become the lead agency for animal and wildlife management, as well as animal and plant health, and will work closely with the community and other stakeholders. The formation of SFA and the transfer of functions to NParks will take effect on 1 April 2019.
In the interim, AVA, NEA, HSA and NParks will continue to carry out their existing functions. The agencies will continue to consult and engage stakeholders and industry partners. As part of the re-organisation, the agencies will also revisit and fine-tune regulations and processes.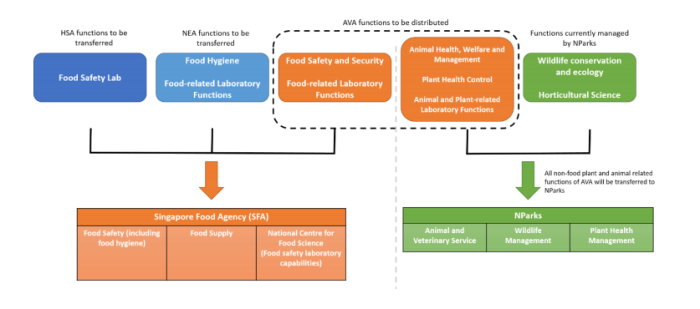 As the lead agency for food-related matters, SFA will partner food businesses to strengthen capabilities, tap on technologies to raise productivity, undertake research to develop new lines of business, and catalyse industry transformation. This will be through collaborations with economic agencies such as EDB, Enterprise Singapore and A*STAR.
SFA will also aid to better facilitate partnership with food businesses to develop new capabilities and solutions, and to seize future opportunities. It also aims to provide better services to Singaporeans and businesses by harmonising regulations across the three agencies, according to the press statement. Working closely with stakeholders, SFA aims to strengthen Singapore's food security and resilience against geopolitical risks and climate change, and position its companies to seize opportunities in the future economy.
According to a release, SFA will also facilitate more business-friendly regulations with oversight of all food safety and food security policies. It aims to harmonise licensing standards by combining existing licenses for food businesses, including farmers, food manufacturers, food retailers and food service operators. These will allow businesses to adapt and transform their business models seamlessly and look at new ways to grow their operations. SFA will be handling and engaging with food establishments that are currently licensed by NEA and AVA, and support them on their plans.
In the press statement, MEWR and MND said that a dedicated agency to handle all matters will strengthen the management of foodborne disease outbreaks to protect public health, through closer coordination of responses to food-related issues, including product tracing and recall, and engagement of various stakeholders and the public. This enables the SFA to address lapses more quickly holistically, and streamline public feedback to one point of contact, the press statement added.