Astro Malaysia has registered a 5% increase in group revenue y-o-y leading to a 7% rise in EBITDA to RM1.9 billion for the financial year ended 31 2016.
Most recently, Astro's regional ambitions saw the group launch its OTT service Tribe in Southeast Asia.
Dato' Rohana said: "We see opportunity for Astro to scale operations regionally. In line with this, Astro recently announced the launch of Tribe, a differentiated online video service for the region. Tribe represents Astro's aspiration to expand its customer reach and content scalability"
The media company attributes the growth amidst tough economic climate to strong operational performance, with 389,000 new TV customers added in FY16. This includes 40,000 pay TV and 349,000 NJOI users and increased ARPU to RM99.3 from RM99.0.
With a penetration of 67% of Malaysian TV households, equivalent to a total customer base of 4.8 million, Astro's grew its share of TV Adex and Radex to 35% and 70% respectively.
Dato' Rohana Rozhan, Chief Executive Officer of Astro said: "We offer not only the breadth and depth of content but also a clearly differentiated offering with LIVE sports, fresh 'Same Day' TV hits from the US, UK, Hong Kong, China, India and Korea, as well as our very own vernacular signature IPs."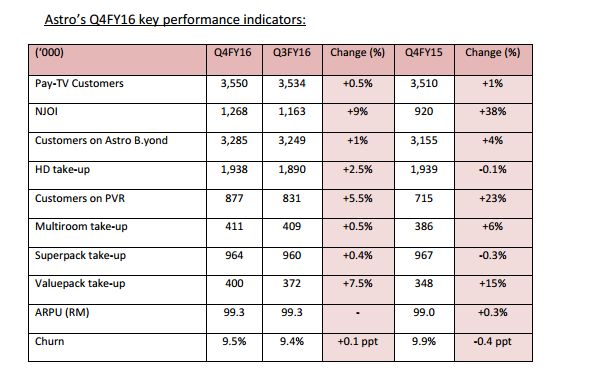 Meanwhile, its e-commerce business, Go Shop, sold over 982,000 products to 410,000 unique customers in its first year of operation, surpassing expectations to achieve revenues amounting to RM189 million in FY16, the company said.
"Our current environment demands that we achieve razor sharp focus on our strategic priorities to deliver on our growth and dividend policy. Our commitment is to deliver a cost-disciplined revenue growth, with emphasis on realising scale both for content and technologies," Dato' Rohana added.