From online streaming to mobile devices acting as second screens, the internet is gaining more and more ground in the television landscape.
According to figures from Hong Kong broadcaster TVB, TV ratings at its prime time 8:30pm have dropped from 2.2 million to 1.7 million between 2010 and 2015. The latest ad spend report released in September has started to show a shifting ad spend preference from TV to computers and mobiles in the Hong Kong market. (More:Â Free newspaper ad spend rebounds 5% in August)
Earlier this year, global media group Dentsu Aegis Network also announced the goal of becoming a 100% digital economy business by 2020; whereas British-Dutch multinational consumer goods company Unilever said almost a quarter (24%) of its global ad budget now goes toward digital media.
In Hong Kong, Facebook's head of Greater China Jayne Leung told Marketing at Facebook's building screen strategy workshop that she saw a growing number of clients recognising the need to go digital, but many are still struggling for the right media mix. "They are not certain about the ad spend ratios between TV and digital, as well as what multi-screen strategies should they adopt."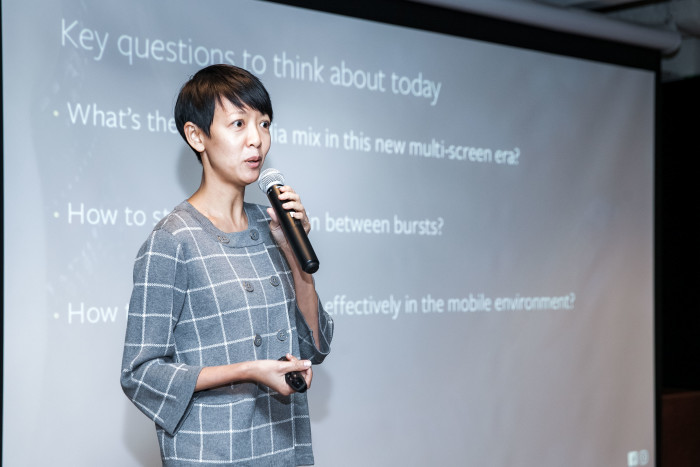 Leung shared three points for marketers:
Always start with thorough media planning.
The new prime time is all the time. The right media mix will let mobile and digital effectively fill the gaps between prime time on TV, increasing media reach.
Mind the difference between digital and TV.
Tell the story upfront on digital to catch mobile users' attention. Do more visuals and sound-off subtitles so that viewers can watch the video on their phones even when they're not wearing their earphones.
Specify your ROI
Lots of likes, comments, and shares do not mean it is a successful digital campaign – make sure the digital videos can convey the right message and drive product sales.
Alexandra Lo, senior manager – digital & consumer experience at Wyeth Nutrition, added that brands on digital should be more engaging.
She took the team's recent work as an example. "We have two different approaches to the two platforms: we bring out the message that pregnant women or young mothers should consume more DHA in TV ads, and then offer cooking recipes rich in DHA, instead of releasing viral videos, on digital."
Another strategy they adopt is sequencing buying. "Instead of producing one 60-second, long video and put it onto the internet, we changed our strategy, and produced five 10-second short videos instead. Since all videos are in sequence, viewers have to finish watching the first video to know what will happen next – otherwise, the second video will not pop up. Through this way, we can keep track of the audiences' engagement level," Lo said.