Apple has launched a repair programme for iPhone 6 Plus users whose devices exhibit display flickering or multi-touch issues "after being dropped multiple times on a hard surface."
According to Apple's official website, if your iPhone 6 Plus is exhibiting the symptoms noted above, is in working order, and the screen is not cracked or broken, Apple or an Apple Authorized Service Provider will repair your device for a manufacturer's suggested service price of HKD$1,158. Pricing offered by Apple Authorized Service Providers may vary.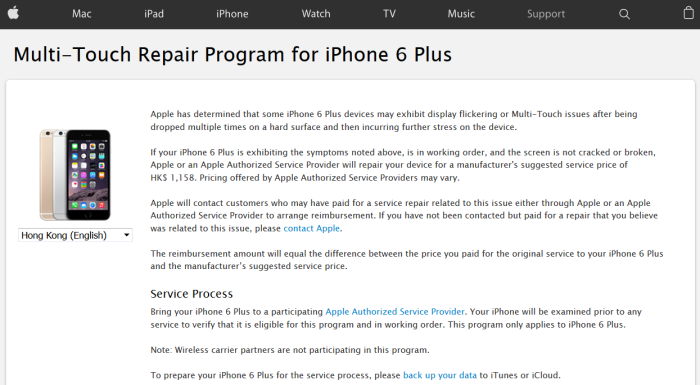 However, going by Apple's description of its "Multi-Touch Repair Program for iPhone 6 Plus" the problem is really the owner's fault, caused by "being dropped multiple times on a hard surface and then incurring further stress on the device."
The so-called "touch disease" causes the screens on some iPhone 6 Plus units to become unresponsive.
If you bought your iPhone 6 Plus from a wireless carrier, then do not take your smartphone to them for repair. Apple has explicitly mentioned on its website that wireless carrier partners are not participating in this programme.
A lot of iPhone 6 and iPhone 6 Plus users have complained of the problem over the last several months, criticising Apple for forcing them to buy a new iPhone to address the problem. Lawsuits were also launched, citing Apple's policy response to the problem.