Apple finds that bigger is better, especially in Greater China, where sales of its larger iPhone 6 has contributed to a staggering profit gain.
The company has posted an US$18 billion gain in net profits for its first fiscal quarter, the biggest earnings yet in the company's history.
The record result was led by sales of its mobile products and Mac computers, growing 30% from the previous quarter to US$74.6 billion in total revenue.
Mainland China, Hong Kong, Taiwan contributed a total of US$16.1 billion, up from US$6.3 in the previous quarter.
Over Q1 2015, the company sold 74.5 million iPhones, 21.4 million iPads, and 5.52 million Macs in total, according to the company's unaudited summary data report.
The reports shows that Greater China is presently the third biggest driver to its staggering earnings this quarter, and also the fastest growing market in Apple's operating regions, of which revenue jumped by 157% over previous quarter and 70% year on year.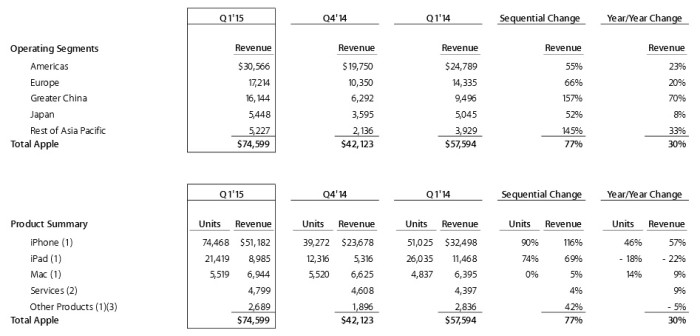 Apple CFO Luca Maestri said in an announcement that the exceptional results produced EPS growth of 48% over last year, also reaching an all-time record in operating cash flow by $33.7 billion.
"We spent over $8 billion on our capital return program, bringing total returns to investors to almost $103 billion, over $57 billion of which occurred in just the last 12 months."
Last October, Apple was the number six smartphone maker in China, trailing its Asian rivals Huawei, Lenovo, Samsung, Xiaomi and Yulong.
The lure of Apple's latest mobile product iPhone 6 and iPhone 6 Plus has brought Apple to the top spot in China smartphone market last year, according to market research firm Canalys.
The company is in the midst of a retail expansion plan in China.  Later this month Apple will unveil a new mural in celebration of its new store in Hangzhou, according to Tim Cook's Twitter feed.