The number of M&A deals in Asia Pacific's marketing services industry has dropped by 9% to 67, with value decreasing further by 55%, according to research by independent consulting firm R3. For China in particular, R3 said its M&A landscape "experienced its weakest year in the past decade", with deal activity in marketing services decreasing by 54%. The biggest domestic deals in China reflect the strength of radio and OOH locally and expectations of a growing automotive market, R3 added.
On the other hand, North America led M&A activity globally, with a value of US$19.9 billion and 276 deals. This came as trade uncertainty and growing protectionism limited interest in outbound transactions. The number of deals made in North America increased in 2019 by 7%, followed by EMEA which experienced year-on-year growth in both volume and value despite speculation around the impact of Brexit.
R3's principal Greg Paull explained that trade tensions and increased regulatory scrutiny continued to negatively impact the appetite for outbound investment in China and Asia Pacific. He added that investment in Asia Pacific has slowed though it remains of interest to buyers wanting to address marketplace complexity in the region.
"Buyers have been looking at investments that will strengthen their position in an uncertain geopolitical climate," said Greg Paull, principal at R3. "Though martech and adtech have driven M&A value, there has been more interest in acquisitions that will increase regional presence and serviceability."
Private equity groups dominate M&A in 2019
Meanwhile, 2019 saw advertising agency holding companies cut the number of M&A deals by more than half though year-on-year spend remained constant. Publicis Groupe came out on top as the top buyer with a total deal value of US$4164 million followed. Meanwhile, Dentsu came in fifth with a total deal value of US$397 million. According to R3, value of acquisitions by advertising agency holding companies only saw an 8% increase from 2018, even with Publicis Groupe's acquisition of Epsilon.
Interestingly, private equity groups contributed 44% more in deal value globally (US$6.6 billion) with Bain Capital and Blackstone making two of the top five deals in 2019. Also, martech companies were the most active buyers, increasing the number of deals made by 68% as they look to expand their capability into areas like analytics, email and search. Overall, R3 assessed 489 M&A deals in the marketing services industry between January to December 2019 and noted that a total of US$27.7 billion was invested. This marked a 15% dip in spend on the previous year.
Paull said restructuring has shifted attention away from volume and forced holding companies to attend to integration. "The 'buy and build' strategy of cash-rich private equity-backed agencies over the past few years has kept the M&A landscape buzzing. We expect to see continued PE investment in marketing services in the new year, though transactions are likely to be more modest," he added.
Meanwhile, although buyers favored martech and adtech companies in 2019, diversity was notably present in the type of acquisitions made. Experiencing the most growth were production houses and shopper/CRM/promotion companies, which saw double-digit upticks in both number of transactions and value.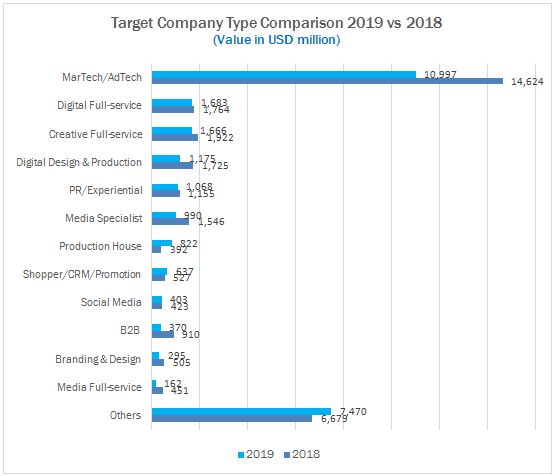 The top 10 deals in 2019 included data and research (Kantar, JD Power), retail and customer experience (Triad, Rightpoint) and CEO consulting (Teneo). Paull explained that more clients are looking for enterprise-wide transformation and this is leading buyers to balance their portfolios.