As the marketplace becomes increasingly competitive, brands are looking at customer experience (CX) as a prime point of differentiation.
A study by Econsultancy, done in collaboration with Adobe said marketers are grappling with the complexities of creating a CX-friendly culture but "are aligned in their determination to differentiate their business through customer experience, with 78% of respondents in Asia Pacific, 79% in Europe and 77% in North America strongly agreeing or agreeing with this statement."
[Marketing Magazine is organising a 2-day conference on customer-experience next month. For more discussions on digital customer experience, join our Customer Experience Conference 2015, 11-12 March.]
The study also highlights regional differences between Asia Pacific (APAC), Europe and North America on how marketers gauge CX. (See the charts below.)
Compared to marketers in North America and Europe, APAC marketers are betting big on delivering the most personalised and relevant experience possible, with 38% nominating this as their top priority compared to 32% in the other two regions.
(Read also: What's stopping brands from providing a great customer experience?)
Also, more APAC marketers prefer to be a 'mobile-first' company compared to the other regions, with smartphone adoption in the region overtaking computer adoption for the first time in 2014.
Where does your organisation place the highest emphasis in terms of improving the customer experience?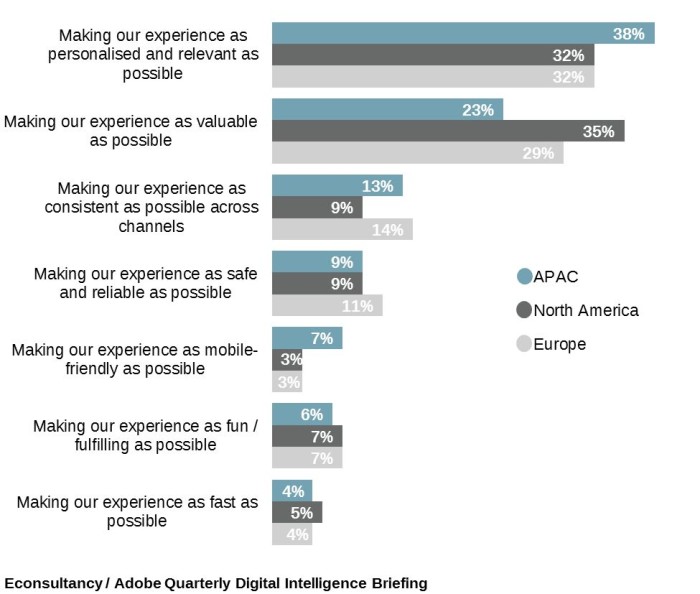 "The smartphone dominates as the device of choice among the majority of APAC consumers, and is used to research, communicate and make purchases, so it makes perfect sense that more marketers here than anywhere else in the world are prioritising development of a mobile-first business," Paul Robson, president of Adobe APAC, said.
Over the next five years, what is the primary way your organisation will seek to differentiate itself from competitors?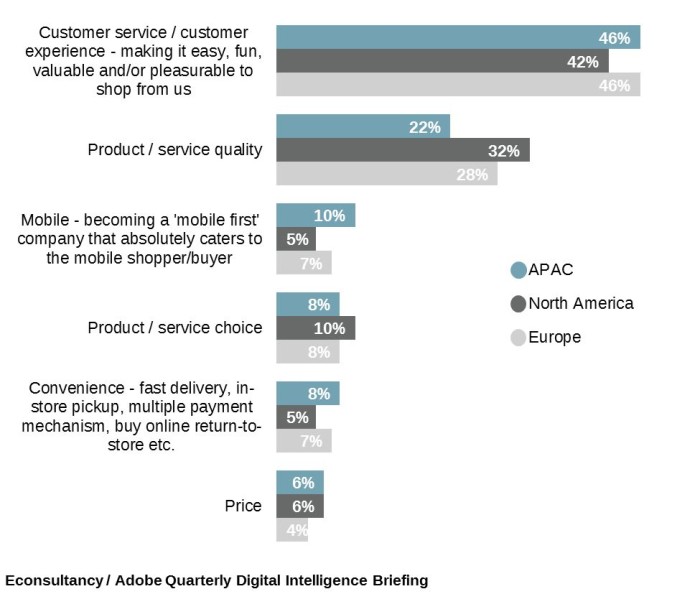 Robson added: "This research shows that we're seeing a high level of marketing sophistication in digitally-aware Asian businesses, whose marketing leaders are transforming their organisations to ensure brand is central at every moment of customer experience."
The Econsultancy report, Digital Trends 2015, surveyed more than 6,000 marketers worldwide, with 14% of respondents from Asia Pacific.
For more perspectives on customer experience management from brands such as Kimberly-Clark, Subway and Toys "R" Us, look out for Marketing magazine's Customer Experience 2015 conference, happening 11 – 12 March 2015.
To register, please click here or contact Carlo Reston at carlor@marketing-interactive.com or call +65 6423 0329, +65 9727 0291
If you would like to learn more about sponsorship opportunities, contact Soren Beaulieu at sorenb@marketing-interactive.com or call +65 6423 0329.
For speaker or agenda queries, please contact Ambrish Bandalkul at ambrishb@marketing-interactive.com or call +65 6423 0329.