We know many of you Mad Men fans were waiting in anticipation as the show broke in the States this weekend.
Here's what AMC did to drum up awareness for the show: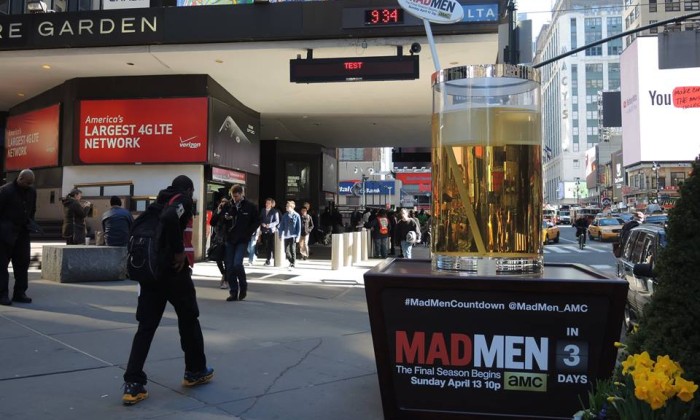 "We're celebrating the beginning of the final season with the biggest Mad Men cocktail you've ever seen in NYC and LA," it said on its Facebook page.
The drink will also slowly be emptied as the count down to the premiere begins.
Pete D'Andrea, VP at agency Attack which helped create the installation told Adweek in an interview that what the glass contains really is scotch.
Well, cheers to that!
Game of Thrones
Earlier, HBO also pulled of a pretty cool execution having a shadow of a dragon looming over its building prior to the launch of the latest season of hit TV series Game of Thrones.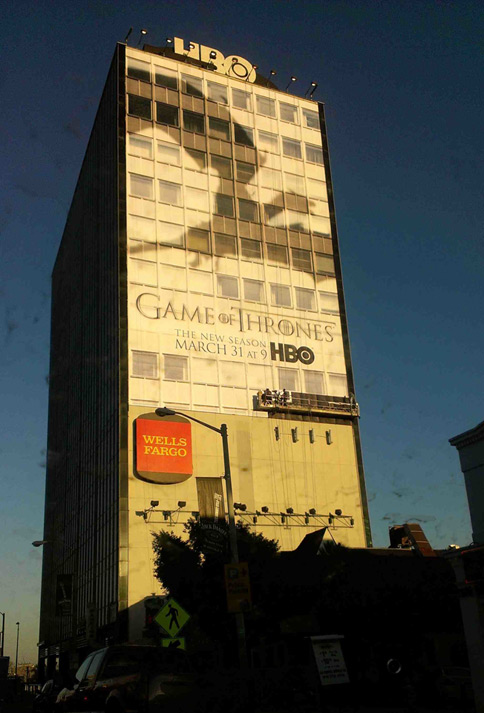 The Walking Dead
For its fifth season of The Walking Dead in APAC, Fox International Channels actively promoted the show in several Asian markets with "zombie attacks" . This followed AMC Networks Inc's announcement on renewing the zombie apocalypse drama series for a further season in the US.
For the Japan launch of the season,  FIC worked with FOX Sports Japan and staged a zombie attack at a baseball game. It also executed a Halloween stunt where over a thousand zombies stormed the Tokyo Tower.
Check it out:
The Wolf of Wall Street
We know this next one isn't exactly a TV show but it was so awesome we just had to throw it into the mix.
In Australia, security guards had to be placed around this OOH execution promoting The Wolf of Wall Street.
The concept was launched by OMD in partnership with JCDecaux Innovate and Roadshow Films. It featured Citylights panels filled with genuine $100 bills to the value of $10,000.
The custom-built panels were fitted with fans to create a whirlwind of cash – swirling behind an image of the film's high-flying protagonist, played by Leonardo DiCaprio. Security staff guarded the panels from 7am to 7pm, Monday to Friday.
On Saturday and Sunday they were guarded from 10am to 5pm with the money removed overnight.