Social media, undoubtedly is an important space to be in for airlines. From booking and promotions to customer service, the scope of engagement social media offers is unprecedented. What are brands doing on social media and which are the ones who got it right, Digimind's latest report on Southeast Asia's Top Airlines on Social Media illustrates.
The study included 27 carriers that fly to and from Southeast Asia over one month to determine the best player at growing and engaging their community through publications and interactions on social media.
Based on the Skytrax World Airlines Awards, Entrepreneur and Fortune directories, 7 low cost airlines and 18 flag carriers were monitored from 8 November to 8 December 2015 via Digimind Social Analytics.
These airlines were then ranked according to three factors:
 Community:Which airlines sold themselves successfully on social media and managed to build a large following?
 Publications: Which airlines are the most active on social media, and know how to exploit the characteristics of each network with their content?
Interactions: Which airlines command the most engaged audience on social media?
Over the period studied Qatar Airways had the largest community, thanks to its 11.65 million followers across Facebook, Twitter, YouTube, and Instagram. In terms of interactions, Singapore Airlines earned the most at 1.52 million. And for publications, Garuda Indonesia led with 379 posts across their social media channels.
Community Leaders
While the top 5 flag carriers in terms of community size have varying numbers of followers on various social networks, Facebook was the main contributor to their following, with all 5 airlines having at least 1 million followers on that platform. Across the board, YouTube had the least number of subscribers.
Here are the results.
[gallery link="file" ids="125170,125044,125043,125041,125042"]
Publication Leaders

Garuda Indonesia was the most active flag carrier on social media, having experienced the most growth to become the airlines with the most publications in the period studied.
Interestingly, while Facebook was the contributing factor toward community size, it was Twitter and Instagram where flag carriers such as Garuda Indonesia, ANA, Qantas Airways, Air New Zealand, and Malaysia Airlines were the most active.
For Garuda Indonesia and Malaysia Airlines, Twitter was a good way of providing their customers with timely updates on flight schedules and promotions, as opposed to clogging their Facebook pages with an endless stream of information.
Qantas and Air New Zealand, on the other hand, took advantage of Twitter to post self-promotional and holiday related tweets. Instagram, with its visual aspect, was a great platform for all 5 airlines to post "sneak peek" photos of their fleet, as well as holiday destinations to entice their followers.
All 5 airlines were most active around Monday or Friday.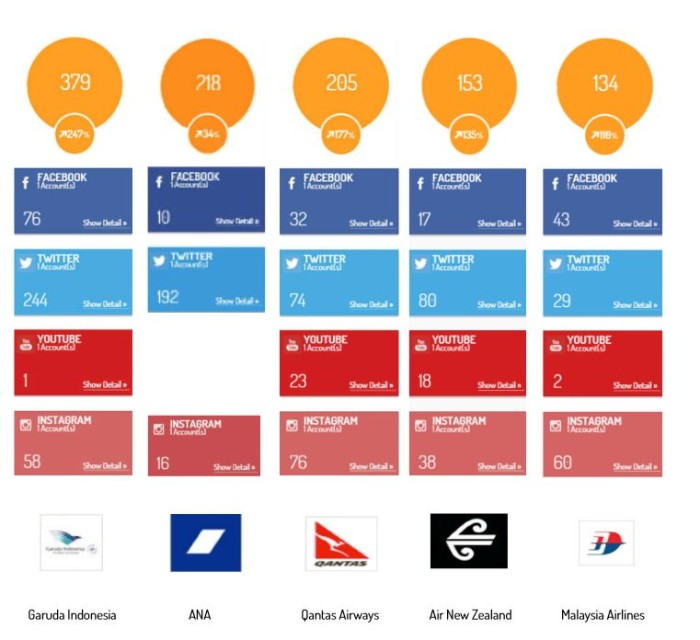 Interactions Leaders
Singapore Airlines experienced the highest growth, as well as the most number of interactions on their social channels, at a whopping 1.4 million. With the exception of Singapore Airlines and Air New Zealand, Instagram was where followers were the most engaged.

On Facebook, Singapore Airlines' "No detail is too small" video drew the most engagement, with 146 200 Likes, 6 300 comments, and 86 800 shares. It also hit a 112% interaction rate (ratio of post's interactions out of total subscribers).
The video told a story about the brand's philosophy (i..e attention to detail) that was engaging and prompted fans to reminisce about their positive experiences flying with the airline, thereby boosting its reputation as a world class carrier.

On Twitter, Emirates' tweet announcing the 7th year anniversary of the Airbus A380, along with a Twitter contest for a scale model, earned the most interaction, with 1 611 re-tweets and 579 likes - looks like everyone wanted to get their hands on that model!

Qatar Airways took advantage of the visual nature of Instagram to share a picture of their "award-winning cabin crew" in the cockpit of their aircraft. Fans appreciated the sneak peek into the aircraft's operations, coupled with the crew that comprised their experiences. Posing the question of when they had last flown with Qatar also prompted much interaction and conversation.
Similar to Facebook, Singapore Airlines' "No detail is too small" video enjoyed massive views and Likes on YouTube - 1.1 million and 2 800 respectively.
Interestingly, much of the comments focused on the visual and musical elements - from finding out the name of the song used, to the artist behind the miniature model. Furthermore, while YouTube ads have been the target of adblocking technology, some even commented that they would not mind watching this stellar advertisement.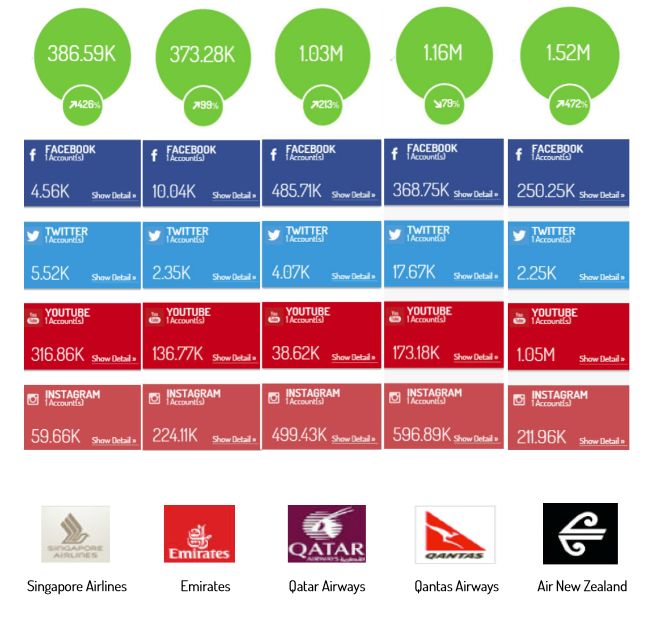 Top low cost carriers on social networks
Over the period studied, AirAsia had the biggest following, with a combined 5.01 million from Facebook, Twitter, Instagram and YouTube. It was also the most active, with 198 publications. Cebu Pacific led with 447 500 interactions, mostly on Facebook and YouTube.
Here are the results:
[gallery link="file" ids="125074,125075"]
Here are the top low cost carrier communities by channel
Although Jetstar had the biggest growth in their Facebook community, AirAsia still had the biggest following on the social media platform. Similarly on Twitter, AirAsia dominated with the largest following at 1.85 million.Cebu Pacific had the largest following on YouTube at 4 120 followers, beating out AirAsia whose YouTube community grew the most in the period studied.
[gallery ids="125077,125078,125079,125080"]
Here are more results on low-cost carriers:
[gallery link="file" ids="125084,125085"]