Airbnb will invest US$2 million through 2020 to support and promote innovative and inclusive tourism projects throughout Asia Pacific.
According to Nathan Blecharczyk, Airbnb co-founder, CSO and chairman of China, the funds will be made available to organisations including destination marketing organisations, non-profit agencies, NGOs and community social groups, that require financial support for innovative tourism projects. This is in line with its vision to strengthen communities through healthy tourism and empower hospitality entrepreneurs across the region.
Blecharczyk said during the Asia Pacific Economic Cooperation (APEC) CEO Summit in Vietnam that the company is committed to empowering individuals and communities through healthy tourism. He added that Airbnb is "excited" to continue its long tradition of supporting local projects in Asia Pacific, as well as support APEC's goal of promoting sustainable and inclusive tourism.
According to Airbnb, its community has boosted APEC economies by US$28 billion and supported 370,000 jobs across 116 APEC cities in 2016. In the past 12 months, 55 million guest arrivals to APEC member economies were made on Airbnb, while Airbnb hosts in APEC member economies earned about $8 billion during the same time period. This new commitment is part of Airbnb's vision to strengthen communities through healthy tourism and empower hospitality entrepreneurs across the region.
Seoul-Osaka topped the rankings for Airbnb international travel corridors including APEC member economies, with 190,000 trips since 2008. Hong Kong-Osaka and Seoul-Tokyo came in second and third with 92,000 trips and 86,000 trips respectively.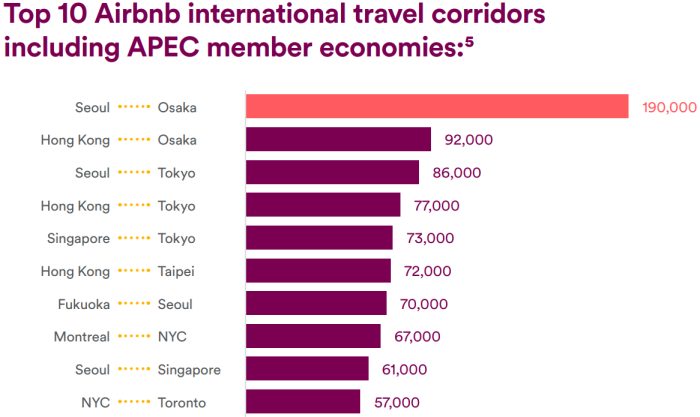 Despite restrictions on home sharing holding down the company's growth in Singapore, Airbnb's stated in its latest economic data report "Airbnb and APEC: Closing tourism gaps with healthy travel", that it is "encouraged" by the Singapore government's willingness to take on a public consultation amidst evidence of Airbnb's potential to support the country's economy and diversify tourism to Singapore.
Among all APEC member economies, Singapore is one of the destinations at which Airbnb guests stay the longest - 4.1 nights, as compared to a typical tourist who normally stays for 3.4 nights on average. Over three quarters of Airbnb listings in Singapore are located beyond traditional hotel districts, allowing more communities to benefit from tourist spendings. According to the report, Singapore restaurants and cafes witnessed a year-over-year growth in Airbnb guest spending of US$21 million, increasing from US$45 million to US$66 million. Airbnb supported approximately 2,200 jobs in the country and had an economic impact of US$250 million, the reported added.
Airbnb is also encouraging tourism beyond the hotel districts in Kuala Lumpur, Malaysia, with newly popular neighbourhoods for Airbnb guests including Brickfields and Taman Desa. Last year, it supported an estimated 4,300 jobs in Kuala Lumpur and had an economic impact of US$150 million. Over the past year, the company's host community in Malaysia grew by 109%, while inbound guest arrivals jumped by 179%.
Meanwhile, Airbnb aims to collaborate with Indonesian officials to scale up its offerings in Bali to help spread the economic returns and other tourism benefits beyond popular tourist spots. In 2016, Airbnb supported approximately 48,100 jobs across three Indonesia destinations, the highest number of jobs supported in any APEC member country except for the US.
(Read also: Airbnb names global creative partner, outlines Asia plans)
Airbnb is not the first to show support for and help boost tourism in the region. Several brands such as AirAsia, Mastercard, TTG Travel Trade Publishing partnered with the Association of Southeast Asian Nations (ASEAN) for its Visit ASEAN@50 Golden celebration 2017 campaign, and implemented a range of promotions to boost the campaign. The promotions are in a bid to raise awareness through ASEAN and Southeast Asia brand building, as well as drive travel bookings.
For example, AirAsia implemented an extensive multi-media awareness campaign bearing the Visit ASEAN@50 logo across all of its operating markets. Mastercard embarked on a travel campaign for the ASEAN region, working with tourism partners and the global Priceless Cities program to strike a universal chord with consumers across different countries, languages and cultures. TTG Asia also released more exclusive content in 2017 to inspire and promote travel and tourism business to the region.
Meanwhile, the three ASEAN Centres in China, Japan and Korea supported Visit ASEAN@50 with initiatives such as photo and social media contests and campaigns, TV programmes, travel shows and expos, media familiarisation trips, and an ASEAN Travel mobile application promoting Southeast Asian food and arts as a reason to travel.
On a local level, the Singapore Tourism Board (STB) launched the Marketing Innovation Programme (MIP) in April this year, setting aside SG$1 million in funding to help brands with their campaign distribution costs. Through the MIP, STB will aid with the costs incurred in the amplification of brand campaigns, including media buy, production and event activation costs.
Currently in its pilot phase, the programme will run for a year.
Read also:
Airbnb CMO exit: Why CEOs need to be involved in marketing
Airbnb China head exits after four months