Over its almost 100-year lifespan, AIA has successfully survived and thrived through good times and bad – and continues to do so – as it repositions the business from an insurer focused on end-of-life to an everyday motivator that helps people live healthier, longer, better lives. Marketing's Carlos Bruinsma talks to AIA Group CMO Stuart Spencer about the evolution of insurance, and trailblazing new ways of connecting with consumers.
"We're in the protection business," says Stuart Spencer, CMO of AIA, as he opens our conversation.
"It's a fact of life that people get ill, people get sick, they pass away. We want to make sure that our loved ones are protected and can continue to have the same quality of life and standard of living that they otherwise would have had."
Serving customers for almost 100 years, AIA is now the largest pan-Asian health and life insurer, looking after some 31 million customers across 18 jurisdictions. Founded in Shanghai by an American entrepreneur who saw an unserved Chinese populace, and "realised that was a gap that needed to be filled", AIA has grown into the second largest life insurer in the world.
The company has ballooned throughout Asia over the 20th century, but AIA still considers itself very local in the markets where it does business.
"Our leadership teams are predominantly local, born and bred, and we do our best to integrate ourselves into the business community and the fabric of society – and help communities across Asia live healthier, longer and better lives," Spencer explains.
And that brand promise is more than a slogan, it's a reflection of what the Company stands for and what it does for its customers.
"We believe that we're at the forefront of changing the paradigm of insurance."
When most of us consider life insurance, we tend to think of it as a transaction that occurs for our families after we pass away – for most of us, it's an end-of-life transaction that we will not be around for, and prefer not to think about.
AIA wants to turn that perception around entirely to become a "meaningful part of the entirety of someone's life, not just at that moment of truth at the end of life".
Spencer explains the key here is to be relevant, in-tune, on-time and create opportunities for daily interactions with customers.
"Think of the traditional paradigm [around insurance] as being fear and consequences. When you conjure up your own images of what an insurance salesman is all about, it's about scaring you into buying and you feel like it's a grudge purchase," he says.
"That's the last thing that we want. What we want is to help you build a healthier, longer and better life. And the reason we want that is that we're concerned about deteriorating health across Asia Pacific."
And Spencer makes a great point – 60% of disease diagnoses across Asia are non-communicable diseases; lifestyle-related illnesses such as heart attacks and diabetes.
As he puts it:
"When Asia got wealthier, it didn't get healthier."
He furthermore explains that obesity is rampant across the continent, mostly because of a lack of exercise, poor diet, smoking and excessive alcohol consumption. Ideally, as you may have guessed, an insurance company wants its customers to live longer.
"It's a win for the customer, it's a win for society, and it's a win for the insurance company."
And that's where AIA's behemoth customer proposition comes in – AIA Vitality.
"We're embarking on a mission, on a movement, to change the way people across Asia take care of themselves – know your health, improve your health and get rewarded," he says.
That's the almost deceptively simple brand proposition in a nutshell under the AIA Vitality programme – take better care of yourself and AIA will take better care of you. For example, its customers can lower their cholesterol, lower their BMI or lose weight and if they ultimately get in better shape, they pay lower premiums.
"We know through our research that people who take better care of themselves are tired of paying higher premiums to subsidise others in the risk pool who don't take as good a care of themselves. So the emphasis is on becoming individualised insurance – individualised pricing, individualised engagement, individualised relationship."
As of this writing, there are some six million monthly logins to AIA Vitality Apps – no small feat, considering the huge amount of effort it can take to stimulate people to make fundamental lifestyle changes.
"Think of us as an insurer that's becoming a sophisticated rewards platform for customers that are taking better care of themselves."
Rewards include items such as a higher "sum assured" (essentially a higher amount of money that the insurance policy is guaranteed to pay without the increased premiums that usually come with it), lower premiums, discounts on healthy foods, air travel, hotels and more. The idea is to create a daily incentive to commit to health and fitness.
And customers are willing to share, leading to what Spencer describes as a "treasure trove of data" which the insurer can further utilise to better drive engagement.
Making sure people know you mean business
The AIA Vitality programme itself is clever enough on its own, but the big challenge for AIA was to really make people aware of it en masse and "influence" them to give it a go. And that led it to enlist perhaps one of the biggest influencers in sport.
"So we called up David Beckham," Spencer says. "David is, I would say, the most recognised man on planet Earth, an incredible humanitarian and incredibly committed to health, wellness and wellbeing. And so with David, who has at least 31,999,995 more followers on Facebook than I do, we now have the power to leverage his platform base and his influence."
For example, the brand recently organised a big event in Indonesia called "Football for the Nation", where it gave away 10,000 footballs to football clubs and associations across the country.
Beckham joined AIA in Jakarta and had the opportunity to speak to the media about concerning trends around health and fitness in Indonesia, such as high levels of smoking, obesity and low-life expectancy.
And the data speaks for itself – the programme as a whole works. A bit of background to back up that statement: the programme, Spencer explains, has four tiers – bronze, silver, gold and platinum – which is dependent on how much the customer does to improve their health.
Customers are acquired at the bronze level, and the brand then rewards them so they proceed to the higher tiers which include better rewards.
"And what we've learnt is, the higher you move up the chain, the better care you have taken of yourself and the better your stats are. We learnt that 30% of customers reported improvements in their BMI. We want to see sustainable improvements in behaviour."
Spencer elaborates the brand has gone from being a traditional insurer that, in essence, signed people on and sent their family a cheque at the end of life to crafting an ambitious "brand promise" – healthier, longer, better lives.
"But that's a massive burden of proof," Spencer admits. "How are we going to deliver on that? How do we, at the same time, permeate everything we do to be able to validate and substantiate that this is what we're really all about?"
A big tick box to support that is AIA Vitality, but it goes beyond that as well, through for example, sponsoring Tottenham Hotspur Football Club.
"We see it as one winning organisation very much in sync with another winning organisation. When I wake up in the morning, and the Spurs have beaten Real Madrid 3-1 at Wembley, and every single sports page on the planet, whether it's traditional media or digital media, has Harry Kane in a moment of euphoria scoring a goal, with AIA emblazoned all over – I have died and gone to heaven!" Spencer says with a smile.
In all fairness, the exposure the brand generates in moments like that are incalculable – and the envy of many a PR practitioner. And while the Spurs are an English football club, they have millions of fans across Asia – football is estimated to be one of the leading sports in Asia, both to play and to follow.
"Those fans are highly engaged – and those fans need insurance. And some of those fans are kids, and those kids have parents – and those parents buy. Think of it as a very strong virtuous circle for us."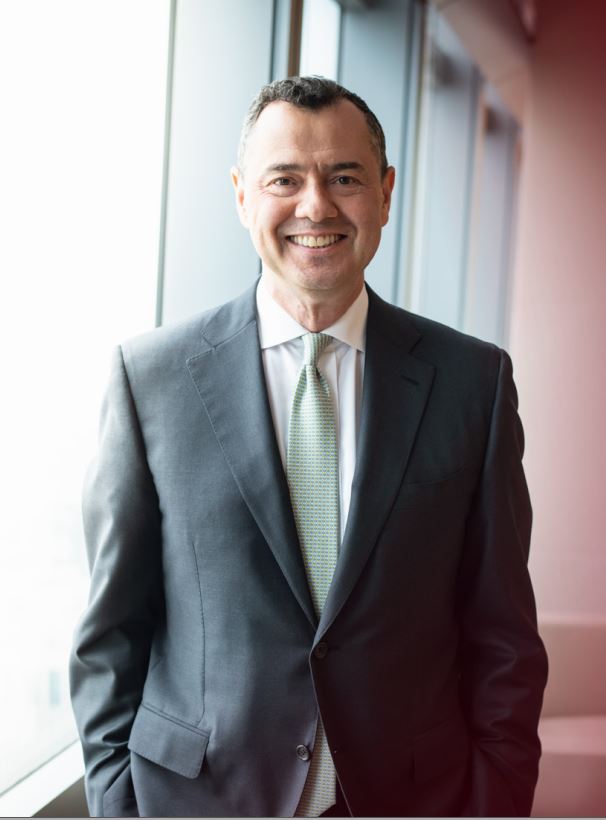 While moments such as the Tottenham win, or Beckham discussing health issues in APAC on leading media channels, are huge for the brand, it doesn't stop there. AIA is not satisfied until it's truly a part of people's lives.
And this is where the sponsorship of, for example, the AIA Great European Carnival and the Observation Wheel at the Hong Kong Harbour Front come in as well. Aside from the fundamentals of brand-building, it plays into helping people lead healthier and better lives – and that includes social engagement, togetherness and family fun.
"We did that to build a strong brand presence on the Hong Kong waterfront, and make it a real destination while giving back to society. The people that ride that wheel or the people that go to the Carnival are our customers – or customers-to-be."
After taking ownership of the Wheel, AIA lowered the price of entry substantially, which has resulted in almost one million customers riding the wheel since December. The spirit of giving back is further evidenced by the huge number of community events that the insurer organises throughout Asia, including football coaching for kids facilitated by Tottenham trainers, yoga classes, Tai Chi – anything to get people moving.
Marrying tech to tried-and-true sales
AIA Vitality is based on 20 years of actuarial data to determine the motivations to get healthier, but ultimately the best way to get data is to ask for it.
For example, throughout the "What's your Why?" campaign, designed to dig into individual people's motivations to improve their health, fitness and wellbeing, the brand learned it wasn't so much the "what" that inspired people, as the "who".
It prompted people to visit the "What's Your Why?" landing page through a programmatic ad campaign which targeted those "who" people, who then told the brand what their "why" was, and created leads for the sales team to follow up on based on their stated motivations.
On the surface that may seem a tad old-school, as insurance can be booked wholly online, but there's a good reason why AIA still has invested in one of the world's premier agency forces.
While some types of insurance are fine to organise wholly online, Spencer says for big commitments such as health and life insurance, the sales force remains the key to capturing customers.
"In our industry today, Asian people still absolutely want to buy health and life insurance face-to-face and have a conversation," he says.
"So while we use technology to help our agents become more efficient, more effective and more productive – at the end of day, the power of culture means that a trusted, caring, experienced and caring agent who understands you, your dreams and your financial plan, can build what essentially becomes a lifetime relationship."
And that is not simply transactional either; the goal is for that "relationship" to be enduring.
Spencer explains the brand is not interested in simply selling a bunch of insurance products, but instead selling products that are relevant to particular customers at a particular stage of life – and technology helps inform that, and thus empowers agents to have the right conversation with the customer, in sync with their needs.
But it most definitely is not a silver bullet – it's all about meeting the needs of the consumer.
"Marketing is the science behind the selling process. We don't want our agents to have a scattergun approach, we provide them with highly honed precision tools for maximum efficiency and to deliver the greatest value to the customer."