Advertising spend in Hong Kong continues to go downhill – dropping by double digits for the first time since 2000.
According to admanGo's latest report, total ad spend in Hong Kong in January and February amounted to HK$6.01 billion, which showed a YOY 13% drop compared with 2015.
Across all media platforms, only radio (7%) and free papers (3%) maintained a positive YOY growth, while magazines had the biggest YOY drop (-28%) among other media channels.
A poor performance in the retail industry, fuelled by a drop in inbound visitors, is still negatively affecting the market.
Meanwhile, the volume of total retail sales in January 2016 decreased by 5.2% compared with 2015, according to figures by the Census and Statistics Department.
The value of sales of luxury items such as jewellery, watches and clocks and valuable gifts (-16.3%) and electrical goods and photographic equipment (-19.7%) had the biggest drop.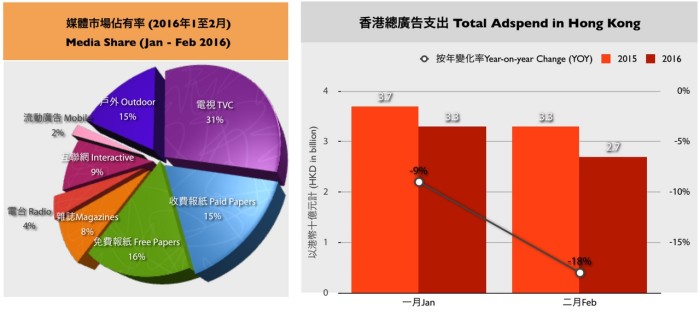 Most industries have cut back on their advertising which resulted in the YOY drop in ad spend, especially those with a sizable revenue coming from Mainland tourists such as camera and photography instruments (-62%), fashion, accessories and eyewear (-43%), jewellery, watches and luxury products (-27%), cosmetics and skincare (-24%) and retail (-23%).
In addition to advertisers becoming more conservative in their spending, the adjustment in rate cards for a number of media outlets has also contributed to the drop in overall ad spend.
For instance, the updated rate-card of TVB.com and myTV saw its price drop 62% and 70% respectively, while Now TV saw a 63% to 97% decrease in the rate for both prime-time and fringe time, the report said.