The Hong Kong advertising industry continues to play its part in the pro-democracy demonstrations that have drawn worldwide attention.
A short film entitled "Hong Kong Umbrella Revolution" has been jointly created by two creative agencies' heads on social media to call for greater awareness on the movement.
Some 500 hand-painted umbrellas with a Chinese character of "Support" (撐) have been distributed to protesters along side a video showing support.
This is in addition to advertising asking HongKongers  to remain calm, placed by a group of 50 ad executives earlier this week. A second saw more than a hundred advertising executives state their position by disclosing their names on a full-page ad in Apple Daily.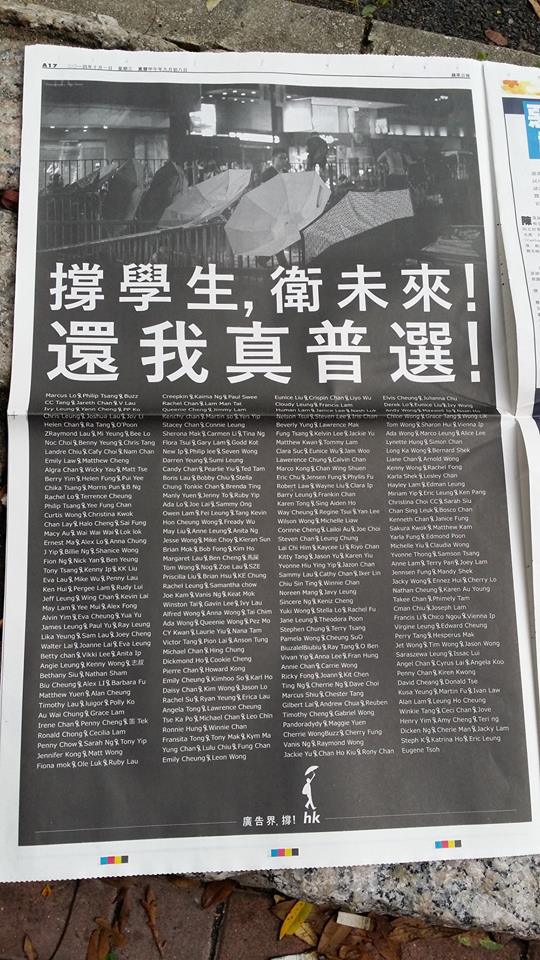 Since demonstration kicked off, a number of agencies from McCann, JWT, Weber Shandwick and Madcradle, have allowed staff to leave work and join the rally.
"We hope to inspire more company bosses to support Hong Kong's cry for justice," Spencer Wong, CEO of McCann told Marketing.