He is not the CEO, CFO, COO, CMO or CIO, but he could be worth up to $85 million a year.
He is Yat Yan Lam, a Chinese language tutor at Beacon College, who has risen to fame overnight amid an attempted poaching from a rival college.
The story is like this: Modern Education, a competitor to Beacon, placed a full-page "open letter" in four newspapers, offering Lam a fat pay package of HK$85 million a year last Thursday.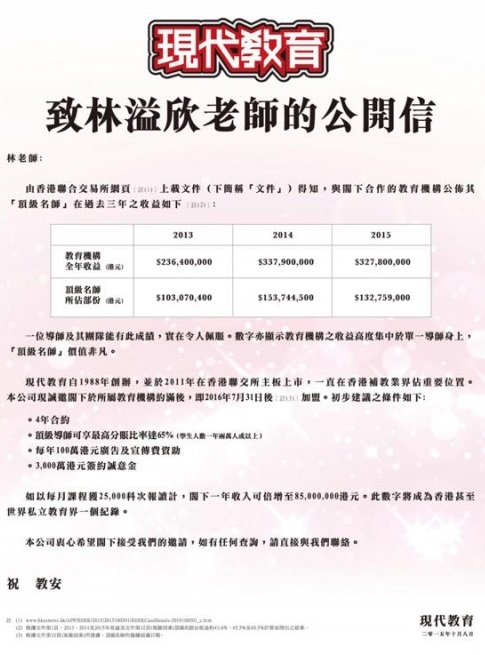 Coincidentally, Beacon last week filed an application for an initial public offering with the Hong Kong Stock Exchange.
According to Beacon's listing application, one tutor it did not name accounted for 40% ($132.8 million) of the group's total revenue ($327.8 million). The tutor's contract expires in July and negotiations for renewal are underway.
The full-page ad cited statistics of Beacon, whose earnings went up from $236.4 million in 2013 to $327.8 million this year. And Lam accounted for $132.8 million of revenue this year, the ad stated.
Modern Education offered Lam a four-year contract, including a profit-sharing ratio up to 65%, an annual promotion and advertising fee of $1 million, and a $30 million one-off offer for him to jump ship.
If 25,000 people attend his classes a month, Lam's annual income may reach $85 million, it claimed.
This open letter has aroused quite a lot of discussion in the city, with some even suggesting the ad was a publicity stunt.
Modern Education said it was more than that.
"You may say half of it was a marketing stunt, but you can also say it's about HR too," said one Modern Education representative, who asked not to be named.
"This (open invitation) could be considered as the recruitment advertisement, just like the normal one you see in a newspaper, but we made it slightly bigger."
When asked if the company placed the ad to coincide with its rival's IPO application, the staff member declined to comment.
Beacon College also refused to comment.
The star tutor later wrote on his Facebook page: "For a long time, the school and I have maintained a good relationship, working hard together to build an ideal teaching platform. So, I am willing to stay in a working environment that is fair and reasonable and shares a mission I believe in.
"I believe I can support myself and my family. An extra $50 million or $80 million makes no difference to me."
Lam graduated with first-class honours from Chinese University, where he studied Chinese language and literature.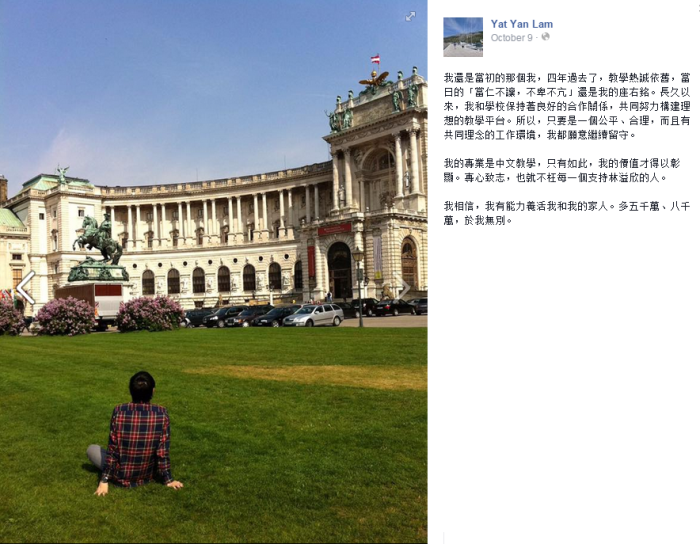 For perspective, HKEx chief executive Charles Li pocketed $40 million last year, and Hong Kong chief executive CY Leung earned just 4.5 million.
The IR and PR consultancy company of Modern Education said to Marketing: "The company does not have further updates regarding the advertisement."
Was it a PR stunt? I will let you decide.
How much they are paid?
| | | |
| --- | --- | --- |
| Name | Title/company | Annual remuneration (HK$) |
| Tim Cook | Apple CEO | 500 million |
| Canning Fok | Hutchison Whampoa MD | 196 million |
| Jose Mourinho | Chelsea manager | 110 million |
| Yat Yan Lam | Beacon College teacher | 85 million (as Modern Education offered) |
| Charles Li | HKEx chief executive | 40 million (includes base salary, shares and bonuses) |
| CY Leung | Hong Kong chief executive | 4.5 million |
| Barack Obama | US president | 3.2 million |
| Average Hong Kong worker | | 240,000 |
| Jinping Xi | Chinese president | 166,963 |
| Mark Zuckerberg | CEO of Facebook | $1 (in 2013) |