Developers are the engineers of the online world. You can disagree with me, but it is now true more than ever that Apple, Google and Facebook together have reshaped the way we get entertained, find information and interact with others.
So whenever any of the three 'biggies' have a developer conference, we as marketers have to sit up and take notice. It is important for us to understand the worlds they've created and the future of those worlds.
Annually, Facebook holds a developers conference titled F8. At the first F8 in 2007, Facebook launched the Facebook API - taking its first steps into evolving it from a social networking site to a social media 'Platform'. Since then, each time a marketer has foolishly assumed they are a website, their digital strategy has backfired.
This year's F8 is another pivotal moment. Facebook, with a suite of platforms (Facebook, Instagram, WhatsApp, Messenger), has now achieved considerable scale on products other than Facebook; and is attempting to make Facebook Messenger a platform as strong as Facebook itself. In simpler terms, it wants to be the WeChat of the world outside China.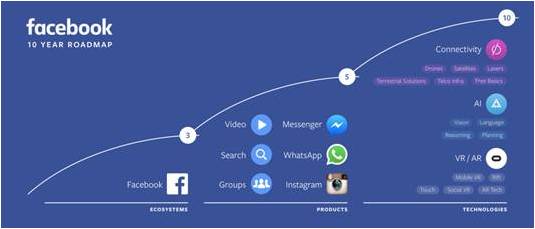 At F8 this year, Mark Zuckerberg also outlined the 3, 5 and 10 year roadmap for Facebook; conveying with absolute clarity that they are here for the long haul. Listed below are the eight most important takeaways for marketers from F8 this year:
Messenger and WhatsApp are the new SMS
With over 60 billion messages sent over Messenger and WhatsApp every day, together they are three times bigger than SMS (20 billion messages daily) globally.
If your marketing strategy involves SMS in any way, you will have to seriously consider the new platforms, especially since SMS is now considered to be a medium for SPAM. Currently, over one billion messages are exchanged between people and businesses on Messenger each month. With over 900 Million monthly active users on Messenger, the platform is bigger than Twitter, Snapchat and Pinterest put together.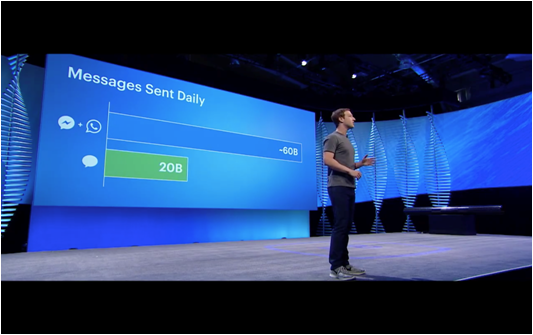 Treat Messenger as a platform and not as an app
Last year, Facebook opened up the API for Messenger, allowing developers to create fun experiences for users on the platform.
If you've ever received a GIF on Messenger, you can attribute that to the Messenger API. This year, Facebook extended the API and announced additional tools for businesses to connect with consumers on Messenger. This means that marketers now need to actively invest in formulating a Messenger Strategy (just like how they currently have a Facebook strategy). Brands that create the first useful use cases will seen as pioneers and will most certainly receive great PR and much applause.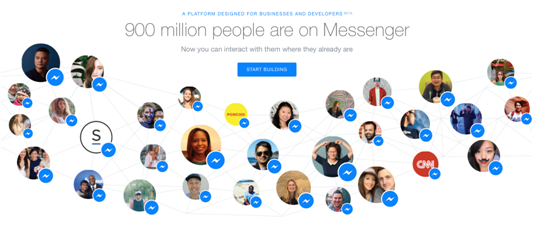 Make it easier for users to have a conversation with you on Messenger
Facebook has released a suite of tools which include buttons, plugins, 'codes' and short-links; making it easier for consumers to connect with brands and businesses.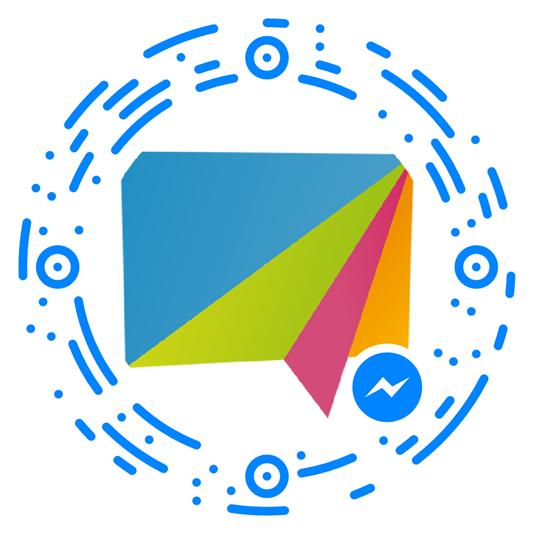 Listed below are a few actionable steps:
Leverage Messenger codes on offline and digital marketing channels but make sure to specify what customers can expect from your business when communicating via Messenger
Use Messenger Links (m.me/username) across online and offline properties to instantly open a Messenger thread on any device
Leverage tools to encourage proactive messaging, such as Message Buttons and website plugins
Consider running Facebook Ads with 'Send Message' call-to-action buttons
Leverage content to build relevance and usefulness
If you are a consumer brand, you must be wondering how you can keep up with the ton of messages you might receive. With the NLP (Natural Language Processing) bot engine wit.ai Facebook has made it easy for developers to create custom bots for limitless use cases. Almost any business or brand can now provide useful, relevant and timely information to users over Messenger. This in essence could eliminate the need for websites altogether (they are clunky and slow on mobile anyway).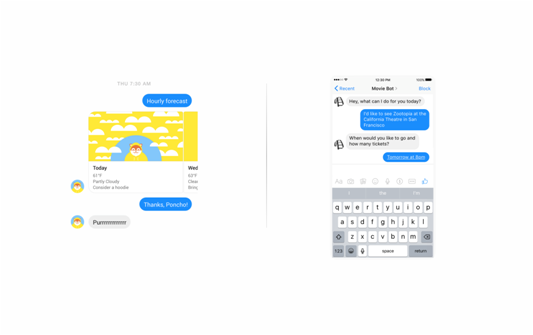 Imagine messaging ION Orchard asking them about all the latest deals at the mall and getting a well laid out response with the on-going promotions and details on how to get to the various stores in the mall.
Imagine messaging RedMart your shopping list, a bot reads the list, provides the user with simple tap based options to choose between brands; totals the bill and allows you to pay directly using Facebook (that's right, Messenger is now a payment gateway as well). If done well, consider an e-commerce disruption just around the corner.
Sponsored messages
Well it had to happen. For any mature platform, monetisation is the inevitable next step and Messenger is no different. At F8, Facebook announced ads on Messenger. They are calling it, 'Sponsored Messages'. It is still early days, but expects a more detailed announcement by Facebook in the coming weeks. Businesses can also run ads on the Facebook NewsFeed with a CTA encouraging users to Message them.
Invest in immersive 360 content
With Google and Microsoft investing heavily in VR and AR tech, Facebook's first play has been to allow immersive 360 video content on the NewsFeed. It is an amazing feat of engineering, to compress and deliver 360 video content over 3G on your mobile device.
You can expect Facebook to take it a step further and integrate the Facebook and Oculus experience in the coming months. Brands have to get creative and invest in creating more 360 content to be delivered within the Facebook ecosystem. Check out what ION Orchard did with 360 during CNY this year.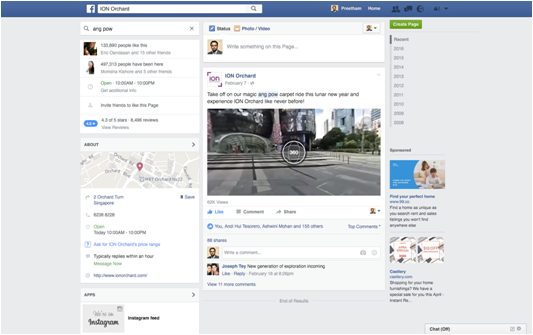 Facebook Live is the new 'Live on TV'
Just last week, Zuckerberg outlined Facebook's strategy towards live video content. At F8, Facebook launched the Live API, allowing developers, publishers and device manufactures (like DJI Phantom) to integrated live feed into their experiences. This year is clearly going to be about Live content. Going forward, this could become an extremely important PR tool for brands. It's time to shift from a prescheduled monthly content calendar to a Live Content Calendar. Live on Facebook could in essence destroy the mind numbing live debates on News Channels.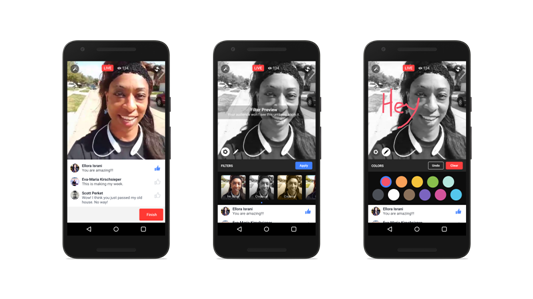 More recently, before it's official launch, we went Live on Facebook for ION Orchard. We automatically saw a 4X jump in engagement and a 6X increase on reach.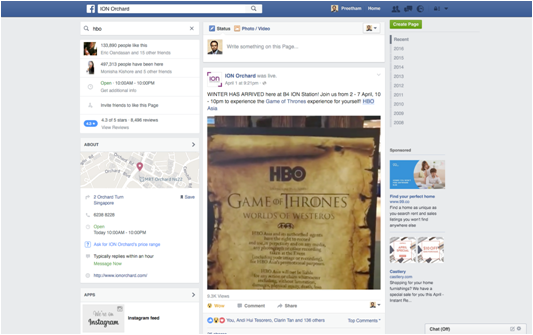 Long form content to instant articles
If you've seen the small lighting mark on link posts within your Facebook NewsFeed; what you've interacted with is an Instant Article. Basically, the article loads much faster without the need to open a browser and then load the clunky webpage. It's not really new, but instant articles have been around for sometime now with access restricted to select publishers.
At F8, Facebook opened up Instant Articles allowing any publisher to create one. If as a marketer, you are creating any long form content, it is best to now deliver it on the Facebook NewsFeed as an Instant Article. You can be assured of better engagement and higher open rates for Instant Articles over link posts.
The writer is Preetham Venkky who is currently a director at KRDS Singapore.