Consumers in Southeast Asia are the most willing globally to pay more for sustainable products and services, surpassing other regions around the world including Middle East/Africa, Latin America, Europe and North America, according to a new study by Nielsen.
The 2015 Nielsen Global Corporate Sustainability Report shows eight in 10 consumers in Southeast Asia (80%) prefer to buy socially responsible brands, compared to Asia Pacific (76%), Middle East/Africa (75%) and Latin America (71%), Europe (51%), and North America (44%).
Among Southeast Asians, Vietnamese and Filipino consumers are the most socially-conscious, with 86% of respondents from Vietnam and 83% from the Philippines stating their willingness to pay extra for products and services that come from companies who are committed to positive social and environmental impact (up 12 points and 4 points respectively).
Chart 1: Willing to pay extra for products and services that come from companies who are committed to positive social and environmental impact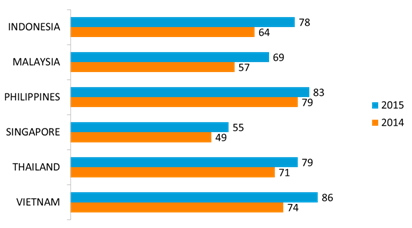 According to the report, sales of consumer goods from brands with a demonstrated commitment to sustainability grew more than 4% globally in the past year, while those without grew less than 1%.
One of the top sustainability factors that influence purchasing for 70% of Southeast Asian consumers is health and wellness. Health and wellness are particularly influential in the Philippines and Vietnam – close to eight in 10 consumers in the Philippines (79%) and Vietnam (77%) say that a product's health and wellness benefits drive their purchase decisions.
Products made with fresh, natural, and/or organic ingredients carry similar weight with consumers in the region (69%).
Chart 2: Top sustainability purchasing drivers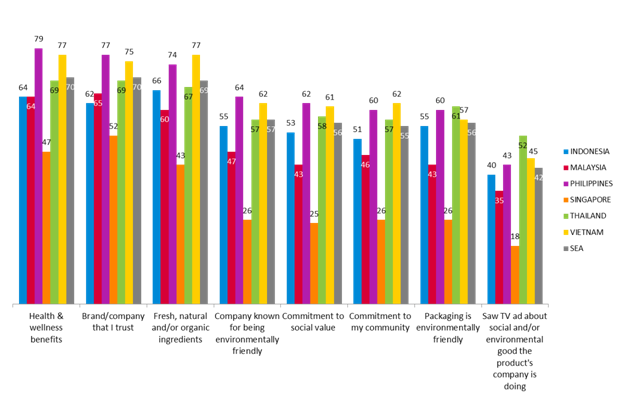 Equally important among consumers in the region is brand trust (70%).
"Bigger global consumer-goods brands that overlook sustainability increase reputational and business risk. It leaves them vulnerable to competitors of all sizes who will seize the opportunity to build trust with the predominantly young, socially- conscious consumers looking for products that align with their values." says Connie Cheng, head of shopper insights for Nielsen in Southeast Asia, North Asia and Pacific.
When it comes to purchase intent, commitment to the environment has the power to sway product purchase for 57% of consumers in Southeast Asia. Commitment to either social value or the consumer's community are also important (each influencing 56% and 55% of respondents, respectively).
TV ads highlighting a company's commitment to positive social and/or environmental impact are influential in the path to purchase for 42% of respondents in Southeast Asia.
"Brands that actively reinforce sustainability commitment must amplify and socialize their message using multiple sources and distribution channels such as third-party validation (news coverage), annual reports, affiliation with a respected non-profit or civic organization, employee volunteerism, advertising, or reporting actual work in the community on a website," says Cheng.
"While marketing good deeds is encouraged and expected by consumers, authenticity and credibility are essential.  Care must be taken to place the emphasis on demonstrating good deeds versus self-serving promotion." she adds.