A pioneering study from Singapore's Eden Strategy Institute sheds light on Asia's emerging middle class consumers (EMC) which till recently has been regarded to have needs similar to their western counterparts.
Earning or spending US $ 2 to $20 per day, the EMC population is increasingly attracting the attention of global brands. From 565 million, EMC consumers will hit 3.5 billion in 2030, with 85% of the growth accounted by Asia's developing markets.
"The Emerging Middle Class represents an untapped market of over half a billion consumers," says Mr. Calvin Chu Yee Ming, partner at Eden Strategy Institute.
"Unlike the traditional middle-class, EMC consumers may have irregular income flows, and are highly discerning about longer-term value of their purchases."
The Asia Emerging Middle Class Survey surveyed 4,000 EMC consumers across India, Vietnam, Indonesia and the Philippines. Below are key points describing the EMC population from the island nation.
Over half of the Philippine EMC population own mobile devices
Mobile phones, computers and tablets were the most common pieces of technology EMC consumes own, with an average of 42.2% across the four countries. Ownership is highest among EMC consumers in the Philippines with 57.90%.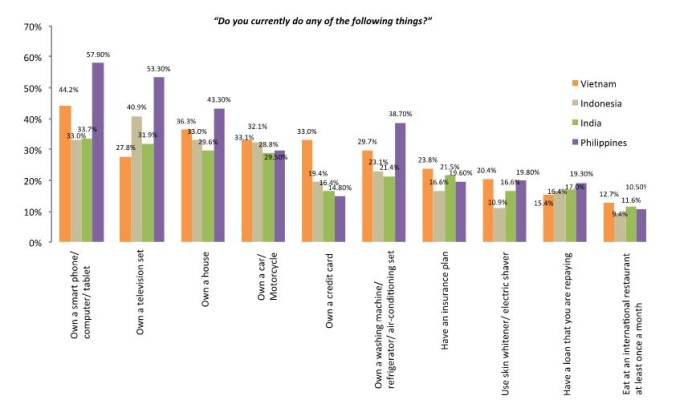 What do Filipino EMC consumers can't live without?
Out of the four countries, the country where most EMC respondents cannot live without smartphones and internet access is the Philippines, with 58% and 47% respectively - confirming that mobile is an indispensable marketing tool for the years to come. Also ranking high in the poll is shampoo and soap (38%).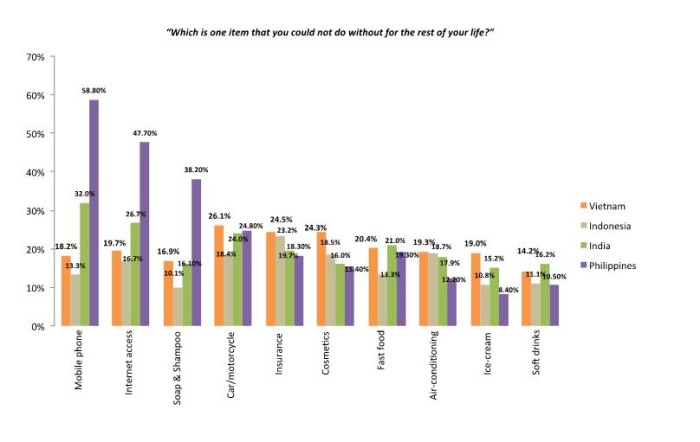 Filipino EMC consumers pay close attention to their health
EMC consumers in the Eden Institute study are most afraid to lose their health. Vietnam tops at 40% followed by the Philippines with 38% and Indonesia with 37%. Only 21% from India feared losing their health.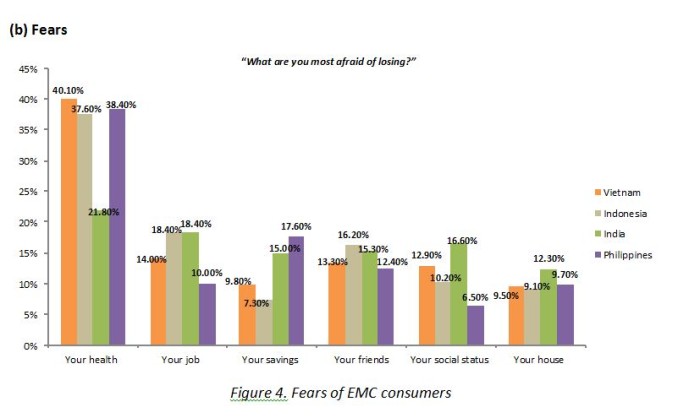 "Healthcare providers, pharmaceutical and medtech companies, insurers, as well as logistics cold chain partners and even governments and non-profit organizations, may jointly explore opportunities to provide healthcare to EMC consumers," the report noted.
Filipino EMC consumers are money savers at heart
Given that their income is doubled, around 42% of the Filipino respondents will still choose to save the extra money. But a bigger number of locals (47%) said that they aspire to start their own business if extra cash was on hand. Interestingly, across all countries, more respondents would want to spend their extra income to start up their own businesses (29.6%) than to invest in education (21.6%).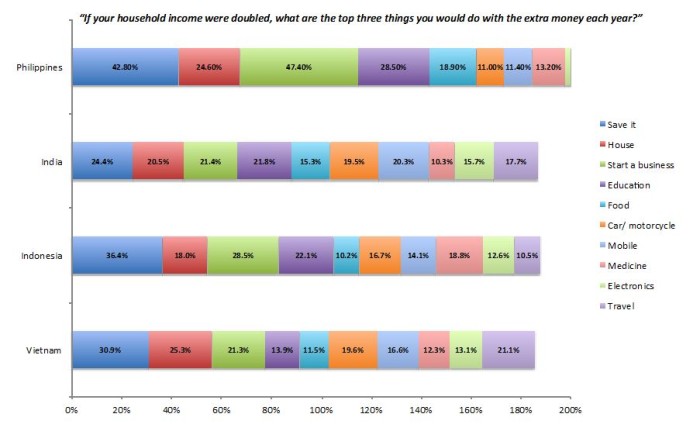 Filipino EMC consumers are quite religious
In addition to leading a healthy life, close to a quarter (22%) of the Filipino respondents aspires to have a stronger relationship with God. Ironically, their second biggest hope was to be rich (16%).