Chinese New Year is one of the major windows for special edition product launches and packaging expressions. It's a festival that's blessed with rich and varied iconography, as well as a theme that changes every year (unlike Christmas). There's certainly no shortage of visual inspiration for brands who want to use this time of year to appear fresh and relevant.
However, creating successful special editions isn't as easy at it looks. There's a fine balance to be struck between a pack or product that breaks through the generic seasonal clutter, whilst managing to build brand equity. The best limited edition designs complement and augment brand perceptions, not fracture or dilute them.
So how do you stay familiar and fresh at the same time? Here's our top five Chinese New Year picks, along with some lessons we could learn.
1. Be daring
Tiger Beer has launched an outer case for its cans that aligns perfectly with its role as champion of street art and design. Lanterns, koi carp, cherry blossoms and lithe ladies in cheong sams: This one's got it all, all wrapped up in a beautifully whimsical illustration style that feels totally unlike the conventions of beer packaging. Special editions don't have to play by the rules of conventional branding, so take the opportunity to be fresh and inventive.
2. Be understated
Drawing on its existing equestrian heritage, Gucci's Chinese New Year special edition 'China red' bags are a lesson in the power of understatement. With the horsebit clasp such a compelling part of its brand iconography, why say more? The bag stands in confident contrast to the 'chuck everything on it and see if it sells' approach that's so often seen in Chinese New Year limited editions.
3. Build meaningful collaborations
Moleskine's collaboration with Shanghai Tang is a harmonious partnership indeed. The design features a horse in the form of a Tanagram on the outside – a seven piece puzzle invented during the Song Dynasty – as well as feng shui advice on the inside. Moleskine has made a successful business out of offering an alternative to digital life (one of their taglines is 'Moleskine: Analogue Clouds'). A horse that can be created in paper is a neat fit with their brand ethos, whilst the vibrant use of colour, such as a signature of Shanghai Tang, creates a new angle for the brand.
[gallery link="file" ids="33953,33958,33957"]
(Photo courtesy: http://www.moleskineasia.com)
4. Design for the future
Estee Lauder seems to have a flair for glam, gorgeous compact cases. Its special edition year of the horse compact pulls off that special trick of looking seasonally relevant (and therefore having a high 'collectability' factor) but also being subtle enough to have a life beyond the spring festival.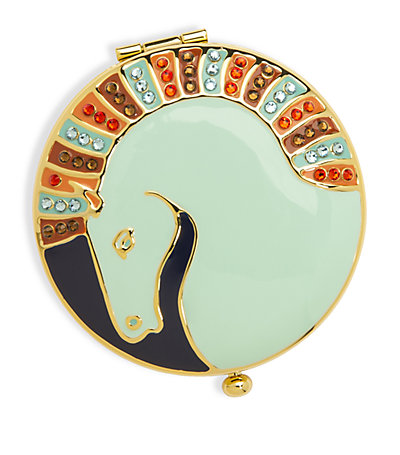 (Photo courtesy: http://www.harrods.com)
5. Be yourself
Coca Cola's outer packaging for its 24 packs is a winner. It is a brilliant lesson in borrowing understood iconography and delivering it through a branded vernacular. It's Chinese New Year, but it's Coke's version of Chinese New Year, and that makes all the difference.

Katie Ewer is strategy director at global branding and packaging design agency, JKR (Singapore).