The post-Millennials in China are the first generation to completely grow up in a social media environment. Their self-obsessed focus, unique world view and desire for distinctive experiences will come together into a powerful force that gradually rewrites the rules of the business world.
Defined as those born in China after 2000, the oldest are now just reaching the tender age of 15.
However, they are already greatly influencing consumer habits; a trend only set to continue as they begin to strike out on their own. Never has the time been so right to take a long look at what makes these young people tick.
Ogilvy China has partnered with WebInSight, a digital communication research company for a new report focused on the unique habits of this new consumer segment.
Titled "Post Millennial", the report explores what does the unique habits of post-Millennial mean for marketers looking to the future.
Direct interviews were conducted with 115 young post-Millennials, along with 10 teachers and 20 parents of interviewees. Quantitative data was then drawn from a CMMS database, in order to compare the habits of 15-year-olds today to those of five and 10 years ago. Finally, the research team monitored colloquial language use and topics of more than 200,000 Weibo posts and 150,000 posts on Tieba.
Here's a summary of four key points from the report.
This generation is self-confident, self-obsessed and craves individuality.
The post-Millennial generation believes in themselves and tend to use their own standards for bench-marking. Data shows the 15-year-olds of today show a 7% drop in "caring about how others see them" as compared to their peer group 10 years ago. In fact, this more open information environment makes them not only value their own diversity, but want to flaunt it.
Post-Millennials are the first generation to have access to all kinds of tools of self-expression at their fingertips, they have the social platforms to express themselves and can easily benchmark their successes (or lack thereof) against other people. This can be stressful, so they often set up their own benchmarks of social status success.
Post-Millennials pay more attention to their experience and potential for individual participation with a brand.
Research on Weibo discovered a diverse array of key words post-Millennials use online that help them identify themselves and their personality.
They certainly have a strong personal sense of individuality. The current mass-production and mass-marketing environment is very rarely able to meet these young consumers' need to be treated as individuals, and to let the consumer – not the brand – be the centre of attention.
One-size-fits-all solutions will not work.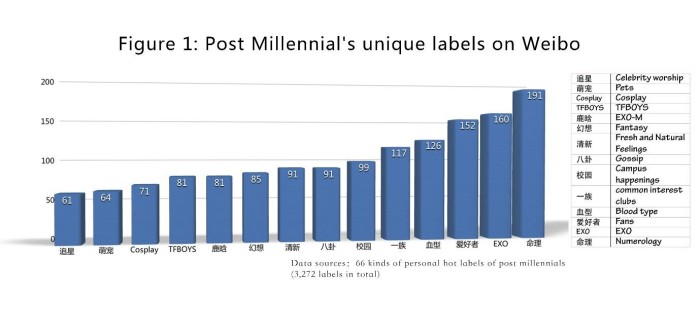 Brands need to leverage data analytics to deliver personalised, smart content. Brands can also provide tools and data to help post-Millennials make better decisions and look good among their peer group. Once a brand has social currency, the post-Millennials will want to identify.
Confident in the face of pressure, an "Otaku" generation that cares for its health
For post-Millennials about to enter high school, 91% pinpointed their greatest pressure as stemming from their studies.
However, they are generally very confident – 55% of students thrive under pressure, with 22% of that 55% saying pressure makes them more determined – a considerable number considering their heavy workload and pressure to take on extracurricular activities.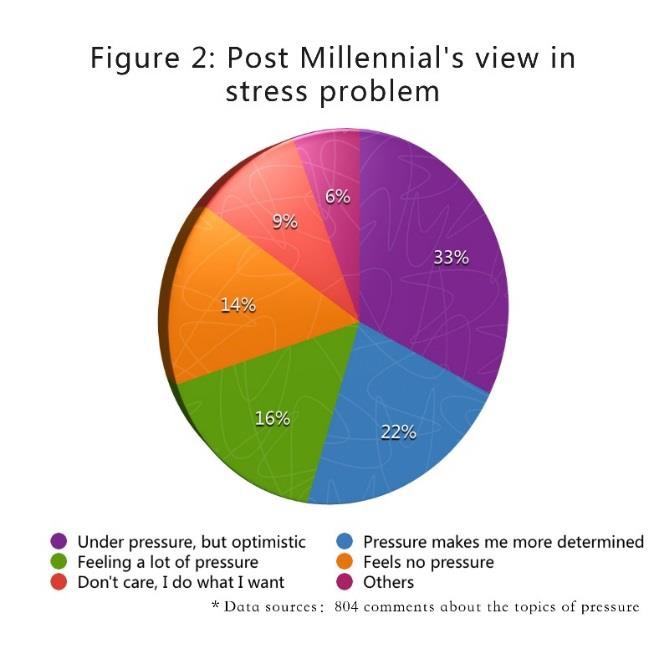 Internet connectivity has, in some ways, allowed post-Millennials to become "Otaku", a term to describe people with obsessive interests.
Regardless of the length of their holiday, the report shows more than 70% of interviewees would rather stay at home where learning, social networking and entertainment is accessible in a comfortable environment. During their time at home, 30% of their time is spent studying, followed by playing games and phone time, 16% and 14% respectively.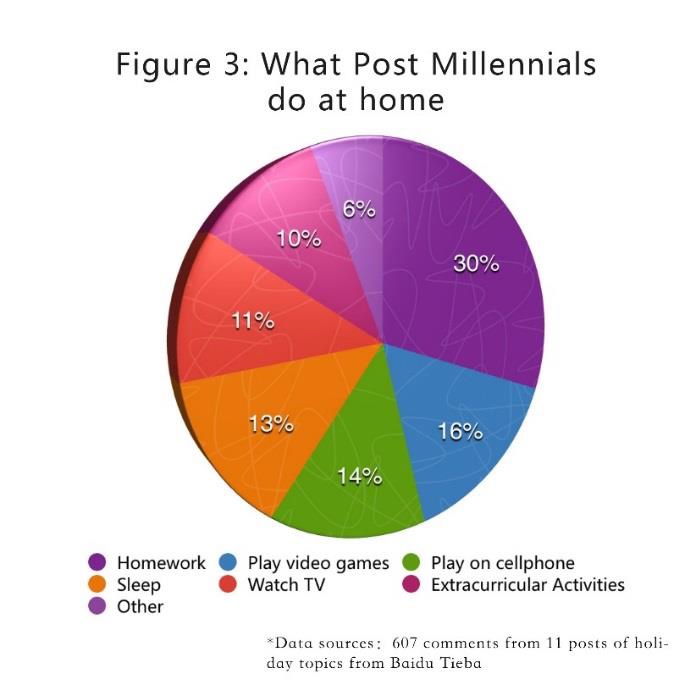 This doesn't mean post-Millennials are sacrificing their health. Research found they pay attention to their diet, food health and safety. The consumption of healthier drinks, such as pure fruit juice, tea drinks and fruit and vegetable drinks increased by 17%, 13% and 11% respectively. The consumption of Western-style fast-food, cola and instant coffee were down 5%, 13% and 9% points.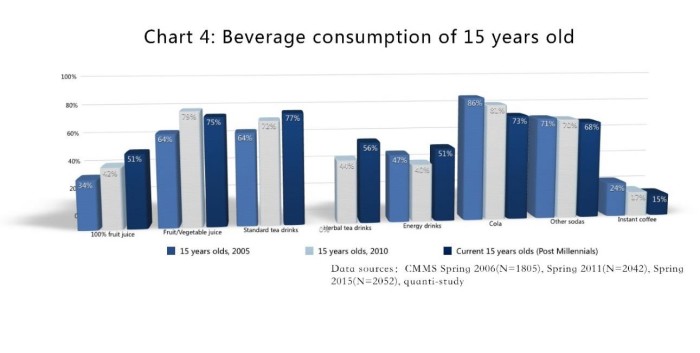 Taking into consideration the way this "Otaku" generation faces pressure head on, like to stay home and pay attention to their health, brands should consider future products and services that focus on helping post-Millennials solve study issues, help them relax and make their "home" more comfortable. There can also be a focus on creating healthier lifestyle choices.
"Cutesy (Meng)" language and close celebrity relations
Post-millennials have developed their own unique vocabulary, often impenetrable to older generations. Called "Meng" (萌) language, which translate roughly to "Cutesy", it involves phrases used in social media such as "Meng Meng Da" (means being cute) and "Man Ping De" (means trying hard).
If brands can properly use those buzzwords, they are more likely to get the attention of the post-millennials.
Post-Millennials use 55% more emoticons than the post-90s generation, and three times more than post-80s.
Different from other generations, post-Millennials emotionally bond with their celebrity idols and see them as part of their own personal identity. The report shows as much as 51% of micro-blogging content from post-Millennials is associated with their personal idols.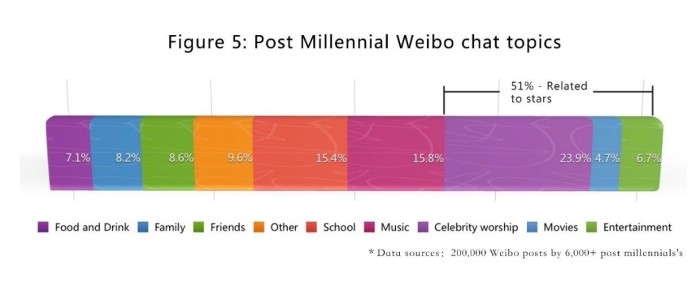 With the presence of social media, the distance between celebrities and fans is unprecedentedly closer. They not only can choose the same outfits as their idols, but can also live their life with their idol – imitating their lifestyle and behaviours.
For brands, there will be huge opportunities to explore every aspect of the celebrities' lifestyle and create links between them and their post-Millennial fans.
Voracious online shoppers and family decision-makers
Post-Millennials embrace fashion and media at a very young age, which means they are very mature shoppers. Compared with their peers 10 years ago, the approval rate for sacrificing practical utility over trends dropped 6%.
They have grown up alongside the China e-commerce revolution and 81% of post-Millennials share their e-commerce experience on Weibo.
Compared with their peers 10 years ago, the willingness to pay cash drops 18% and the willingness to pinch pennies drops 8%, while the acceptance rate of loaning to spend increases 10%.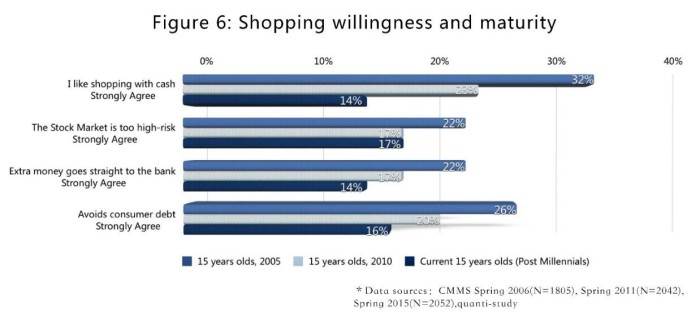 This group's sensitivity to trends and capability to gather information gives them massive decision power over household spending.
Parents turn to their kids for advice, especially when buying high-tech products. Parents save time normally spent gathering information and comments; for kids, this means earning recognition from parents for their ability to search and select suitable products from credible platforms.
Brands and corporations who currently do not consider these youngsters as targets for their products need to think again.
They may need to shift their thinking to take the style and value-system of post-Millennials into consideration thereby driving sales not via individual adults, but via family purchases, which are strongly influenced by post-Millennials in the household.