William Chan, GM at Metro Alliance, which distributes products of and markets British muesli brand Alpen and cereal brand Weetabix in Hong Kong, shares four tips from his experience of managing a social media heavy marketing mix for the two brands.
1. Motivate brand advocates to share on social media with value-added information
The age-old question for social media is how branded you should make the content.
"For our brand advocates, branded content is not a turn-off to them. These are the people who do the sharing. Generally speaking, whether they share a post depends on whether there are useful tips in the message."
Recipes showcasing the tastiness or health benefits of products were content that Alpen and Weetabix Facebook fans liked to share.
2. Use lifestyle images in your content marketing campaigns to promote a quality brand image
A trick borrowed from luxury and lifestyle brands, this helps project an image of a premium lifestyle brand, rather than focusing on functional aspects of the product such as being good for your heart.

"We would use food visuals to capture the attention of new customers and motivate them to complete the journey by suggesting how they can eat healthily or prepare healthy snacks for themselves, their family or party guests," Chan said.
"We might even offer tips on baking, to inject as many European lifestyle elements into our content marketing as possible."
3. Use social media as source of customer feedback to inform your marketing strategy
"Another reason to use social media is to engage our loyal consumers more easily and monitor the brand performance closely in terms of customer responses," Chan said
He adds that the brand plans to use data collected from social media to decide which new flavors of museli and cereal to launch in the Hong Kong market.
4. Supplement social media with offline channels to acquire new customers
Print ads help reassure loyal customers of the status and image of the brand and makes up the secondary marketing strategy for Alpen and Weetabix, says Chan.
Visibility of the product on shelves and supermarket tasting booths also serve as important cues to remind prospective or current customers of the brand.
"Out-of-sight equals out-of-mind, which is why online-to-offline is so important," Chan said.
He adds that tastings help complete the conversion from social media impressions into purchases.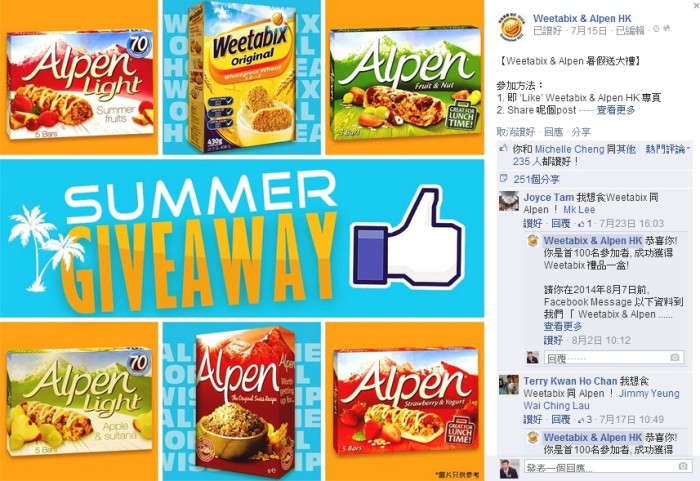 Chan said, "We need to let people interested in the brand taste the products. Social media can sometimes help draw people to our booth to participate in a campaign such as to pick up free sample packs.
"The booth also draws people to our Facebook page through a QR code, usually to take part in a quiz for a chance to win prizes."