Ads are being launched around the world daily. While most ads stir an emotion in us, only some are strong enough to be carved in our memory.  Recently a Warc study claimed that Procter & Gamble was the "world's best advertiser" beating its FMCG rival Unilever for the first time.
But what makes a piece of advertisement a great one? Here are 3 themes that most great ad campaigns boast:
1. Building products
Most of the top campaigns around the world focus on useful products and services, said the Warc study.
For example, 'Penny the Pirate', a campaign for opticians OPSM, was based around a book and app that allowed parents to test their children's eyesight in a new way.  OPSM, an Australian optometrist, used a story book to promote children's eye tests.
A cheaper competitor meant OPSM needed to persuade people that its better quality services were worth a higher price. It decided to target children, as they should have regular eye tests but many do not – and many parents are not aware of the need.
OPSM created a children's story book incorporating vision testing methods to allow parents to screen their children's sight and determine whether they needed an eye test. An above-the-line campaign was aimed at key influencers to drive word of mouth, and TV ads featured a celebrity ambassador.
The approach was a success. Over 120,000 copies of Penny the Pirate were distributed and, in turn, OPSM increased volume sales of children's eye tests and eyewear.
2. Social issues
There is also a growing trend towards brands directly addressing social issues in their communications. Campaigns built around female empowerment, food waste, and the need to recognise and value non-traditional families were all ranked in the top 10 brand campaigns around the world.
Always, the feminine hygiene brand, changed a negative stereotype with its #LikeAGirl campaign. With a trusted, yet functional image, Always was losing relevance with young women. Its response was to champion selfconfidence, a core brand value. It filmed a social experiment that asked people to do things 'like a girl', and found that adults took this to mean 'silly' or 'not good enough', while prepubescent girls did them the best they could.
The video was distributed online – supported by an influencer network, social media and website hub – before airing as a 60-second ad during the 2015 Super Bowl. Within the first month the video had been shared 1 million times and purchase intent also increased.
Meanwhile, French food retailer Intermarché set out to combat food waste. Prior research showed that 40% of food was being thrown away by retailers because it looked less than perfect, so Intermarché instigated a campaign to show that this food did not need to be wasted.
Starting locally, an aisle was dedicated to 'ugly' fruit and vegetables sold at a 30% discount. The reaction was measured by KPIs of store traffic and consumer feedback, which proved positive. Following press and TV ads the trial was rolled out to all its 1,800 stores and had a marked effect on consumer behaviour.
It garnered 740 articles in the media, a significant Facebook response and a knock-on effect with other French and international stores copying the tactic.
3. Diversity of formats
There was a striking range of lead media used among the top campaigns. Innovative use of point-of-sale ads, personalised packaging, online video, mobile apps and traditional TV are all represented in the top 10 campaigns. This suggests that there is now no single media model for campaign success.
The US Navy recruited cryptologists via an alternate-reality puzzle-solving game on social media. The Navy needed to maintain its goal for recruiting cryptologists with a decreased budget and more challenging market circumstances.
Exploration of the extremely small and elusive target audience revealed an intriguing insight – that the brightest cryptology minds cannot resist a nearly impossible puzzle. This led to 'Project Architeuthis', an alternate-reality game where characters, cryptologic clues, tips and updates were revealed via Facebook, Twitter, Instagram and Tumblr.
With no paid media, this game was an incredible engagement success, and analysis showed that participation increased the likelihood of enlistment.
Here are the top 10 campaigns that build on these three themes: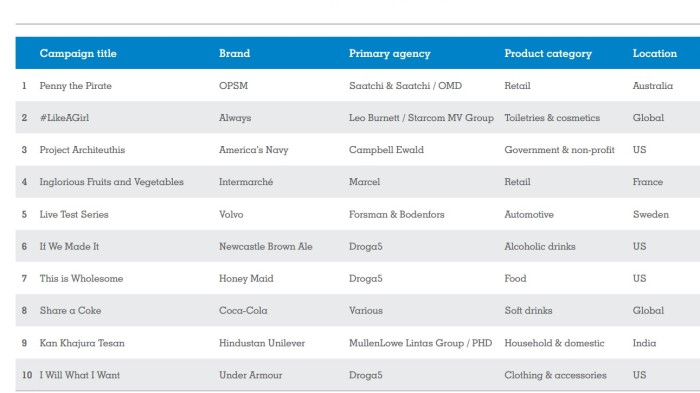 Read also: 10 advertisers and agencies to look out for in 2016