When it comes to data, marketers have moved way past volume and price, to now wanting accuracy. According to a study by Lotame, 84% of marketers now say accuracy was key when buying data versus price (55%) and scale (37%). An astounding 90% of marketers say if data was more accurate, they'd buy more of it.
Most marketers are also quick to add that the impact of inaccurate data buys include wasted ad spend, lost revenue, accurate insights, irrelevant brand experiences, high customer churn and missed opportunities. So, what are the top three reasons marketers are concerned with data quality from providers/sellers:
1. Recency:
Recency is always a challenge that marketers face with digital data, and it most certainly has an impact on the accuracy of the data being used for campaigns. What your target audience is in market for a month, a week, or even an hour ago, may be different from what that person is in market for right now. For example, someone may be in market for a new car in January, and when they purchase a car in February, they are no longer in market for a car in March.
2. Bots/fraud:
Ad fraud not only impacts data accuracy, but also scale and performance. The impact bots can have include:
Fake social profiles and activity.
Wasted bandwidth.
Account hacking.
Fake comments on blogs/ articles.
Fake clicks / content piracy.
Fake audience data.
Wasted ad spend.
Incorrect bounce rate.
3. Inaccurate categorisation:
One of the most adverse practices for marketers is the mis-attribution of values and motivations which leads to broad or inaccurate categorization. For example, if an individual reads an article about Jay-Z that mentions an Audi, does that mean that person is interested in buying an Audi vehicle? Does it mean that they are interested in automobiles as a subject? Or, does it mean they are interested in concert tickets? There are many cases with incorrect linking between a pageview and intent or motivation which only adds to the concern with data quality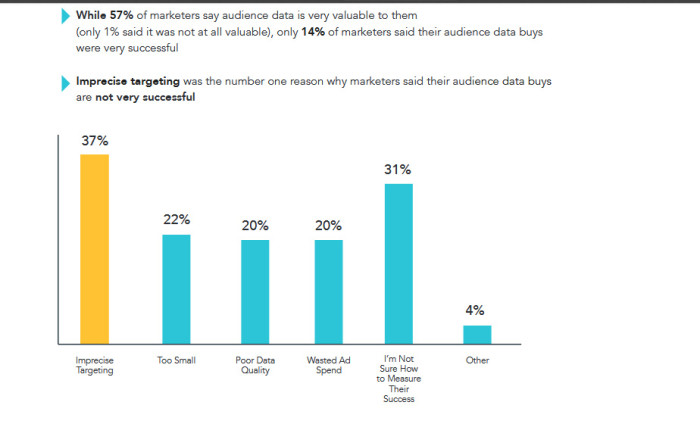 Respondents said that they purchase a range of data types, with the most popular being:
Demographic (age, gender) (42%)
Geographic (34%)
Advanced demographic (household income, education, children) (28%) and interest (28%)
Third-party (25%) and behavioural (25%)
Social influencer (24%) and 2nd-party data (24%)
"In this more established data market, scale is a given," said Jason Downie, chief strategy officer, Lotame. He added that as audience data's importance continues to grow, sophisticated marketers are becoming more interested in the quality of data to ensure they are making the right business decisions while reducing wasted ad spend.
Moreover, with so many different needs and goals, there isn't a one-size-fits-all data set that marketers can simply rely on. Downie said: "It's not surprising to see marketers investing in multiple data types for insights and activation."
Age is a priority
Lotame asked marketers to rank their use of demographic audiences, such as age, gender, household income, education, and the number of children in a household.
Age - 76% of marketers said they "always" or "usually" target by age.
Gender - 61% said they target by gender "always" or "usually."
HHI - 50% said they "always" or "usually" target by household income.
Education - 40% said they "always" or "usually" target this way.
Number of children in household - 32% say they "always" or "usually" target by the number of children in the household.
"Age and gender are unsurprisingly the top demographic datasets that marketers leverage," added Downie. "In addition to age and gender, for marketers seeking to deliver digital campaigns in an even more targeted way, it would benefit them to layer in other forms of audience data, like geolocation and behavioral."
Per the study's findings, only 20% of marketers who purchase or use demographic data are "very confident" of its accuracy, while 68% are "somewhat confident." Meanwhile, 12% are either "slightly confident" or "not confident at all" in the accuracy of the data they purchase.
As such, Dowie said that marketers now want to be confident that the data they purchase will ensure that they reach their customers and help them make better business decisions. In addition, accuracy was identified as the most important factor for those who purchase demographic data with 84% saying it was "very important" to their purchasing decisions, followed by price (55%) and scale (37%).
"Data sellers need to put in place rigorous quality control measures to ensure data's quality and accuracy," added Downie. "This means curated audience segments, leveraging a more robust verification process and using data science."
For the study, 300 brand marketers that purchase or use audience data (first, second or third-party) were polled regarding the state of data quality, data quality challenges, quality-control practices, and more.
(Photo courtesy: 123RF)