Summing up a definitive state of the video market for Southeast Asia (SEA) in a short paragraph is nothing short of challenging. Today, we're consuming more digital video than ever before, whether via desktop or mobile.
Our generation not only wants to watch content in an environment that suits them, but at a time that works in their schedule. Consumers are complementing linear TV with on-demand viewing. But what are some of the key drivers of the online video market?
A hyper-connected audience
Firstly, let's consider connectivity. Take a look at how well-connected Singapore is. Internet penetration is 78 percent compared to a global average of 32 percent. That puts Singapore in fourth position as one of the most connected countries in the world.
Average internet speeds are 5.3 MB compared to a world average of 3.9 MB, and mobile penetration is over 143 percent. While this story isn't currently mirrored across all SEA countries, we are starting to see connectivity increasing across most markets and this will continue to be the case for several years to come.
The most dramatic change over the last 12 months is the consumption of video on mobile devices. Working at Tremor Video, I see broad cross-section of both publisher and broadcaster trends.
The below diagram shows that digital has become a major player when it comes to consumer consumption across multiple markets in APAC.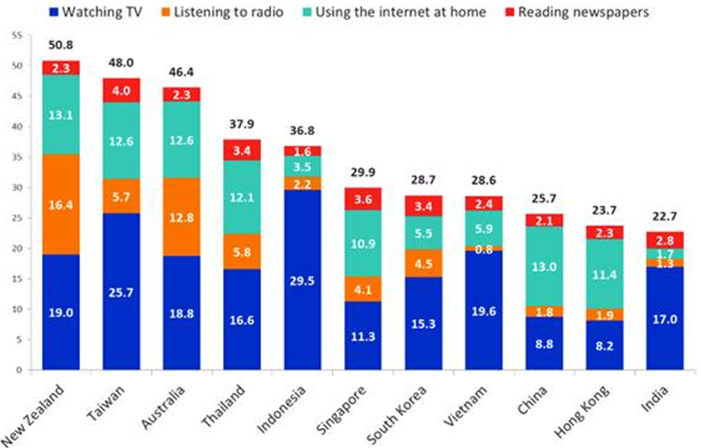 Source: Roy Morgan
The rise of mobile video hasn't gone unnoticed and major players across the media and marketing industry are adjusting their strategies in order to gain an advantage in this hyper-connected world.
Shane Mitchell, head of digital at Singapore's MediaCorp has made his views about the media giant's digital strategy clear saying, "We are moving consciously towards a digital first delivery mindset. This means that we break all our stories on our digital platforms first before they are used on our more traditional platforms such as television, radio and print."  
Cross-device video assets instead of made-for-TV
The most notable event that has happened recently is how agencies, trading desks, and media and technology platforms are using a different dialogue to communicate with clients.
Over the years, the word TVC was the on the tip of every tongue, with agency media strategies focused mainly around television, when consumer audiences did not have the luxury of owning a smartphone or laptop. However, we're now seeing media communication focused around video assets and the importance of cross device strategy – including TV.
The powerful benefits of television are being leveraged across all screens. Advertisers are now seeing the benefits of having a multi-screen strategy to drive maximum results.
The move to programmatic trading
We're at a point where the market understands the world of programmatic, and that it's here to stay. Those that believe digital automation is only the flavour of the month are in the same bracket as taxi drivers that are ignoring the billion-dollar Uber revolution.
In two years, the SEA video market has shifted dramatically towards programmatic - we have seen this especially with leading publishers and broadcasters, who have adopted a strategy that encompasses direct, sponsorship, video private exchange and open RTB approaches.
In most cases, the market has done a good job in proving that automation isn't a race to the bottom for remnant inventory. Now, the biggest challenge is getting premium publishers to commit larger volumes of their inventory to trade with buyers in an invite-only arena.
In mature markets like Australia, we are already seeing this adoption - private exchange deals are the everyday norm. In SEA, we need to drive home the importance of premium supply, as well as educate publishers, agencies, and trading desks about how they can connect with each other in an environment that suits all parties.
The writer is Kevin Smyth (pictured), sales director ASEAN at Tremor Video. This article is the first in a four-part series on the state of digital video in Asia-Pacific by the IAB Singapore's Video Committee.