One in five commercial emails worldwide fails to reach its intended target, according to the 2017 Deliverability Benchmark Report from data solutions provider Return Path.
The research was conducted using a representative sample of more than 2 billion promotional email messages sent to consumers in North America, South America, Europe, and Asia-Pacific regions between April 2016 and June 2017. Industry results are based on global consumer data consisting of over 17,000 commercial senders, two million consumer panellists, and over two billion commercial email messages sent to Microsoft, Google, Yahoo, and AOL users in the same time period..
Result reveals that only 80% of email is delivered to the inbox, while the remainder —a full 20% is diverted to spam folders or gets blocked altogether.
Marketers sending to Hong Kong had the highest reported inbox placement average with 92% — a decrease of 3% points from the previous period analysed.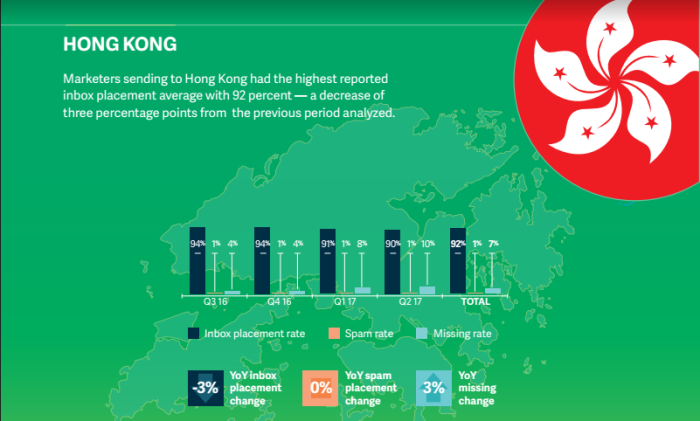 Meanwhile messages to Singapore mailboxes had an average inbox placement rate of 88%, slightly less than the previous period.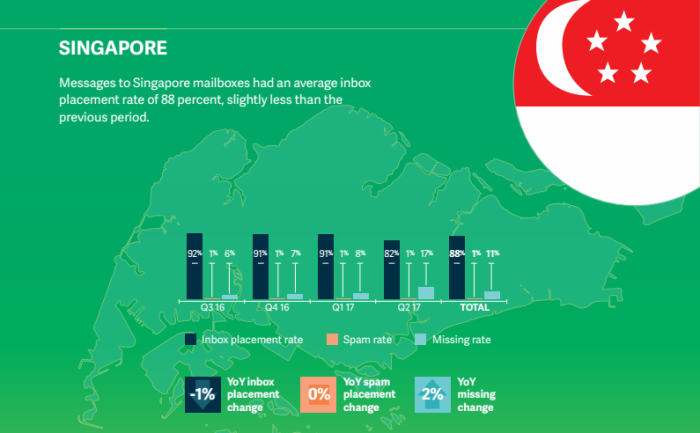 Graphic source: Return Path
The report's findings are relatively consistent with the company's 2016 and 2015 benchmarks, which reported a 79% global inbox placement rate. While this rate has improved slightly in the past year, the significant percentage of filtered messages means that marketers are still missing out on a valuable opportunity to drive meaningful revenue from the email channel.
"Email remains the most popular and effective channel available to marketers, so it's more important than ever to get it right. If your emails aren't reaching the inbox, you're missing out on an opportunity to build relationships and generate ROI," said Return Path president George Bilbrey.
"But email filtering continues to evolve, as mailbox providers apply increasingly sophisticated algorithms to deliver only the content their users truly want."
Email marketers in the US saw the lowest inbox placement of any country analysed, with just 77% of messages reaching subscribers, up from 73% in 2016. Meanwhile Canadian marketers achieved one of the highest inbox placement rates in this study, with an average of 90%.
Looking at inbox placement by industry, the best results were found in sectors with strong account-based consumer relationships such as banking & finance (94%), distribution & manufacturing (92%), and travel (90%).