The corporate communication landscape has changed drastically. Yes, age old issues such as budget and talent retention remain. The in-house teams continue to grapple with ever-changing digital channels, in particular the challenge of finding the best way to use them as a way to communicate with audiences and harness their power.
There is also a wide consensus amongst in-house leaders that more needs to be done to lobby for the function internally to keep up with the pace of change. Meanwhile,agencies are having to reframe and adjust their offerings to move to a more integrated business model to accommodate the demand for digital from their clients.
"Despite a challenging economic climate, salaries and bonuses are on the rise. In-house salaries are higher than those in agencies, despite budget cuts within the communications functions," said Emma Dale, Managing Director, Prospect.
According to a new study by Prospect and PublicAffairsAsia, today corporate affairs and public affairs practitioners have been receiving the biggest pay cheques. While Australia ranked the highest at an average yearly salary of US$199, 000, this was closely followed by Singapore, China and Hong Kong.
[gallery ids="167052,167051,167053"]
The average salary in 2016 across APAC was US$136,000 which is 5% higher when compared to 2015.
Meanwhile,  52% of the 420 respondents surveyed expect the same salary increase in 2017, 20% expect higher percentage salary increase in 2017. Only 28% expect their salary to be lower this years. Average salaries in India, however, ranked the lowest art US$91,000.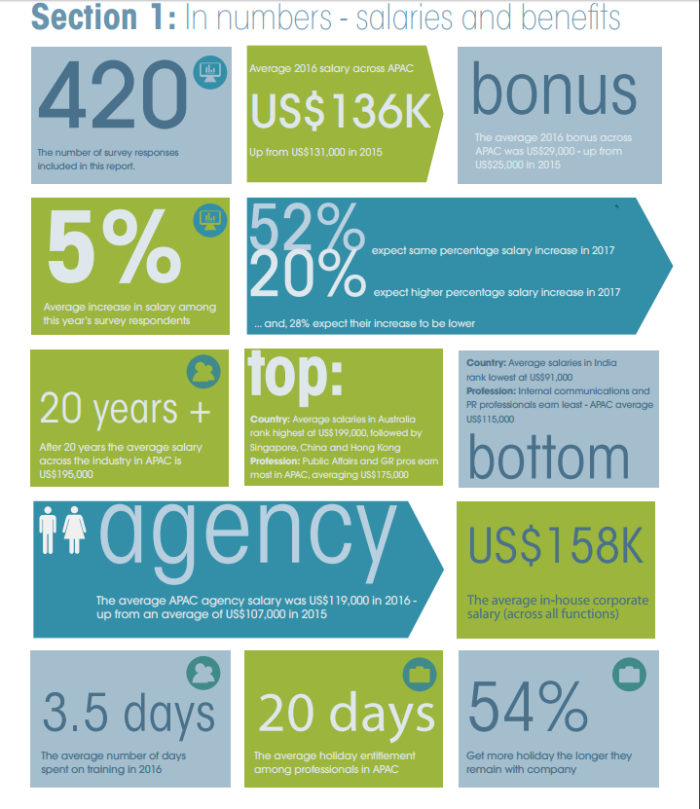 However, the industry comes with its own set of challenges, talent being the major one. While the report highlights that the teams in APAC are being paid well, it also stated that the teams "are having to do more with less." Lower levels of retained agency support and smaller pay increases are the factors that have led to this.
The study adds that:
To retain staff, agencies and in-house management must do more to encourage a culture of internal career progression where all Asian nationalities believe they can go on to secure elite-tier regional roles.
Without a clear, transparent career path, which has to be articulated by senior management, staff will often move between companies at the mid-level rather than map out career progression within their existing companies.
PublicAffairsAsia's executive director, Craig Hoy summarising the industry report's finding said that the communications and corporate affairs industry in APAC has matured significantly in the last five years. To succeed, practitioners need to show a combination of resilience, empathy, decisiveness and diplomacy. But first, they must be able to communicate, and they need to be able to write.
Why do staff leave?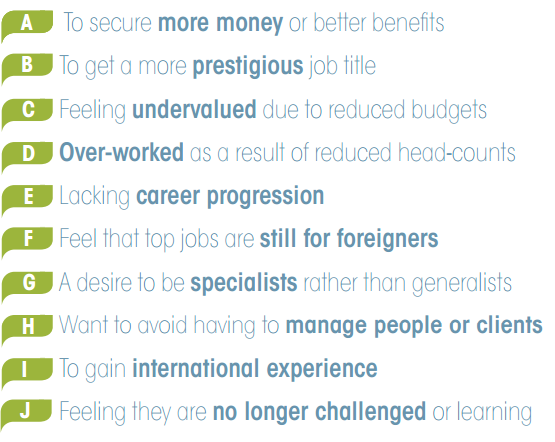 The digital shift
Hoy added that the growth in digital is by far the biggest industry shift seen in recent years. It allows communications professionals to engage a wide range of new groups, from civil society to consumers. It has not, however, supplanted traditional media, which remains vitally important for all but a few practitioners interviewed.
Moreoever, in the report, one senior China-based practitioner characterises the industry as "immature but growing up fast".
Asia offers some of the best of the global communications work, particularly in areas such as digital. But it also presents some of the worst aspects, such as pay-for-play PR and underdeveloped core skill sets, notably the ability to write effectively both in English and local languages. The industry continues to operate at both ends of the quality spectrum and this means there is much scope for future development.
Marketing is hosting its PR Awards on 23 March at the Mandarin Orchard Singapore.  Join over 300 communications professionals at the regional awards. More information on booking your tables here.