Last year was a dynamic year for the advertising industry. According to R3's Q4 2015 R3VIEW, the media industry alone saw the review of 22 of the largest US and glob­al accounts.
Moreover, mergers and acquisition were rampant especially for the Chinese economy, with the country alone representing 26% of the US$5.3billion in global transaction sales for the year. The fourth quarter for 2015 was also an active period for M&A with WPP, Dentsu and China's Lecron all very active. WPP took the opportunity to consolidate its investment in Australia's STW Group to a majority, and Dentsu made some big bets in the Philippines.
Lecron's three acquisitions alone in China (US$494million) were enough to move it to third on R3 League Table. However overall, M&A activity was down 32% on 2014, which was mostly because there were no Sapient like deals this year, said the report.
In total 119 deals were measured by R3 this year, compared to 123 in 2014.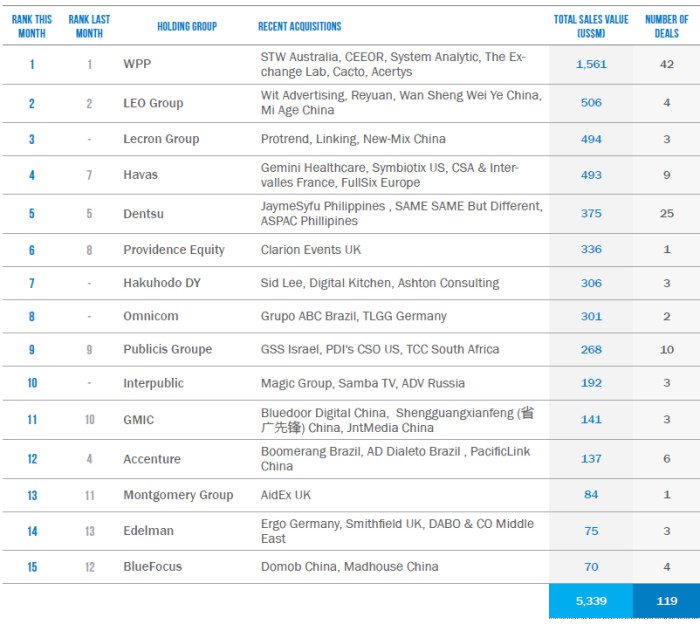 "We were shocked to find two con­glomerates with no experience in this sector, farm equipment firm Leo Group and chemical company Lecron group alone account for US$1billion of this total. Both had stock uptakes on words of these investments, but ended the year like most Chinese stocks – in muddy waters. We will be watching in 2016 closely," read the R3 report.
Read also:
7 reasons why big and small agency mergers failAre big and small agency mergers good for the industry?
Martin Sorrell talks candidly about mergers and mayhem