Brand consultancy Interbrand has named Apple, Google and Coca-Cola as the three most valuable brands in its 2016 Best Global Brands report, with automotive and technology brands dominating the ranking and Tesla and Dior entering the top 100 brands.
For the fourth year in a row, Apple and Google claimed the top positions. Apple's brand value grew by 5% to US$178,119 million, while Google's brand value rose 11% to US$133,252 million.
Coca-Cola, Microsoft, Toyota, IBM, Samsung, Amazon, Mercedes-Benz and GE round out the top 10. Dior and Tesla enter the best global brands report for the first time, at #89 and #100 respectively.
Despite the bad publicity generated by the Note 7 recall, Samsung managed to keep its rank #7 and increase its brand value by 14%, up to US$51,808 million.
Meanwhile, McDonald's slipped out of the top 10 this year, replaced instead by Mercedes.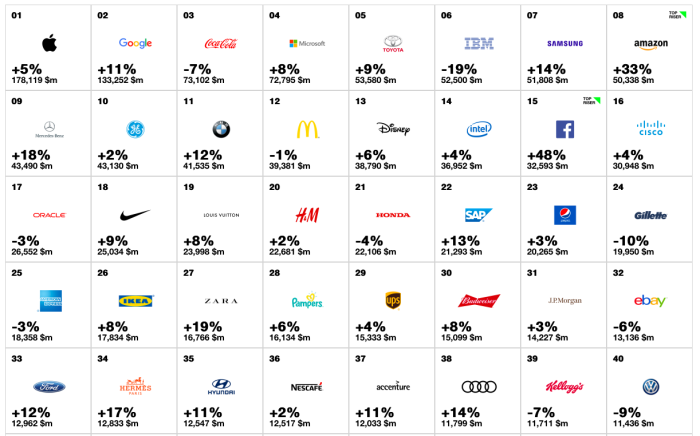 The world's five top growing brands include Facebook (48% growth), Amazon (33%), LEGO (25%), Nissan (22%) and Adobe (21%).
"It's clear the best global brands are not just weathering change, but driving it," said Jez Frampton, Interbrand's global chief executive.
In its 17th year, the annual report is based on three key components that contribute to a brand's cumulative value:
The financial performance of the branded products and services
The role the brand plays in influencing customer choice
The strength the brand has to command a premium price or secure earnings for the company