Marketing Research, a sister company to Marketing magazine, has released new findings on marketers agency preference across Asia.
Based on a survey of more than 1,200 marketers across the key markets of Hong Kong, Singapore and Malaysia, the research shows WPP's Ogilvy leads the way as the most preferred creative agency brand.
Ogilvy achieved top ranking in Hong Kong and Singapore, but came a close second to Leo Burnett in Malaysia.
But Ogilvy's status as preferred creative agency did now extend to its performance ratings among client marketers.
The Agency Performance Index (API), a system created by Marketing Research to monitor agency performance,  showed TBWA and DDB outperformed Ogilvy across the three markets.
As part of the 2014 Agency Rankings & Strategy Toolkit series, creative marketing areas tapped into include client budgets, current agency satisfaction and competitor analysis. A cross-analysis of Asia's marketing services was also conducted (from creative services to direct marketing), to unravel growth opportunities for the region's agencies.
Asia's creative marketing services are mostly governed by the large, well-known agency holding groups: WPP, Omnicom and Publicis. Across the Asian markets examined, only one independent creative agency made it into the top 10 rankings – Metta Communications as third most mentioned in Hong Kong. In no particular order, other creative marketing agencies ranked in Asia's top 10 include Leo Burnett, JWT, TBWA and DDB.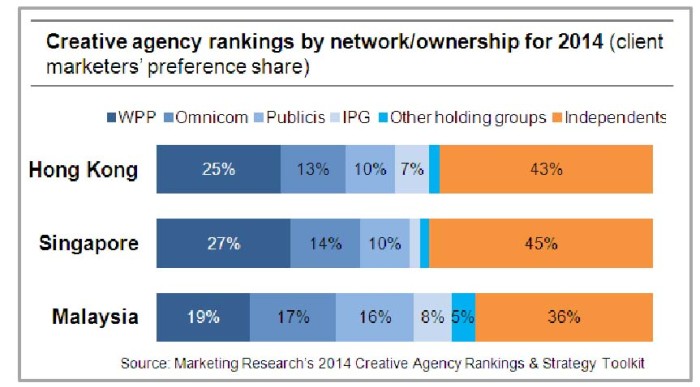 Focusing on the three dominant agency holding groups, Publicis trails both WPP and Omincom in creative agency rankings across the Asian markets. The only exception is Malaysia, where competition is tight.
"Although WPP's creative agencies are relatively less prominent in Malaysia, they are improving, led by Ogilvy's increasing share of creative agency rankings in Malaysia," says Jessica Li, director of marketing research and one of the report contributors.
The overriding implication from this survey is that Asian creative agencies, both big and small, should ensure their actual performance delivery matches their promises. Large holding groups may dominate the creative research space, but this doesn't guarantee them long-term prospects among the region's client marketers. The creative research market is competitive and opportunities still exist.
The "2014 Creative Agency Rankings & Strategy Toolkit" is now available for purchase at US$495 per country report at the Marketing Research Centre (www.marketing-interactive.com/research). More information about this report series can be found here.
See also:
Singapore 2014 Creative Agency Rankings  & Strategy Toolkit
Hong Kong 2014 Creative Agency Rankings  & Strategy Toolkit
Malaysia 2014 Creative Agency Rankings  & Strategy Toolkit
For more information, contact Jessica Li on +65 6423 0329 or jessical@marketing-interactive.com or visit www.marketing-interactive.com/research
[Image by Shutterstock.com]