No matter which lens you look through, it's easy to see the importance of digital and the enormity of transformation taking place in the market today.
While most companies are quickly shifting to a "digital first" approach to keep up with their tech-native customers, Wyeth Nutrition Hong Kong stresses the importance of brand and business objectives and what ought to be put at the forefront amid the digital disruption.
Milk formula has always been a competitive landscape in Hong Kong because of strong marketing campaigns and wide-spread availability in retail outlets.
In this lucrative baby food playground, it's not uncommon to see considerable industry players put digital strategy at the forefront.
According to admanGo's ad spend report in November 2016, milk powder for infants and children was the top spender for beverages in video ads for mobile apps; its ad spend increased by 3.4 times against 2015.
That might explain why when an in-stream ad pops up in a YouTube video, besides beauty products, it's prone to be a spot by a milk formula manufacturer.
Wyeth Nutrition Hong Kong, which built its in-house digital team seven years ago, is an early adopter of this fad, but believes that aimlessly going after a digital strategy is not the way to go.
"Digital is an enabler and a tool that amplifies a marketing campaign effect which delivers to the customers," says May Chung, business executive officer of the company.
She added that the brand itself always comes first and a digital strategy should be aligned with your business objective.
The nutrition company is known for being eager to embrace new technology to make the parental journey more enjoyable, and has carefully orchestrated its digital advantages over the years.
From emotional micro movies on social, big data analysis, child-development song playlists on Spotify to programmatic advertising, Wyeth Nutrition has been a digital frontier in the industry.
As social media has upended how consumers engage with brands, Chung says: "In the social era, one-way communication no longer makes sense to the audiences, people don't just want to be sold a product, they want an interactive platform."
Modern parents have become more knowledgeable and cling to their smartphones to look for information, seek new products, follow trends and read more product reviews on the internet.
Rather than aggressive marketing, Wyeth Nutrition Hong Kong started online channels to reach out to their demographic in a personable way, and that's the reason why the in-house digital team was founded in 2010.
The digital marketing arena is evolving drastically. To stay ahead of the game, as a top executive of the nutrition business, Chung says she believes it's important to "unlearn to learn".
That is to say, if you want to learn new things, you will need to let go of existing knowledge or beliefs. "Very often, we fail to learn because the knowledge we have may limit or impede new learning."
To make sure everyone in the company has the skill sets for digital marketing, Wyeth Nutrition Hong Kong often invites different social platforms to its office to hold digital workshops for its staff members, while people from top management, HR and administration are also invited to attend.
Chung says by offering cross-team training sessions, everyone can equip themselves with new knowledge and it's also good for the digital development across the different departments in the company.
Yvonne Chau, marketing director at Wyeth Nutrition Hong Kong, adds that while brands are dedicating more budgets to digital communication, it doesn't mean they can forget about traditional.
She thinks the most effective marketing strategies are those that incorporate both traditional and digital elements into a cohesive and comprehensive package that elicits a desired behaviour from the consumer.
"A one-size-fits-all communication doesn't work anymore, the key is to listen to their voice, understand what they really need and tailor a relevant message for them."
Alexandra Lo, digital lead at Wyeth Nutrition Hong Kong, thinks the success of the company has come about because of top management's involvement.
"Go digital is not just a slogan. And May Chung has never been absent from a single training class."
Lo says top-level executives are not only supportive of new initiatives, but also have an open-minded attitude where its employees are not afraid to propose new ideas.
Elevated to the digital lead role in April, Lo was one of the starters of Wyeth Nutrition's digital team where she built and grew the digital capabilities from scratch.
As a seasoned industry professional with more than 10 years of experience in digital marketing, she points out some problems she has observed in the market.
For example, some marketers remain obsessed with performance metrics such as CPC, CPM or CPA.
It doesn't mean the CPC or CPM model is broken; rather, she thinks marketers shouldn't blindly pursue numbers, but need to discover insights from the data and numbers.
"As a digital marketer, we ought to understand the real meaning behind those numbers," she says.
"For example, when we spot a visitor's time on our site is short or the bounce rate is high, we need to find out the reasons behind that.
"Do we need to optimise the content? What can we do to make it more engaging to retain the viewers?"
To architect a successful campaign, Lo believed it comes down to the art of integration.
"Digital marketing is not just about digital; it needs to have a true connection with business," she says.
"So digital or technology should never go before a brand."
She also says it's vital to understand traits and features of each media channel. For example, some social platforms are not meant to share sale-driven posts, while some are used to push direct marketing messages to patrons.
The bottom line is: brands can't create the same message and communicate it in all channels.
This June, OMD Hong Kong successfully retained Wyeth Nutrition Hong Kong's media business which saw the agency continue its long-term partnership with the brand, which has been going since 2011.
Lo says Wyeth Nutrition treasures the partnership as the two companies have a mutual goal: to drive innovation in the business.
She adds OMD has evolved to be more than just a media agency by contributing creative elements to the work.
Moving forward, and to keep ahead of the field, Chung says being nimble is crucial in the digital era.
"You might not be able to ace 10 times out of 10 campaigns, but if you're fast and bold enough to try, learn from the experience, that might help you stay competitive."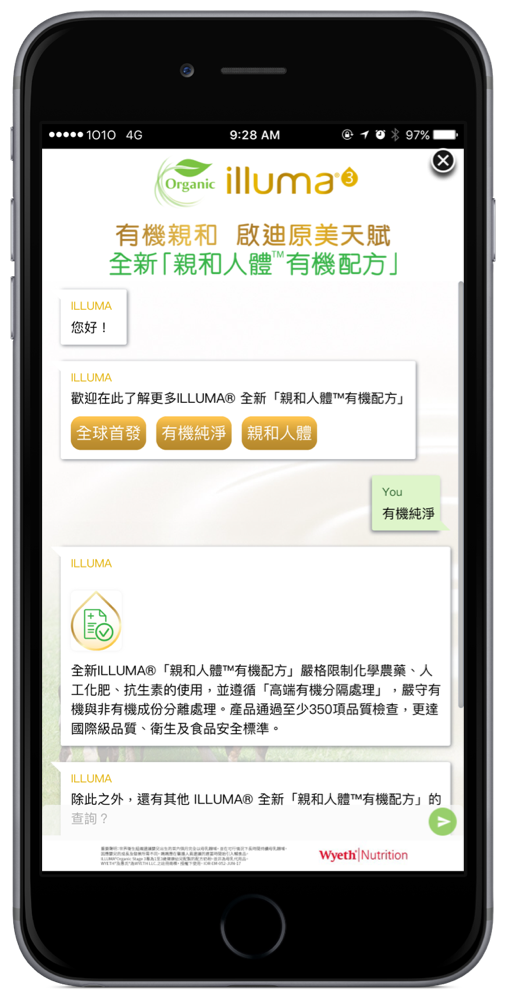 As the digital road map cruises into its eighth year, Wyeth Nutrition Hong Kong has just launched a chatbot programme which is available on major messaging platforms, including Facebook messenger, Skype, on SMS or text and via web browsers.
"We want to keep this momentum going by rolling out a new digital innovation each year," Lo says.