Content marketing is an area that has picked up immense speed in recent years. Nonetheless, the investments made in this space are not always the fastest to bear fruit. Players in this field say it may take months or sometimes years before your efforts show results.
However, C-suite level executives are not always ready to wait around that long to see the results. So what's the solution? Probably a shift in mindset to realising not all marketing is about immediate sales. One marketer who believes in this is Anna Bory, GM of Audi, who was speaking at Marketing's two-day conference Content 360.
She is of the view that for luxury brands specifically, content marketing cannot always be about sales. She said:
Not every marketing initiative in the luxury industry is about direct sales.
For those in the luxury space, like Audi, sometimes it is about brand awareness. One such campaign where the brand was able to move away from sales and gain brand awareness was its SG50 campaign last year.
The brand decided it would take locals back in time using VR capabilities. The brand worked with different government bodies and the National Gallery to ensure accuracy of the information it was feeding to consumers.
Take a look at the campaign:
"Our budget for this execution was only 30% of our usual media budget. So we needed to communicate smartly," she explained.
To ensure the initiative really resonated with participants, a free on-ground event was also created.
"Having a sales KPI for such a campaign would have killed the idea. In this way, the pressure of sales was lifted and the team had the freedom to come up with ideas," she said.
Bory admitted that while there wasn't a totally accurate science of measuring the impact of the campaign, it tracked the footfall to stores, during and post the campaign, and combined it with on-ground surveys to establish a correlation.
The campaign saw a more than 1.85 million Facebook reach, 287, 995 YouTube views and more than $600,000 in PR coverage.
"However, having done one successful initiative helps us with our second one for R8," she said adding that not all campaigns and content initiatives need to always go viral. Hence, it is important when creating innovative ideas to come up with the right metrics and KPIs.
Brands should stay away from KPIs that will kill your content idea.
On a similar point, Christie Poulos, global head of video at King Content, added that not all content needed to be relevant for both now and the future. What content needs, however, is a clear strategy. Quoting Julie Fleischer, director of media and consumer engagement at Kraft Foods, she explained the various kinds of content out there: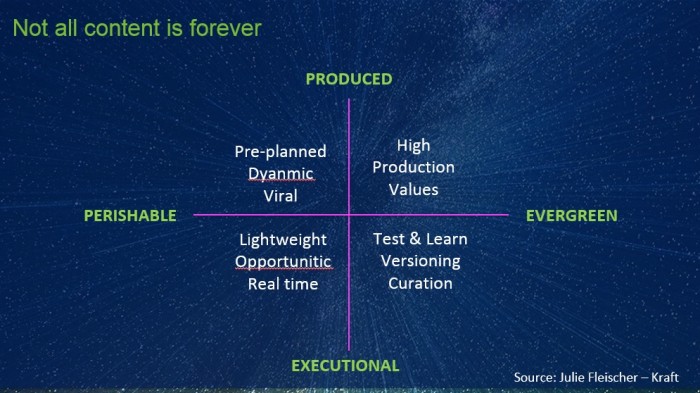 Perishable and produced (top left): These are content pieces that may be planned, and are meant to be dynamic. This is the content you really want to "go viral" and is worth putting a bit of money behind.
A great example of this was the marketing that companies planned around the birth of Great Britain's Prince William and Kate Middleton's baby where they were able to pre-plan their messaging, so they could put some resources behind their efforts. However, most could only expect their content to have a short shelf life.
Produced and evergreen (top right): This is content that is built to last a very long time and, thus, requires a greater investment to produce. For instance, Kraft created a series of cooking videos that features celebrity chefs, which could then be reused every year as seasonal content.
Perishable and executional (bottom left): This content is real-time and opportunistic, but may not have a lot of staying power – however, it can be quite impactful at the time of its distribution. An example of this was Oreo's Super Bowl tweet – a real-time effort that didn't require much advanced planning and execution and used Oreo's existing distribution channels such as Twitter.
However, in such cases it is important to note that to be real-time, you need the right people and processes in place to take advantage of current events and trends.
Executional and evergreen (bottom right):This is content you continually create to be used in multiple ways, such as the recipes and food ideas Kraft publishes on an ongoing basis. Because of the nature of this type of content, marketers can continually test what's working and make adjustments when needed. This is not an area where a lot of money needs to be spent, but it's the best place to keep an eye out for future content ideas.
At the end of the day, said Poulos, content marketing allows organisations to develop realistic, sustainable and measurable publishing plans that keep their content on track in the long term.
"Content marketing cuts costs by reducing redundant or extraneous publishing efforts, while increasing effectiveness of existing assets. It aligns communication across channels so that web content, print collateral, social media conversations and internal knowledge management are working toward the same goals in channel-appropriate ways," she said.