Social media marketing or content marketing has to include great search and social strategy if it is to succeed in the new advertising space.
Speaking at A+M's Content 360 conference, Vaasu S Gavarasana of Asia Content Marketing Association (ACMA), defined content marketing as "a marketing technique of creating and distributing valuable, relevant and consistent content to attract and acquire a clearly defined audience, with the objective of driving profitable customer action."
Following this definition, Gavarasana discussed the ideal state of content marketing while highlighting present-day shortcomings of the current state of the industry.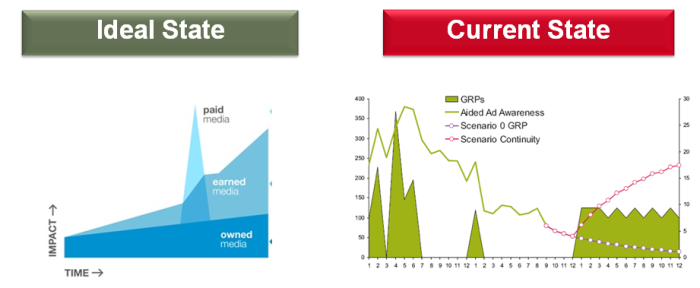 Ideal state vs silo-ed approach
"The silo approach is not going to work for a company or an employee," Gavarasana said. The industry has to aspire a more ideal state of integration in order to make content marketing more sustainable and effective. The integrated state should ideally combine search, content, social and e-commerce entities so that the sharing of information can lead to a more impactful marketing strategy.
The silo approach, according to Gavarasana, impedes the flow of information and expertise from various departments. This organisational gap needs to be addressed for a company to be fully integrated: "An agency with super-specialisation only works for a freelancer – it won't work for an organisation."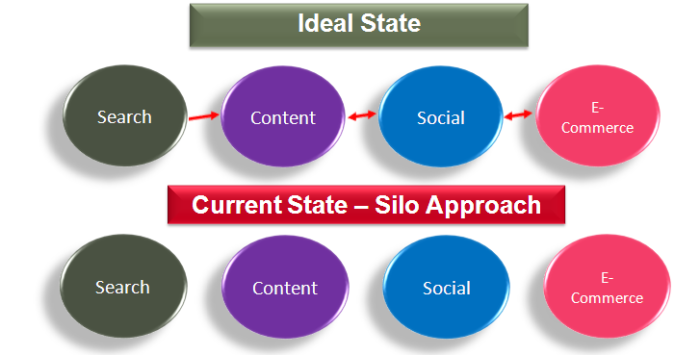 The industry should also reform its philosophy when it comes to content marketing. "Brands are spineless. They need to have a point of view and have a conversation with the audience to get people to subscribe to them," Gavarasana explained.
The current state however, sees organisations defining its brand by product assets, with its content premise built on push marketing. Usually, content is strategised based on unique selling points and driven by product marketing. This, Gavarasana pointed out, leads to a "monologue approach to marketing and communications", passively repeating the same brand mantra on available platforms.
As such, brands must be seen as publishers with a point of view; the key driver for engaging content should include conversations with the consumer. Content needs to be built on and guided by principles of journalism to ensure that there is an ongoing dialogue and engagement with consumers: "Unlike copy-writing, which hides behind qualitative research, journalism forces the content to be in sync with your target audience." This ability to respond and be attuned to the market enhances the brand's persona further attracting and expanding its consumer base.
Gavarasana cited the examples of SAP, King Content and Kontent Cafe others as some of the content marketers who are excelling in the domain.
He also advocates for a restructuring of the agency ecosystem, one in which both creative and public relations firms embrace content to better benchmark themselves against existing content marketing agencies. "Agencies should hire a content marketing specialist who is able to track various metrics," Gavarasana said.
To stay relevant ever-changing landscape, marketers should understand how content marketing drives the marketing funnel. Hence, for brands to survive and adapt quickly to the ideal state of content marketing, he emphasised on the importance of having a content marketing lead who is able to promote the brand's content and translate it into something of commercial value for the company.