Following the success of its previous campaign A Life in Blossom, shu uemura has expanded its artistic approach for a new media campaign featuring pseudo model Chrissie Chau (周秀娜).
Created by Curious Few, which also handled A Life in Blossom in collaboration with Charlene Choi (阿Sa), this commercial Beauty is in the Eyes engages local make-up artist Karen Yiu and illustrator Rex Koo.
In the video, Yiu was invited to design an eye make-up based entirely on her own perception of the unknown eyes; Koo then tasked to further interpret the eyes with an illustration depicting its characteristics. This is how it turns out:
"The approach this time takes a further step from last campaign's artistic and narrative approach to telling more of the brand's values reflected by Chau's twinkling and assertive eyes," Veronica Suen, digital & CRM manager at shu uemura – L'Oreal Hong Kong, told Marketing.
"Our last eyeliners campaign with Charlene Choi was a huge success. Apart from generating massive awareness, the campaign also brought a double digital sales growth for our eyeliners.
"So this time, we continue this artist endorsement strategy, and on top of this, we try to deepen the message of the campaign with shu uemura's makeup crew sharing their views on the importance of eyes on a sensational level at the end of the video."
She added the campaign aims to tug at audiences' heart via the many emotional hooks in the video.
"We have started to find the rhythm and voice for shu uemura's branded content," said Man Kit Lee, co-founder and creative director of Curious Few.
"Woman want to buy in into the emotional possibilities of make-up products, to feel empowered when they pick up that eye-liner or apply shu uemura's eye shadow.
If you look at the ads in the beauty category most are direct product demonstrations. Many of the clients producing this type of work would argue that people are not so sophisticated and won't understand ideas that are too 'deep' and emotional," he added.
"This latest project shows to prove that woman in Hong Kong are for more sophisticated then they think, and yearning for brands that understand them on a human level."
The campaign goes with an interactive makeup contest on Instagram, where users are encouraged to share their eye makeup and a brief description of the makeup concept. The top 10 contesters whose work are most align with their concept explanations can take home shu uemura products.
The campaign will last until late July.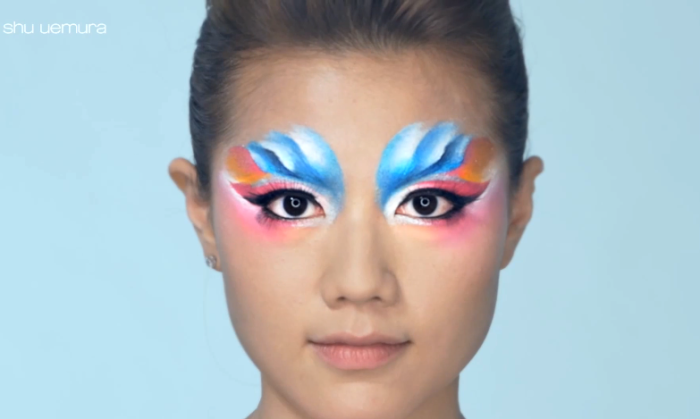 Creative: Curious Few
Creative team : Man Kit Lee, Fenris Kau, Sylvia Mai, Vanessa Choi, Wayne Lau
Production : Victor at Noodle Films and See Saw Post Production
Client team : Diane Ho, Niki Lo, Cesca Lam, Mandy Leung, Veronica Suen, Grace Ma
Media : Mindshare