Twitter has launched a new event targeting service for advertisers called event targeting.
The new feature will allow advertisers to reach audiences interested in their events as users can now activate around live moments. Available to all Twitter advertisers globally, event targeting helps advertisers plan around their events by using three primary tools: the event calendar, event insights and event activation.
Some of the agencies involved in the the beta-testing of the new Twitter service include media agencies MEC and Mindshare UK as well as tech and insights company SocialCode.
Kaitlyn Bigica, social media manager, MEC Global said that event targeting helps brands effectively reach theconsumers who are not only clicking into content but also actively listening.
"This multi-tiered targeting approach has driven high performance for MEC clients, and helped drive meaningful spikes in awareness among an audience captivated by disruptive advertising. The tool has also been crucial in identifying purposeful investment opportunities through insight into conversation spikes, allowing us to tap into the most strategic moments and prepare conflicting creative for multiple scenarios," she said.
Mindshare UK  utilised event targeting to activate against major sporting events for many of the UK's leading automotive and financial service brands.
"Twitter's new event targeting capability was recently tested on two of our clients amidst their sponsor role of The Championships, Wimbledon 2015 and The Open, St. Andrews 2015. The results could not have been more encouraging, with an average engagement rate improvement ranging from 73% to 110% when compared to our traditional targeting settings," Sergi Calvo i Soler,Biddable account director, Mindshare UK, said.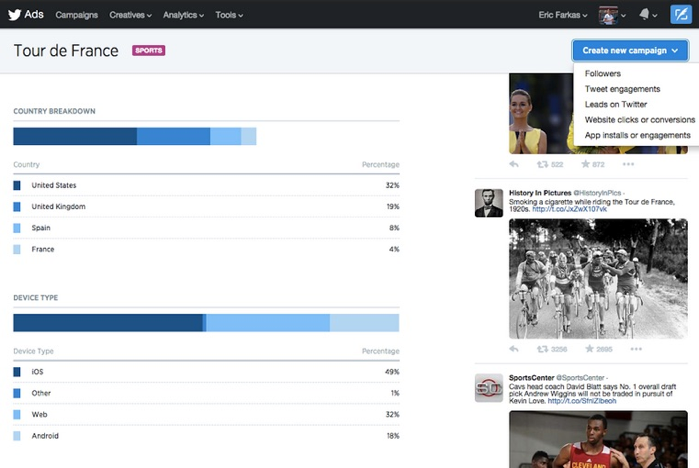 Event calendar
The event calendar includes major global events, as well as tent pole events related to sports, holidays, festivals, TV, music and politics in the US, UK, France, Brazil and Japan. Advertisers can use the calendar to determine what live events make sense for their brand's marketing strategy and goals. Advertisers can also filter the events location, date or type of event, and explore all events months in advance.
Event insights
Once they have identified the events they would like to target, they can drill down into each event to learn more about the audience based on the previous year's data. Users can see insights such as a total audience reach, device breakdown and gender. They can also view the highest engaging Tweets from last year to get a sense of how the event conversation played out on Twitter.
Event activation
Once advertisers have researched their event audience, they can create a campaign targeting the events of their choice. Event targeting can be combined with other key targeting types like gender, language and device so they can reach the right segment of an event audience.