Cohn & Wolfe announced its fifth edition of the "Authentic Brands" study which examines the role of authenticity in business, the attributes associated with an authentic brand and the impact of authenticity on consumer, investor and employee attitudes and behaviors.
In Hong Kong, tech giants Google and Apple topped the list of authentic brands, while Ikea landed third.
Hong Kong top 10 authentic brands
1. Google
2. Apple
3. Ikea
4. HSBC
5. Visa
6. Canon
7. MasterCard
8. 3M
9. Hong Kong Jockey Club
10. Rolex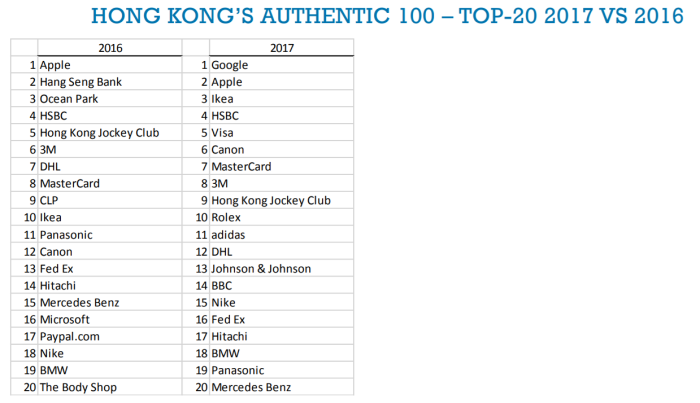 "In Asia, consumers value authenticity and will reward brands that work on being reliable, respectful and real – the three main drivers of brand authenticity," said Matt Stafford, President of APAC at Cohn & Wolfe.
"Our study highlights the opportunity for brands operating in Asia, as consumers in China, India and other key regional markets clearly recognise and appreciate efforts by companies to build strong customer relationships and improved user experiences."
Hong Kong top 100 authentic brands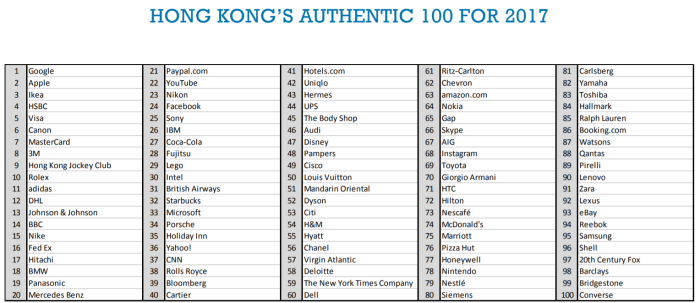 The agency's 2017 Global Authentic 100 found consumers believe Amazon, Apple, Microsoft, Google and PayPal respectively are the world's most authentic brands, a designation largely based on consumers' personal interactions with those brands. Reliability, respectfulness and 'being real' are rated as the primary drivers.
According to the study, global consumer data revealed that there are seven key attributes (out of 18) which drive authenticity, i.e. they are significantly related to consumer perception that a brand/company is authentic. These seven attributes are as follows:
Protects customer privacy and data
Treats customers well
Delivers on promises
Uses high-quality ingredients and components
Is genuine and real, not artificial
Acts with integrity at all times
Communicates honestly
The study said 62% of global consumers say that if a brand or company is perceived as authentic, they are more interested in purchasing from that brand or company.
The 2017 Authentic Brands study is the result of a combination of primary and secondary research, including surveys on more than 1,400 brands, measuring more than 200 global brands, administered over two months (May to June 2017) to over 15,000 consumers in 15 markets: Brazil, Canada, China, France, Germany, Hong Kong, India, Indonesia, Italy, Singapore, Spain, Sweden, United Arab Emirates, the United Kingdom and the United States.
The full list of more than 1,400 brands included in the Authentic 100 survey was based on an examination of the following reports: BrandZ's 100 Most Valuable Brands; Forbes' 100 Most Valuable Brands and the Reputation Institute's Global RepTrak 100 Most Reputable Companies list.
The WPP agency also consulted Y&R Group's BrandAsset® Valuator (BAV) to determine which brands should be included in each country's surveys, based on regional familiarity.
(Photo courtesy: iStock)