Singapore Tourism Board (STB) has been called out for not properly attributing a video created by luxury and lifestyle magazine SENATUS. The video was of a luxury car vending machine.
The board was called out by content creator Benjamin Lee, also famously known as Mr Miyagi. Lee called out the tourism board for simply lifting the video without attribution. In response STB apologised for messing up and said it had also apologised to the content owner.
Here's the conversation between the two that followed soon after: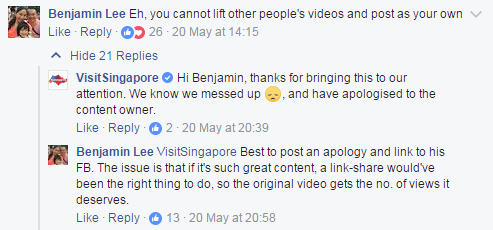 Since then STB and its creative agency TBWA Group Singapore have given a joint statement to Marketing.  Terrence Voon, director, digital and content, Singapore Tourism Board and Ara Hampartsoumian, managing director, TBWA Group Singapore said  "STB and TBWA fully respect intellectual property rights, and it is part of our processes to seek permissions for re-posted content."
"However on 19 May, we made a genuine mistake by not obtaining required permission to use the video titled The world's largest luxury car "vending machine" from SENATUS on the VisitSingapore Facebook page. We contacted SENATUS immediately upon learning of our mistake to offer our personal apologies and resolve the issue. We are truly sorry for this oversight and will be reviewing our processes to prevent a recurrence."
Marketing has also reached out to SENATUS for a statement.
Meanwhile content creator Lee, who is also a creative director of social media at DDB's Tribal Worldwide Singapore, told Marketing that more people need to be educated on online intellectual property rights.
"You can't just rip and reproduce other creators' work, and claim you've attributed by just linking because the original work then doesn't get the views it deserves. Additionally, the right thing to do when it was pointed out, was to have immediately taken down the offending, and illegal duplicated video. What made it worse was that the ripped video was of a very poor resolution," he said.
He added that while his comments on STB's page were personal, it is an issue he feels strongly about both privately and professionally.